I hadn't even realized that I had long forgotten what rage feels like.
Sure, I have had many occasions to feel upset, even extremely upset and VERY angry over the past several years and in my lifetime. Yet a few days ago for the first time in many years, a longer period than I am even able to recall, I was overcome with a feeling of pure, unadulterated rage.
The impetus for this? Being plagiarized. This feeling that overcame me was so unexpected and shocking.
Here in Sketchville, having property stolen, car windows broken, trash strewn all about my driveway, is nothing out of the ordinary. Some kids even decided to egg my car one day. Petty theft has become just a minor annoyance.
Over the years I have come to know a wickedness moving in the world that I sometimes wish I could close my eyes to. I have watched people in positions of great power act with extraordinary hubris as they continue to commit crimes.
I have had to rise up against a school district that was turning a blind eye towards abuses and complete disregard of well-being and safety being committed against mentally disabled children by a tenured teacher.
I have had to go to bat against black-hearted public charter school officials who were not content to simply fire the head of school mid-way through a school year (so that they could give her job to a board member), but instead they attempted to throw her under the bus and seemed intent on completely destroying this woman's entire career, future job prospects, and mental well-being, with the added insult of threats of a six/seven figure law suit against her if she violated an NDA by speaking up about the abuses being committed against her.
This woman was one of the kindest, warmest, most competent, gracious, most light-filled human beings I have ever encountered in my entire lifetime. I express this with no exaggeration.
I had thought my extraordinary feelings of anger at learning of the situation she was being put through was of the most extreme form of the feeling. So to be overcome by a rage sharper than that anger at something as inconsequential as being plagiarized by some random stranger on Steemit came as a complete and utter shock to me. Granted, this was an article I had spent considerable time researching and writing, but still, in the greater scheme of things, this is not all that terrible of a thing to have happen.
Why I'm Happy Plagiarism Happened to Me
This situation made me realize that I needed to reassess myself. I needed to come to understand how this level of emotion could have even happened when it had been absent in more appropriate situations, and how I could take this destructive feeling of rage and transmute it into something that would benefit me.
https://steemit.com/life/@annie.oakley/the-philosopher-s-stone-the-skill-of-transmuting-something-bad-and-ugly-into-something-more-precious-than-gold-part-1
In my attempt to come to an understanding of the situation, so that I might be able to 'transmute' this destructive feeling into something instructive, I realized that a big part of the reason why that emotion hit me the way it did, was because being plagiarized was completely unexpected by me, I was taken by complete and utter surprise. I had only been on the platform for 4 days, none of my posts have gotten many views, and I hadn't even been resteemed yet. At first I actually thought she had resteemed my post before the reality of the situation hit me. I had been disappointed to encounter so many plagiarized posts / misused content while browsing Steemit, but I would have considered any idea that it could happen to me as laughable.
Mine: https://steemit.com/freedom/@annie.oakley/is-the-american-law-institute-the-hidden-head-of-the-hydra-or-could-it-be-the-heart-of-the-beast

Offender's: https://steemit.com/freedom/@fairgirl/is-the-american-law-institute-the-hidden-head-of-the-hydra-or-could-it-be-the-heart-of-the-beast

Thank you to @nicnas and the @MinnowSupport PAL community for helping me out with that situation.
In general, I have some measure of command on my emotions. But this situation has also made me realize that perhaps I have invited too great a measure of apathy into my heart.
Me? Apathetic?! To ask such a thing would have never even entered into my mind before this experience.
My anger towards the wicked officials and those board members at the school was/is tempered, because I had come to expect and accept the eventuality of such behavior. I had come to expect and accept unexpected badness, bad behavior, and even cruelty to others like these things are just supposed to be business as usual in this day and age, where ideals like integrity and honor often seem to be dead. I was always prepared for the worst. I had hardened my heart. In a way, this mindset was helpful to me for a time, and it was a good thing that I had built those walls in my heart. Years ago, I wouldn't have known what to do with a feeling like rage. I would likely to have let it remain in its destructive form within me for far too long, to my detriment.
But I know better now. I've grown up. I know how to turn that rage into something that will benefit me, a force that I can use for good. And so I am committing myself to tearing down this invisible wall of apathy I have built up for many years. I am going to tear it down, and I'm going to let the appropriate level of rage consume me. These wicked ones are hurting the people. They are threatening to steal our children's futures. They are making it ever harder for us to just live a good honest life. They are committing unspeakable crimes against little children and laughing about how untouchable they are.
It's not okay. None of it is okay.
And so I will let rage consume me, and I will gather it up. Now that I have completed the first step of 'spiritual transmutation' and have turned this very destructive force into something instructive; it's no longer eating at me, it's no longer destructive. I will be able to more easily/quickly carry forward this process to all rage I experience in the future. The next step is to further transmute this rage into something constructive that will benefit me. And so I will strive to use it to fuel my motivation and intent, and my inner fire will burn hotter than ever.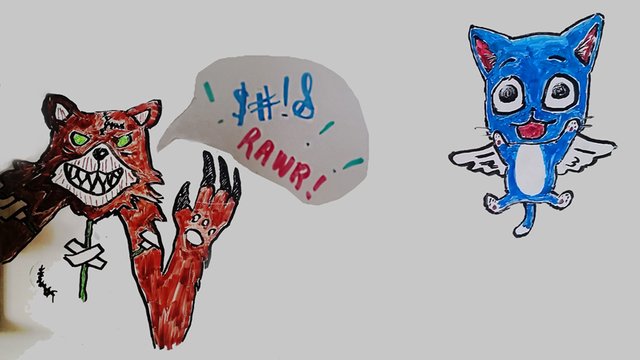 Image cred: Angry Annie Tibbers and Happy drawings by RB, thanks :)
Copyright © 2017