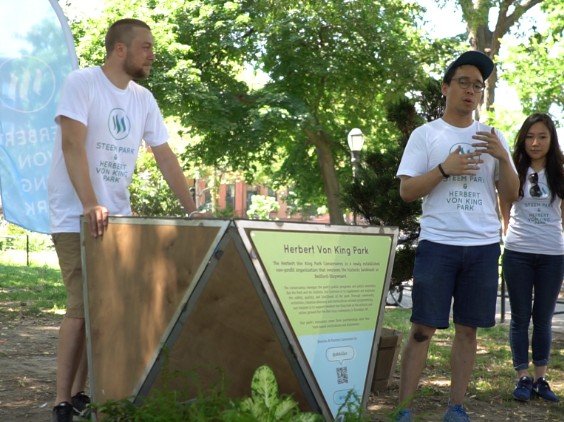 Yesterday history was made when the first public work exclusively funded by cryptocurrency was erected in the Herbert von King Park in Brooklyn, New York. Executed by the design collective @hitheryon (made up of @voronoi and @hansikhouse) the planters and benches now situated in the park broadcast a message to the world that blockchain technologies and cryptocurrencies (specifically the Steem Blockchain and steemit.com) are already having a meaningful impact on the real world.
Only The Beginning
While Mike and Kirk did a great job of convincing the right people and getting the project done, it became clear yesterday that it was difficult to fully appreciate the potential impact until one saw the final project in real life. Yesterday many became true believers! In the video below you can see the Head of the Conservancy's excitement and his eagerness to have the entire park upgraded!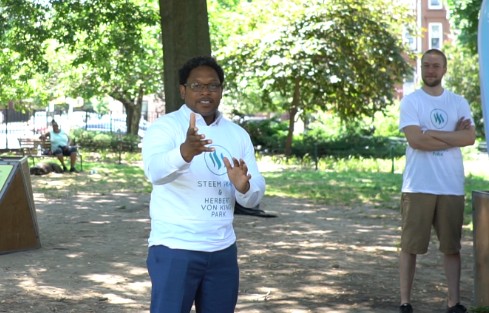 Head of the Conservancy saying "Thank you to Steemit"
More Than Just "Real"
While it would have been great just to have the physical structures made, Kirk and Mike also made sure that the fixtures were both sturdy and beautiful. We (and by that I mean the whole Steem community) didn't just furnish the corner of a park; we beautified it!
Thanks to Everyone Who Came Out!
It was also great to see so many awesome Steemians come out to support the project. A non-exhaustive list includes: @roychoi (who flew in all the way from Korea for the event AND brought swag!!!), @prufarchy, @drbaker86, @nickytothenines (who wrote a great article on the event), @krypto101, @dougkarr, @ryan313 (a proud minnow), and more!
My video of the event is below, but be sure to stay tuned until the end to watch @ryan313 preach STEEM to those drawn in by the event. Clearly this physical space is already getting people's attention and interest, and will continue to do so. Enjoy!