GoodBye YouTube, it's the END of an ERA :: Hello STEEMIT and DTUBE! 🤗
It's always fascinating in life how things seem to come full circle. As YouTube feels we are no longer "worthy" to be members of their once coveted "partner program", despite us being on YouTube since nearly the beginning, we felt compelled to create the following video:
Click Here to Watch on D.Tube!
(special thanks to @seveaux for allowing us to use his epic song "Final Battle" for this piece!)
I'll spare you the finer details of our YouTube "experience". However, in an effort to add a bit more context, here are some highlights from my introduction post earlier last year:
By 2011, our [YouTube] channel had nearly 100,000 subs (when that still meant something) with some pretty decent revenue. However, around mid-2011 our best viral videos were flagged down again, and this time (for no apparent reason at all) YouTube Support decided that many of our videos were no longer "appropriate" for the site (ie. we disagree with your politics). One video alone had over 30 million views, and still exists on copycat channels that YouTube never took down despite multiple requests (apparently, our videos were only "inappropriate for YouTube" on our own channel). Worse, all our new videos were often quickly flagged and rarely allowed to be remonetized (talk about targeting), and our monthly revenue collapsed. "YouTube Partner" meant squat.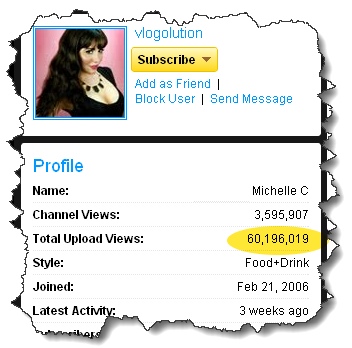 It got so bad that soon after, we gave up producing new video for our channel altogether. And YouTube didn't just uphold the demonetization of these videos, they even blocked a bunch of them completely! At which point, all their views also disappeared from our channel.
Link (@alexpmorris): YouTuber's Guide to Re-Monetizing with STEEMIT!
Link (@michellectv): I'd like to introduce you to my Naughty Tipples and more...
Fast forward to 2017, and the "tricks" and tactics YouTube used with us years earlier, now seem to apply to every channel that doesn't completely conform and support Google's ideological worldview. And if you doubt that it's really that bad, just watch this recent Tucker Carlson interview on how they treat their own employees, "Tucker SLAMS Google For its Bias Against Conservatives", and then ask yourself if you think anyone with a voice of their own really ever had a chance over there...
You can even see how there appears to be a secret "shadow ban" on our YouTube account, as immediately upon uploading this very video (after not uploading anything to this account in years), this is the message that awaited us regarding monetization... lol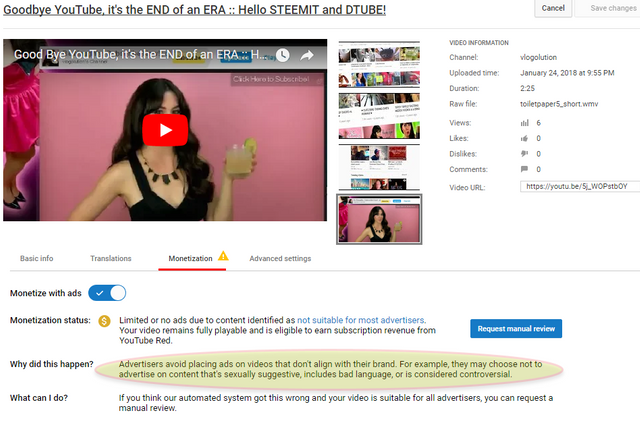 Yet, Katy Perry's latest repulsive video "Bon Appetit" on cannibalism/pedo and eating people, now has over 434 MILLION views and counting!
Just keep movin' right along... nothing "sexually suggestive" or "controversial" there, right?!
She's with HER, or US, or something!
And talk about coming full circle, we first learned about Katy Perry at YouTube Live in 2008. At the time, YouTube flew us out to San Francisco, all expenses paid, to attend the event. I suppose back then they didn't really consider "divergents" to be all that much of a threat. However, is there any doubt which team Katy Perry is on, or if YouTube would have any problem with any of her videos?
Yeah right... At this point, I'm sort of convinced that YouTube and Google is run by some kind of blood cult, or something...! 😱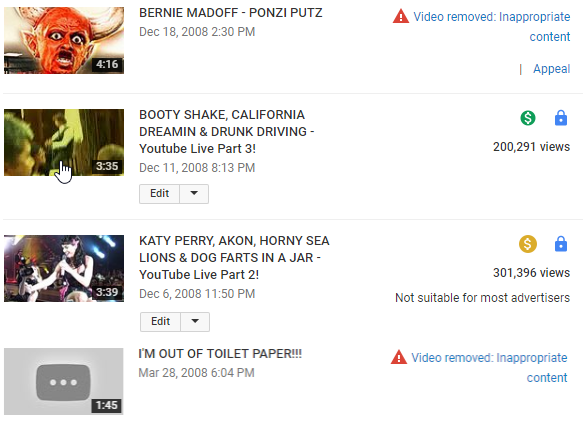 😂 It was apparently "inappropriate" to depict Bernie Madoff as a Ponzi Scheming Demonoid! 😂
While our video featuring Katy Perry at YouTube Live was deemed "unsuitable" for ads!
Where are they Now?!
So, where do we now stand in 2018? Well, besides all the changes over the years that have made it all but impossible for us to reach our own subscribers, along with so many of our videos deemed "unsuitable for advertisers", or even better, declared outright "inappropriate for YouTube", we're now informed that our channel no longer meets YouTube's latest set of criteria for maintaining our status as a "YouTube Partner"!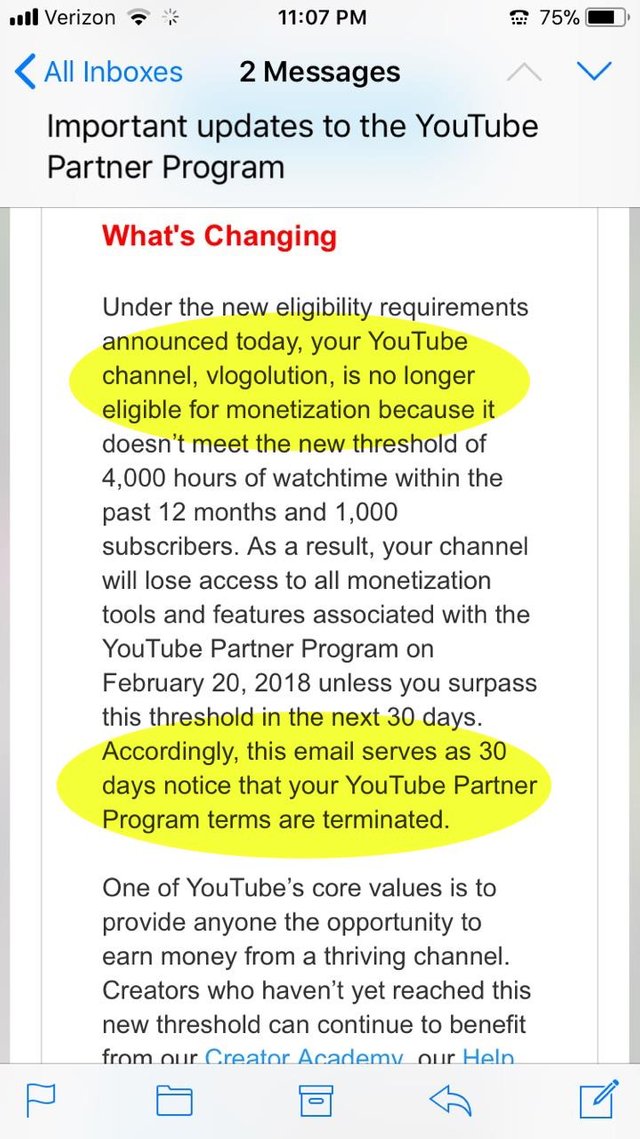 Frankly, we saw the writing on the proverbial "YouTube Wall" long ago, so this really doesn't come as much of a surprise to us. It's simply another step towards Google/YouTube's goal of squashing any dissenting voices or opinions that don't further promote and support their own private and nefariously-crafted agendas...
In other words, you're either "WITH HER", or you're against the "GooglePlex Pack". I expect come the next election cycle, any YouTubers remaining will likely have you believing there exists only a single political candidate. Or in other words, there'll be no doubt whatsoever as to who they own support.
So now what? STEEMIT and DTUBE, that's what!
We've been searching for the ideal next generation "censorship-resistant" platform pretty much since 2011. In the past year alone, the censorship and banning of "dissenting opinions" is worse than ever not just on YouTube, but across all major social media. And even reaching your own subscribers has become more difficult than ever. However disgraceful this banning and censorship may seem, it again points to the impending demise of fully centralized social media platforms, and the importance of migrating over to more decentralized, censorship-resistant models.
And that's what led us to discover STEEMIT. DTUBE was created soon after, and works on top of the STEEM blockchain. Video content is decentralized and stored via IPFS, otherwise known as the "InterPlanetary File System". Streaming quality has steadily improved since site went live. One of the biggest issues that remains is that generally, your videos and other content can only be monetized for the first week after they are posted. But hold the phone a sec...
Did you just say... POST-EXPIRATION UPVOTES?!
YES, IT'S POSSIBLE, sort of! I created an interim solution for this nearly a year ago, and I have used it successfully myself to upvote HUNDREDS of expired posts. Anyone can do the same by installing one of my simple TamperMonkey scripts. And perhaps at some point, @heimindanger (the creator of DTUBE) will consider implementing this method directly into DTUBE as well! Here's how the "magic" happens:
As long as a post still contains at least ONE ACTIVE COMMENT [by the post author], whether the post is 1 week or 6 months past payout, the "Past Payout Monetizer" will find and target THAT COMMENT for an upvote instead. And as simply as that, you can easily reward the author for their hard work, even if you've discovered it months after the first payout! Now, just for reference, this doesn't mean you should revisit all your old posts once a week with a fresh comment. However, back in the day when a video on our YouTube channel vlogolution went viral, people would continually leave comments on them, some even to this day!
I believe this dynamic will grow on STEEMIT [and on DTUBE!] as well, especially as more people understand the potential benefits. And if you still have people commenting on your past posts, there's one more incentive to leave a nice comment in response, even if it's just a quick thank you for appreciating your work!
Link: Ultimate STEEMIT: Minnow Post Vote Slider and Past Payout Monetizer Script... and next, here comes SteemTUBE!!! 😲
FINALLY...
We hope you enjoyed our little "tribute" video depicting "the end of an era" on YouTube, and welcoming in the future of video and blogging on STEEMIT and DTUBE. It's not just crypto or BitCoin.
We're moving beyond YouTube, beyond FaceBook and Twitter, and even BitCoin itself...
... where we can decentralize and remonetize the whole planet in under 3 seconds! ...
YouTube WHO?! Now that's something to consider, future Steemian and DTuber! 😁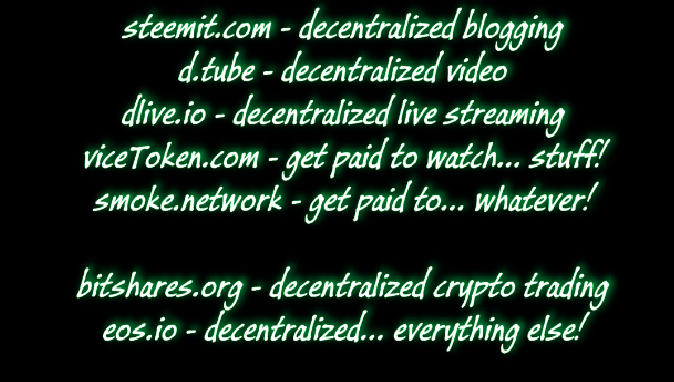 And for those of you who haven't quite had enough yet, here's a special treat, for as long as YouTube doesn't remove it on us... lol
I'm Out Of Toilet Paper, extended 2018 version :: Hello STEEMIT and DTUBE!

Click Here to Watch on D.Tube!
As always, I appreciate your upvote, your follow and all your comments!