The 'Followers' and 'Following' lists are kinda pointless
When do you actually use them? Apart from the occasional post with a fireworks image when you reach a nice round number?
source-pixabay
100's of Items in a list without any sort/filter options is pretty useless - sort it out Steemit!
My current list of 'Following' stands at 653 people. I've seen people who are following over 10000 people (re-steem services or crazy people?!), and users that are following no-one (hi @mindhunter!). I can see why both approaches would suit, but most of us are sitting somewhere between those numbers.
What is a user on your 'Following' list?
A friend in real life?
A user with an interest in common?
A user who gave you a nice up-vote in the past?
Someone who comments on your blogs a lot?
A daily competition holder?
A show of 'thank you' to them for previous interactions?
Perhaps all of these, and more!
There are numerous reasons why you may have chosen to follow an account, and keeping them in one 'unmanageable' list just doesn't make sense. I for one would like to see some additional columns added that can be sorted and filtered upon, such as:
Reputation
Last login date
Number of posts on my blogs
Number of replies to my comments
Requests have been made for additional features on this list, but so far, nothing has been mentioned. Until this time, I guess it's a case of doin' it yourself...
Different strokes for different folks
Before I describe the steps I took to create my own 'Following' list/s, just a note on the 'type' of user I am. At rep 58, firmly in the minnow camp (under 5000 SP), I have to go and find my food, and that's cool because i enjoy it. If I was a 75 rep whale, then my food would be coming to me in most cases. Although, everyone should go fishing once in a while eh?
I mention this because the need to manage your followers in a particular way will vary depending on the type/level of user you are. A whale may only need 50 followers - key accounts like @ned, @steemitblog, @stellabelle, or @abh12345 for instance ;)
My approach
Key requirement: A list, or multiple lists, where I can easily find users and open blogs related to a specific need/area/topic of Steemit.
The first decision I made was to not use my Following list to create my new Lists!
The initial task was to gather a list of 'meaningful' followers, users that I had interacted with over the past few weeks.
Firstly, I scanned through the 'Comments' feed, paying attention to worthwhile while responses to my blogs/replies

Secondly, a look through the votes on my blogs

Thirdly, a look through the votes on my 'Replies'
I navigated down these menus, going about 2 weeks into the history of the individual feeds, and this process took about an hour. No pain no gain they say.
These user profiles were saved as favourites in my browser of choice - Chrome. This initial list does look like a chopped down version of the 'Followed' list. However, in the browser bookmark manager, it is possible to create and name sub-folders.
The initial list
Apologies if I've missed you - you know what to do!

Time to make your 'Following' list make sense to you
As i said earlier, this where you have to decide on, who and what is important? How do you want to manage your 'meaningful' 'Following' list.
e.g. If you only post about Food and Crypto, perhaps you need a list of Foodies and Cryptomanics? :)
This is my initial stab (what? no 'tag' related folders!?), which is likely to change i'm sure: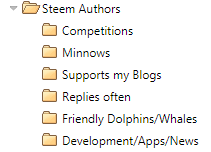 Once you have a base set of folders, copy (or move) these links into where you see fit. I chose to copy because I wanted the main list intact. I can see me wanting users to sit in more than one folder - no harm in that i think.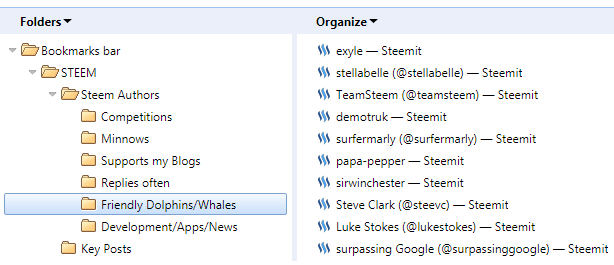 Pros and Cons
Will take some time to navigate through your 'interaction' history, depending on how far back you wish to travel

Not connected to the Steemit Database so cannot track changes e.g. Reputation, last login dates

Once the folders are setup, easy to add/edit/move your favourite Bloggers around

A speedy way to open a subset of followers users. e.g. Show me all the competition Bloggers. By right-clicking the folder, you can open multiple blogs at once:

Summary
So that's how I am doing it for now, at least until Steemit help us out. How are you guys managing these lists?
I'm sure there are users querying the Steem DB, pivoting the data, and totaling blog 'contributions' to manage their key stakeholders. Good for you guys! (Can i have a copy?!)
This is an approach anyone can take. And hopefully this will be of use, if only for ideas on what can be done.
Drop me a comment, I do like voting them up :)
Thanks for reading today!
Asher