The first thing you need to do is register an account with a cryptocurrency exchange that has a steem or SBD market.
I mostly use bittrex. https://bittrex.com/Home/Markets
You also need to register an account with a bitcoin/cryptocurrency debit card company. Ive tried a few so far and currently find spectrocoin offers most options and is easy to use. It also offers many options to get your cash without verification.
When setting up your acc consider setting up 2fa (2 factor authentication) for better security.
register here
https://spectrocoin.com/en/signup.html?referralId=2915260465
Most countries are supported, but if you want to check here is the link...https://spectrocoin.com/en/countries.html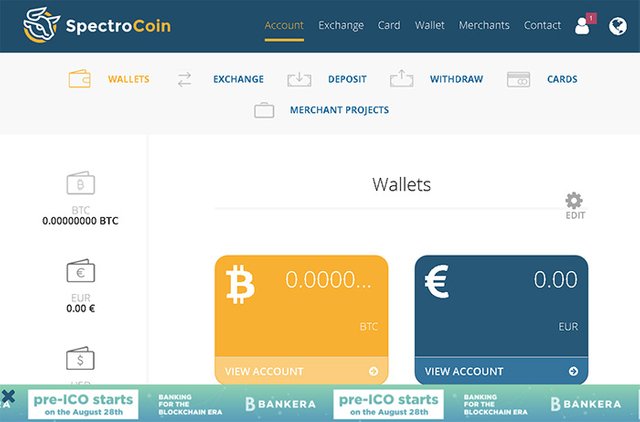 So now you have your accounts set up lets look at how to turn your crypto into cash.
On bittrex you have a wallet just like on steemit. go to your wallet on bittrex and get your wallet address for STEEM.
To do this go to 'wallets' , click on the + sign next to STEEM (if you can't see STEEM, type it into the search field.)
in the pop-up box you will see a memo code and registered account name. copy the memo code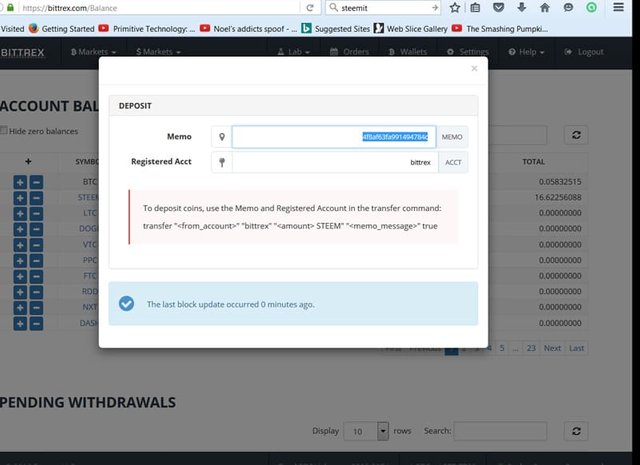 Now go to your steemit account wallet.
Click on your STEEM wallet, then click on the little drop down arrow to the right of your STEEM balance, select 'transfer'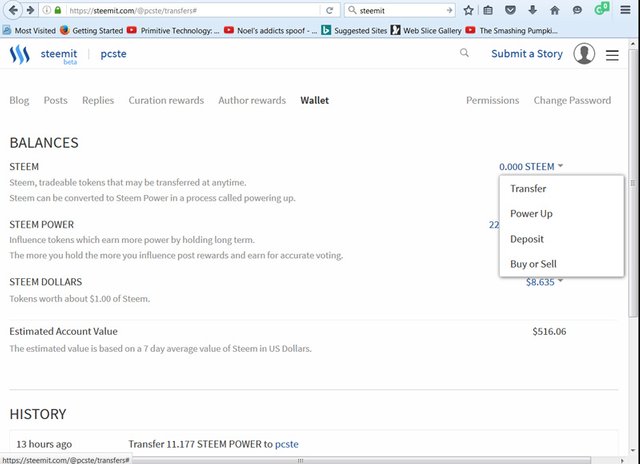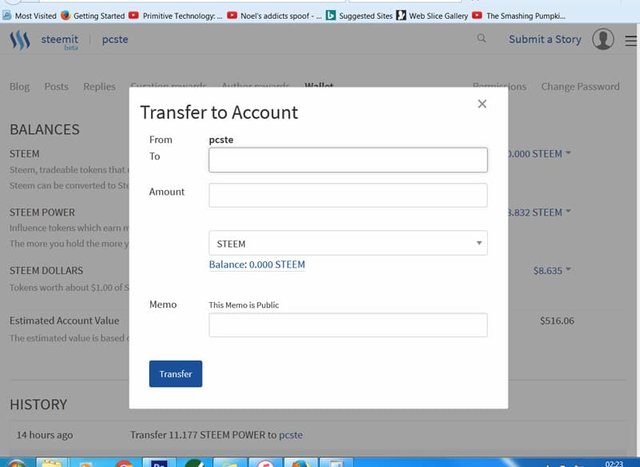 in the 'to' box put the name of the exchange. i.e. bittrex (make sure you spell bittrex correctly)
enter the amount of STEEM you want to transfer.
In the 'memo' box put the memo code you copied from your bittrex wallet
click on 'transfer'
your STEEM is now on its way to bittrex (it will take a few minutes to show up in your account)
Exchange your STEEM for BTC (bitcoin)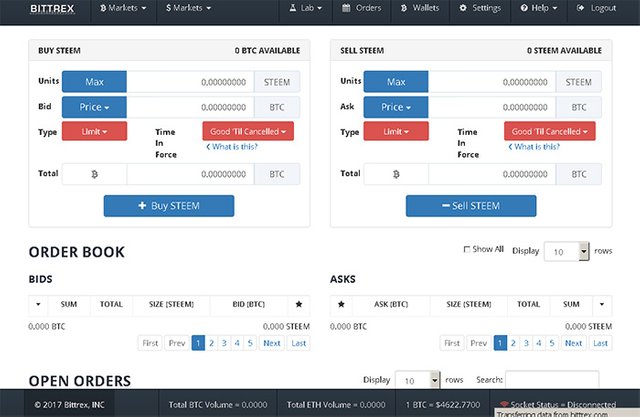 On Bittrex, click on the bittrex logo top left.
Click on BTC-STEEM
You should now see the trading chart.
Im not going to get into the complexities of trading in this explanation, as that is another entire tutorial.
So, ill just tell you how to exchange at the current rate at the time.
In the units box put the amount of STEEM you want to trade (you can select all of your STEEM by clicking 'STEEM available' above the box)
In the 'sell STEEM' box click on price, select 'Bid'
click on 'Sell STEEM'
Now you have some bitcoin you can send it to your spectrocoin account by going to deposits on spectrocoin, here you find your deposit address. However, because bitcoin is very high a the moment, then so is the transaction cost, currently to send bitcoin out of bittrex it will cost you 0.00100000 BTC which atm is $4.54 per transaction.
Thankfully spectrocoin accept other cryptos too, DASH is also listed on the main deposit page. currently if you send DASH from bittrex it will only cost you 70cents.
spectrocoin also accept many other coins, although they currently don't accept STEEM or SBD (they did a while back)
If you want to send anything other than BTC or DASH then click on 'Deposit other cryptocurrency' to get your deposit address.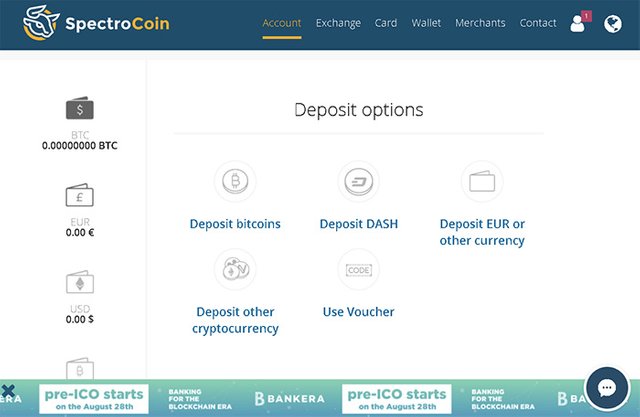 If you would like to send anything other than Bitcoin then stay on bittrex and use your bitcoin that you just bought to buy DASH or any other crypto that spectrocoin accepts.
To send your crypto to spectrocoin, click on the minus sign on your chosen crypto wallet i.e. DASH
and then enter the address you copied from your spectrocoin acc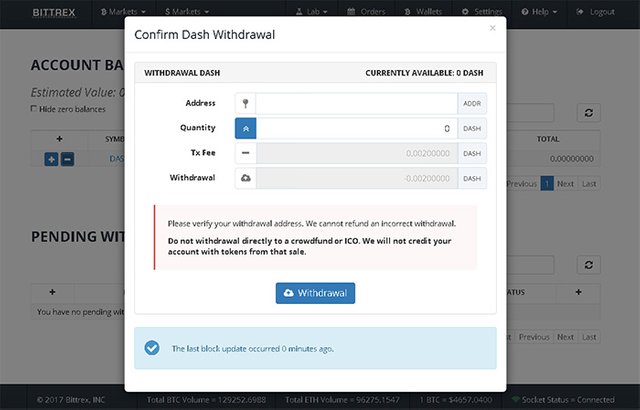 Now your funds are in spectrocoin you have various choices.
You can order a virtual or plastic debit card. the virtual allows you to spend online where as the plastic card allows you to spend online and in shops and also withdraw from atm's
You do not need to be verified to use the services but there is a limit until verification.
You can also send funds directly to your bank acc by exchanging your crypto into euro's and then send to your bank account via sepa. atm there is no verification required for this. (for european users)
There are also many other options for withdrawing.
go to withdrawal then withdraw to bank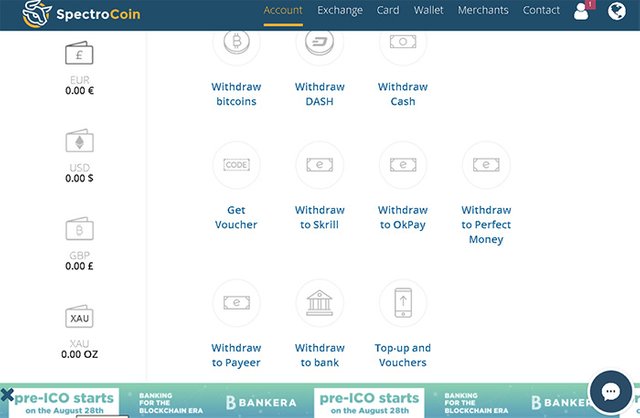 There are many other options on spectrocoin
heres a list of deposit and withdrawal options, fee's and limits.
https://spectrocoin.com/en/fees-and-limits.html
If you found this tutorial helpfull please vote pc for witness.
to vote for me go to : https://steemit.com/~witnesses scroll down the page and enter pcste into the box (dont use @sign) then click vote