[Deutsch / English]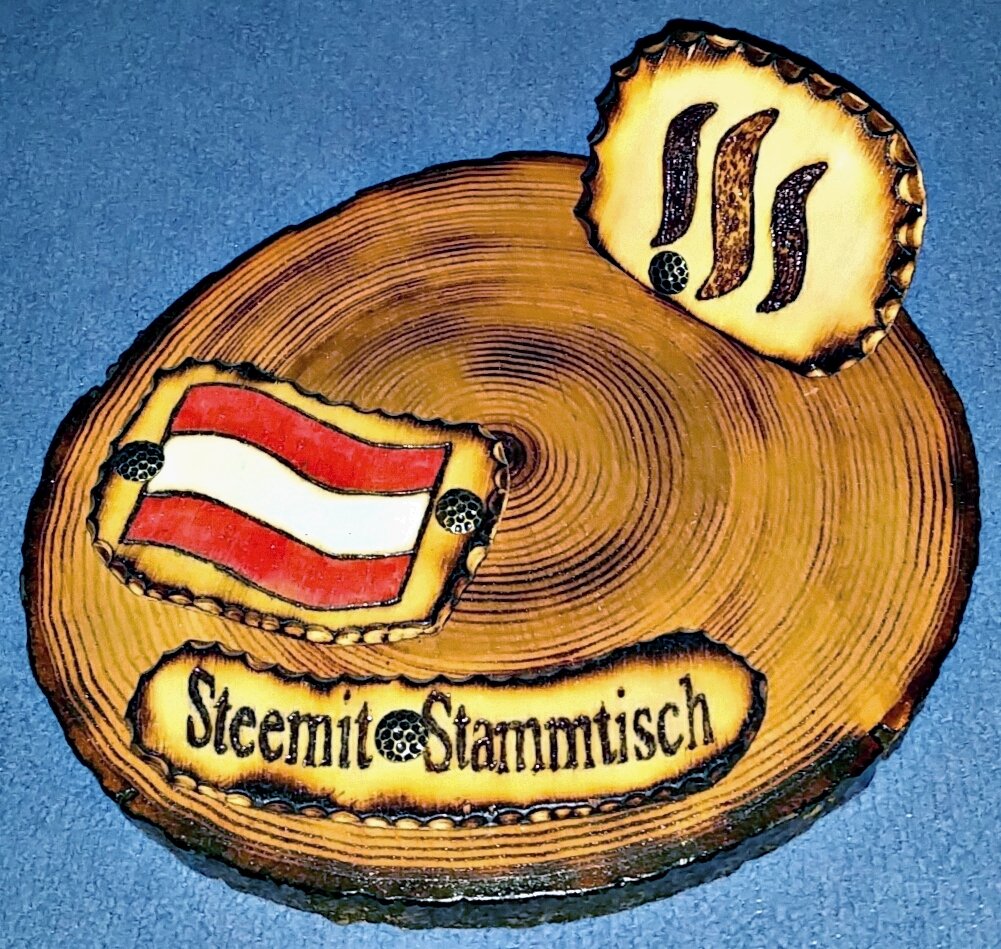 (Klick oder tippe das Foto zum vergrößern / Click or tap the photo to enlarge)
Servus liebe Steemians und Interessenten / Hello dear Steemians and interested persons,
beim letzten Mal gab es den zweiten Teilnehmer-"Rekord" in Folge mit drei Leuten, aber denen hat es laut dem schön bebilderten Bericht von @siamcat sehr gut gefallen und man kann wohl wieder von einem gelungenen Stammtisch sprechen. Auf weitere Berichte kann ich diesmal nicht hinweisen, es gibt nur diesen einen. Der Bericht ist natürlich älter als 7 Tage. Wenn du den Autor trotzdem mit einem Upvote beglücken willst, kannst du diesen neuen Trick nutzen.
the last time there was the second consecutive participant "record" with three people, but according to the nicely illustrated report from @siamcat they liked it a lot and you can probably speak again of a successful regular's table. I can not point to further reports this time, there is only this one. The report is of course older than 7 days, but if you still want to make the author happy with an upvote, you can use this new trick.

Juli-Jubiläums-Stammtisch / July anniversary regular's table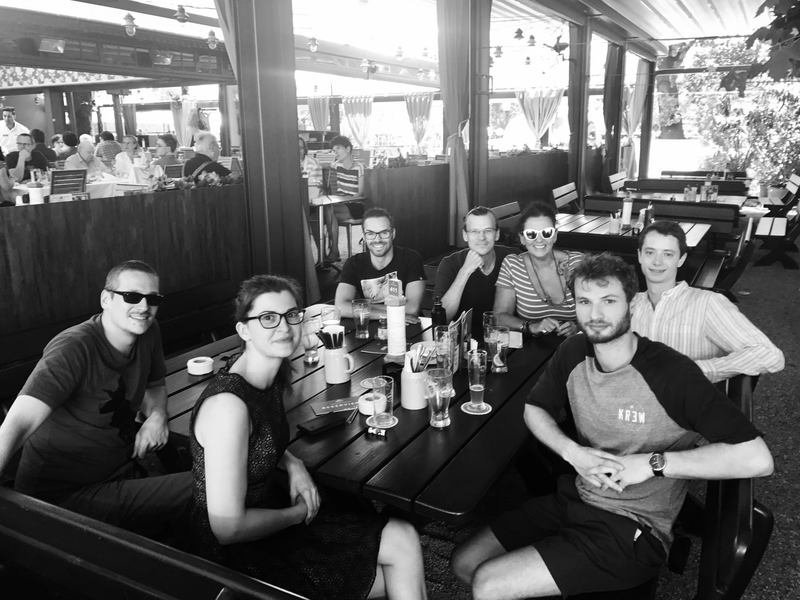 @mammasitta: Connecting With A Group Of Creative Steemians in Vienna At The Popular, Recreational Area Called Wiener Prater
@flurgx: Rückblick 1. Stammtisch in Wien - WhatApp Gruppe Österreich - Foto+Eindrücke plus nächster Termin
Weitere Gründungsteilnehmer / Further founding participants: @jogi @reconnectnature @nicoletta @artpoet @markdaniel
---
Diesmal hat der Weinbau Herrmann offen, so dass ich wie schon für das letztjährige Jubiläum wieder dort reserviert habe. Bei schönem Wetter sitzen wir wieder draußen unter den Weinreben und neben dem Weingarten und ansonsten drinnen im Nichtraucherbereich. Es werden keine Kreditkarten akzeptiert!
Da dienstags nicht geöffnet ist, sondern nur von Samstag bis Montag, habe ich wie letztes Jahr den Sonntag genommen. Und nachdem es Sonntag ist und die Sperrstunde bereits um 22 Uhr, ist ein Beginn am Nachmittag angezeigt, gleich wenn das Lokal öffnet.
Bitte gebt mir wieder euer Kommen in den Kommentaren bekannt, damit ich weiß, ob es mit dem Platz passt! Es ist auf den Namen "Steemit" reserviert. Ich bin diesmal auch wieder dabei und hoffe natürlich schwer, dass wir zum Jubiläum nicht den dritten Teilnehmer-"Rekord" in Folge aufstellen! ;-) Liebe Gründungsteilnehmer, wie schaut's aus?
This time the Weinbau Herrmann is open, so that I again reserved there as for the last year's anniversary. In good weather we sit again outside under the grapevines and next to the vineyard and otherwise inside in the non-smoking area. Credit cards are not accepted!
Since Tuesdays is not open, but only from Saturday to Monday, I took the Sunday as last year. And after it's Sunday and the curfew is already at 10pm, an afternoon start is advised as soon as the tavern opens.
Please let me know your coming again in the comments, so I know if it fits with the place! It's reserved on the name "Steemit". I am also here again this time, and I hope that we do not set up the third participant "record" in a row at the anniversary! ;-) Dear founding participants, how is it?
Wann? / When?
Sonntag, 21. Juli 2019 ab 15 Uhr / Sunday, 21 July 2019 from 3 pm
Wo / where?
Weinbau Herrmann
16. Bezirk / district, Johann-Staud-Strasse 51, 1160 Wien
Google Maps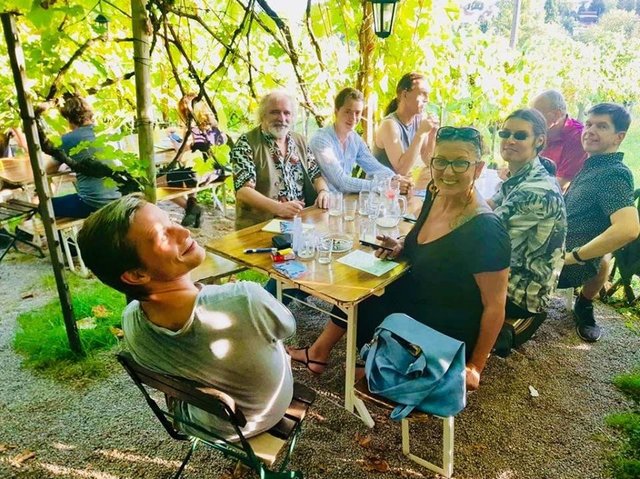 Das Foto ist von @manncpt aus seinem Bericht über den September-Stammtisch
The photo is from @manncpt from his report on the September regular's table
(Klick oder tippe das Foto zum vergrößern / Click or tap the photo to enlarge)

Der Autor-Reward zu diesem Beitrag wird wie immer an alle Teilnehmer zu gleichen Teilen ausgeschüttet. Vergangene Ausschüttungen könnt ihr bei Interesse in meiner Wallet sehen.
Wenn du Lust hast, dich persönlich über Steemit mit Steemians auszutauschen, schau vorbei, auch wenn du noch nicht auf Steemit bist! Am Stammtisch wird erzählt, informiert und geholfen. Wir freuen uns immer über neue Gesichter!
Für Interessenten, Anfänger, Fortgeschrittene und Profis
The author reward for this article will as always be distributed equally to all participants. Distributions in the past you can see if interested in my wallet.
If you would like to talk about Steemit with Steemians in person, just drop by, even if you're not on Steemit yet! At the regulars' table people talk, inform and help. We are always happy to see new faces!
For interested, beginners, advanced and professionals

Bitte resteemen, damit es möglichst viele mitbekommen!
Please resteem, so that as many as possible get noticed!
Wer nicht zum Stammtisch kommt, versäumt wirklich viel.
Who does not come to the regular's table, misses a lot.
@vikisecrets, 📷 Lovely Steemit Meetup in Vienna, organized in a decentralized manner via Steemit 😃
Herzlichen Gruß / Greetings
@mundharmonika
.