You've seen them. A post with images, no credit, simple possibly plagiarized text yet everything they write is GOLD they get hundreds and even thousands of dollars for cookie cutter posts. Every post is gold.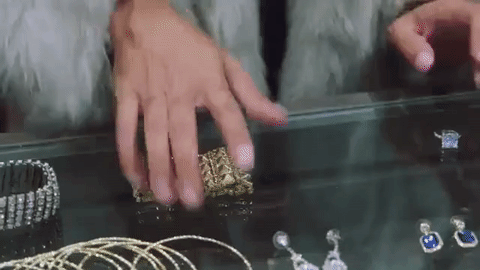 Source: giphy.com
Someone will call them out and it may slow down, and another soon arises to take it's place. You'll see similar names of "whales" up voting these cookie cutter money machines. I am suspecting this may not be due to the whales themselves. @berniesanders has been one of these whales, but I am actually suspecting this is not due to him. I will explain a hypothesis I have since reading recent posts from whales on how they are addressing curation.
There are three people I follow that found these suspicious activities before me. @klye, @bacchist and @jsteck. Thank you from a fellow steemit community member for the investigations you guys have done.
This post is not so much an exposé and instead will summarize and give some examples of the perceived problem. Then I'll dive into the real heart of the matter. If this is a legit scam, what can be done about it? What could Ned, Dan, or the others coding steem do about it? As beta testers we can see problems, that doesn't mean there is an obvious solution unless we can help with that.
Are you up to helping?
What we are seeing
There are accounts that seem to come out of nowhere. They often are about cooking. They use stock photos from sites on the internet without citing their source. They provide some simple text which in some cases may be plagiarized as well.
They make over $1000 on their first post as they are whale rushed. Then their next post does the same, and the next, and the next. Until someone like the three individuals I mentioned notices, takes advantage of the transparency of the blockchain and starts investigating.
What does this look like?
It looks very much like some very steem powerful individuals have found a way to farm the system. It looks like the creation of placeholder accounts (
@bacchist
called sock puppet) that they can then vote up with their very valuable power. This is a lot of money.
I had people in steemit.chat mentioning @honeyscribe as being another one of these. Sure enough there is a humus recipe, very simple, with a stock photo I found on google and no citation. $400+ when I looked at it, and it wasn't the only one.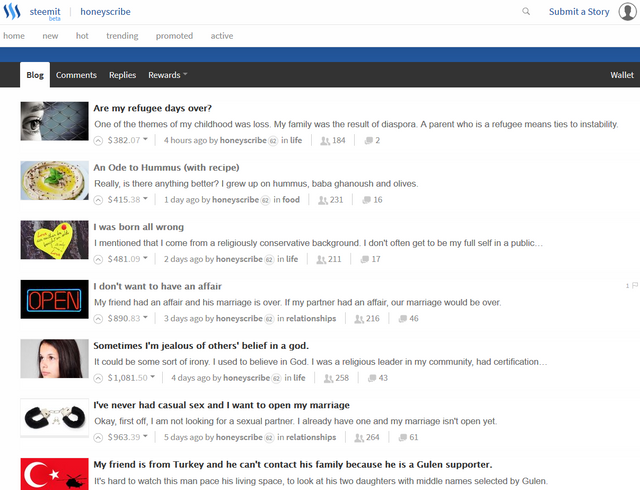 What does this do to steem?
Well if they are voting on these fake posts they certainly cannot be spending time doing very much good curating. Their voting power would be diluted here. This sends very negative messages.
How do we know they are fake?
All you need to do is look at the quality of the post, and do a reverse image look up on the uncited images. It quickly reveals how put together these are. I briefly considered making a satirical Ramen Noodle recipe post copying their technique just to show how truly ridiculous this is.
They'll get smarter.
Even if we use these techniques they'll get smarter. If they are making this kind of money they certainly can change to taking some photos if that is what it takes. They will become more difficult to detect. However, we know the names of the whales that tend to be flocking to these posts. Keep monitoring them and they will likely lead you to future sock puppets.
I stated it may not actually be the whales doing this
They have stated that curation is becoming difficult to keep up with so they have hired people to curate. These people must follow certain criteria. What is to stop these proxy curators from creating bogus accounts, or getting family members to create bogus accounts and then voting those up? Suddenly it goes from a job they were hired to do into a gold mine.
What can whales do?
Think about how you can keep an eye on those you are hiring to proxy curate for you. If Dan or Ned can add a way to add an ID to a proxy vote then perhaps you could narrow down who is casting such votes in your behalf for these sock puppets. Just another step towards improving the transparency.
What can Steem Developers Do?
For tracking down things like this more transparency is the key. Transparency is already great, but if people are given proxy power to vote for a whale then there needs to be a way for those individuals to be identified so the whale can take an appropriate course of action if they are abusing or taking advantage of the situation.
I am giving the whales involved in this the benefit of the doubt. That is why I have come up with an alternative explanation.
Disclaimer
I have been reading these and remaining silent. I thought maybe it was coincidence. There seems to be something to this.
@jsteck
's post I linked above has other potential accounts that could be like these as well.
Tags I chose were ones I've seen in the past. I am 100% behind steem. I do not think it is a scam, or a Ponzi scheme. We do however, need to do something about the scams that we are seeing with accounts like @mrron, @msgivings, and @honeyscribe.
EDIT: A new post relevant to this was posted @msgivings Frequent Trending Authors has been exposed for plagiarism the question is this what steemit wants to be