The Last IEO Round with $8,000 worth of Prizes, New Experiment in Token Listing Strategy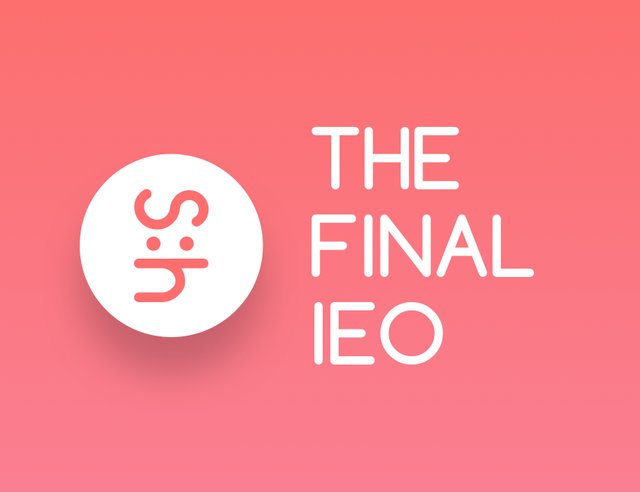 The final sales round for the Steemhunt IEO will begin on April 8th, 12:00 (KST) via Daybit exchange with total of 400,000 HUNT token ($8,000 worth) prizes.
HUNT token will be listed in Daybit exchange for the first time between April and May. Beginning with this token listing, we will try a new way to drive our token demand based on value-pegging demands.
Participate in the Final IEO - https://daybit.com/ieos
The Final Sales and $8,000 Worth of Prizes
We are running three IEO batches via Daybit as below:
1st Batch - DAY Token Only / April 1st, 2019, at 19:00 (KST) → Sold out within 20 seconds
2nd Batch - DAY Token Only / April 3rd, 2019, at 12:00 (KST) → Sold out within 12 seconds
3rd Batch - STEEM, BTC, ETH, EOS / April 8th, 2019, at 12:00 (KST) - April 12th, 2019, at 24:00 (KST)
STEEM, BTC, ETH, EOS will be accepted for participation, and the bonus rate is 14% (with a 90 days lock-up period from the moment HUNT is officially listed).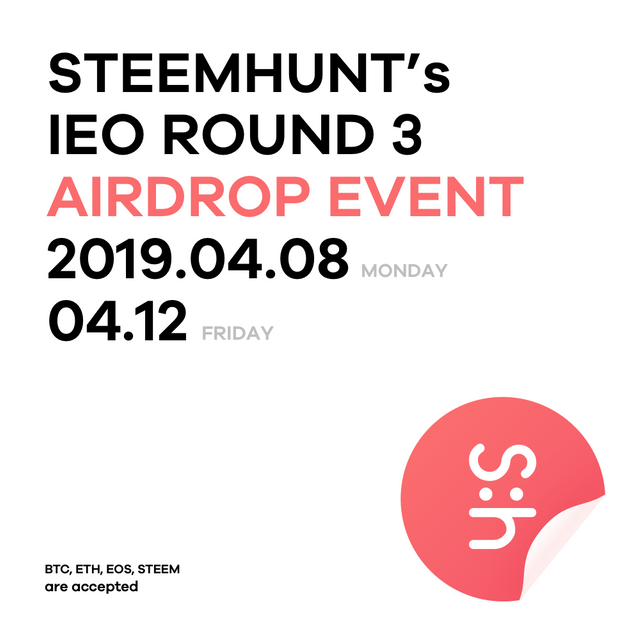 Since this will be the last round, we have prepared some big prizes with a total of 400,000 HUNT tokens (worth $8,000) as below:
1. Top Three Buyers
1st place (1 person) : 100,000 HUNT (worth $2,000)
2nd place (1 person) : 60,000 HUNT (worth $1,200)
3rd place (1 person) : 40,000 HUNT (worth $800)
2. Random Lottery up to 100 Buyers
Up to 100 people who purchase more than 20,000 HUNT ($400 worth) will receive an added bonus of 2,000 HUNT (worth $40) based on RANDOM SELECTION.
All prizes will also have a 90 days lock-up period after HUNT is officially listed. Please read more about this prize event here - https://support.daybit.com/en/support/solutions/articles/36000131766--event-celebrating-the-sold-out-of-steemhunt-ieo-round-1-2
Our IEOs have Increased Attention on Steem Blockchain
Our IEO journey started on March 14, 2019 and took almost a month with three different exchanges - IDCM, Probit, and Daybit. During this long journey there has been a number of outcomes so far.
1. Steemhunt's traffic has skyrocketed.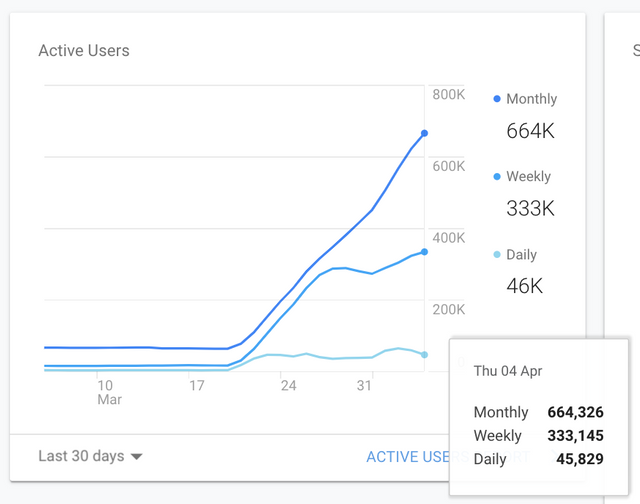 Since we begin our IEO journey, the monthly active users at Steemhunt has surpassed over 600K with over 45K daily users, which has increased more than 600% within a month. Our project has been featured/discussed a lot via big crypto communities and influencers in Korea.
2. Crypto investors have more interests in Steem blockchain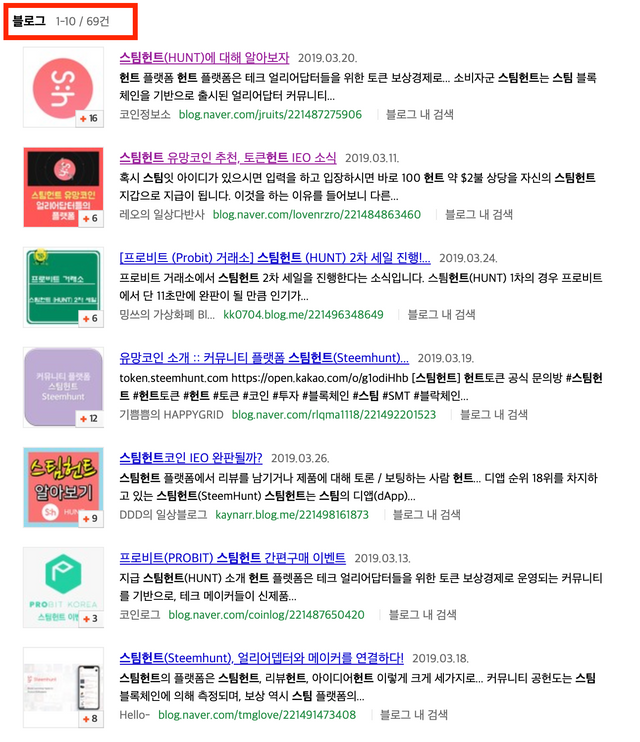 Many crypto investors did not know that there are many DApps with a wide range of real users in Steem blockchain.
Most token funding (ICO, IEO) was previously based on just white papers and "plans" without any working products or users. Now investors can see that there are many DApps like Steemhunt that have made a concrete user base with the potential to bring feasible blockchain use cases.
One of the top new medias in Korea (Chosun) has covered how Daybit exchange is trying to establish a STEEM trading pairs market for Steem DApps (http://it.chosun.com/site/data/html_dir/2019/04/04/2019040401096.html). Many big crypto influencers/bloggers are talking about Steem and Steemhunt.
3. More Steem DApps are jumping into the IEO journey
Now @dlike and @actifit are planning to join the IEO journey. Dlike's first IEO round will begin on April 8th, 2019 via the IDCM Korea, the first exchange where Steemhunt ran an IEO.
https://steemit.com/ieo/@dlike/dlike-ieo-event-to-be-held-on-idcm-korea-exchange
Actifit is also discussing with a couple of exchanges to run IEOs.
https://steemit.com/actifit/@actifit/actifit-weekly-actifit-video-competition-actifit-ieo-status-afit-token-stats-and-steem-payouts-witness-status-daily-updates
We believe that this trend will create a strong positive momentum for Steem blockchain.
New Experiment in Driving Price Momentum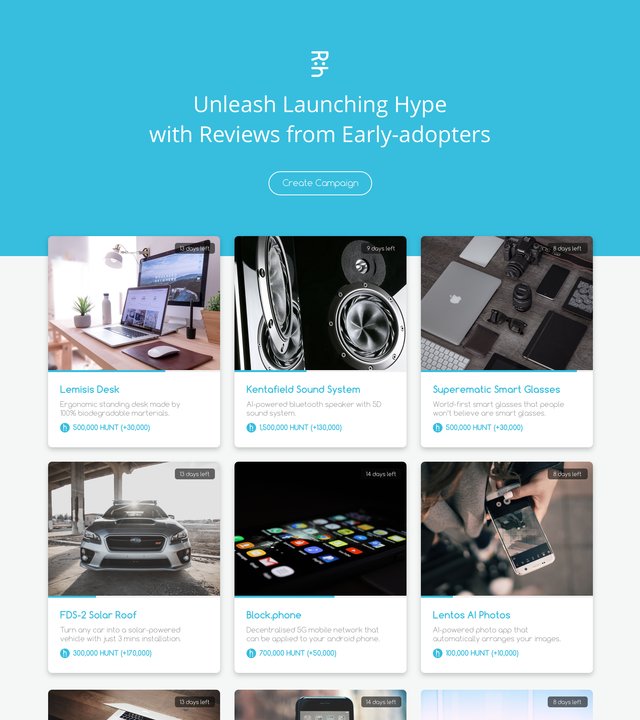 In general, the buying momentum of the token when it is listed in exchanges mostly comes from pump-and-dump-based sources such as; listing major exchanges, buying back their tokens, or burning the supply, and MOU/partnerships with non-crypto (and big) companies. We believe that this only works in the short-term, and isn't a healthy trend for the crypto ecosystem.
Whereas, we have a plan to connect the token buying demands from companies who want to run review campaigns to utilises hunters for their product launching marketing. Most companies do not have any accounting process to handle cryptocurrency transactions. If we let them use their own fiat-based marketing budget for running the review campaigns and Steemhunt purchases the equal amount of HUNT tokens from the exchanges, this will bring highly stable token demands irregardless of the bear market situation.
Participate in the Final IEO - https://daybit.com/ieos
...
Connect with Steemhunt:
Discord | Telegram | Twitter
Delegate Steem Power and Get HUNT Tokens:
500 SP |1000 SP |5000 SP |10K SP |20K SP |50K SP |100K SP
Please vote for Steemhunt - a witness which will take Steem blockchain to the next level in company-wide value stream and scalable user experience (learn more).