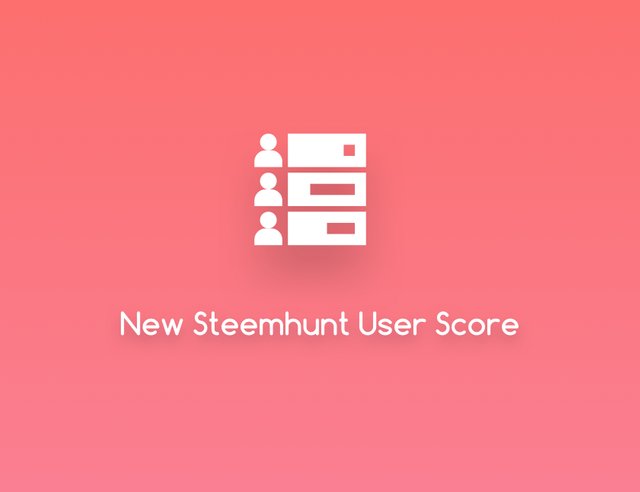 Today, we are delighted to announce our new user score system. Now your user score will increase and gain a larger voting weight if you have a higher stake in HUNT tokens and are more active than others. This is based on a relative percentile scale.
Our Journey to Invent ABV system on Steem Blockchain
Steemhunt has tried to create our own user reputation and voting system by adapting an account-based voting system. You can see our full journey in these two previous announcements:
The core philosophy behind our journey is to find the most optimised user reputation scale to represent the individual user's valuable contribution.
The problem with Steemit's stake-weighted voting system is that it's 100% based on the amount of Steem Power a user holds, rather than focusing on the daily activities that benefit the community. We believe that the user score metrics for community platforms like Steemhunt should mirror both sides - the user's stake in tokens and daily contributions.
New User Score - now your HUNT Token Balance Matters
1. Goal of New Metrics
There are three main objectives for our new user score metrics:
Represent the user's daily dedication within the community.
Motivate users to gain a higher stake.
Minimise the disparity between highly influential and normal users in a dynamic way.
Goal no.3 is especially important for us because we strongly believe that having many average users who are motivated to increase their influential power creates a strong foundation which leads to a powerful community.
2. Steemhunt User Score Metrics
Steemhunt user score is a measurable index that demonstrates how a hunter is contributing to the value of Steemhunt platform. The user score is calculated by multiplying the HUNT power score by the contribution score, and both scores are calculated by relative percentile point.
User Score = (1) HUNT Power Score X (2) Contribution Score
(1) HUNT Power Score (HPS)
HPS indicates how much of a stake in the HUNT token you have compared to other users at this moment. Your HPS may increase when you are staking more HUNT power compared others.
(2) Contribution Score (CS)
CS shows your activity-wide contributions in the community compared to other users. It calculates the user's activities over the last 30 days based on 4 subcategories - credibility (trustworthiness of the account), activity (how active in Steemhunt), curation (upvoting in an adding-value way), and hunter (valuable hunts/comments the user has posted).
Since both scores are determined based on the performance of other users, your user score may vary everyday. In other words, your user score may be decreased when other users achieve a higher performance than you, even if you have maintained the same amount of HUNT power and contribution activities. The max score is 10.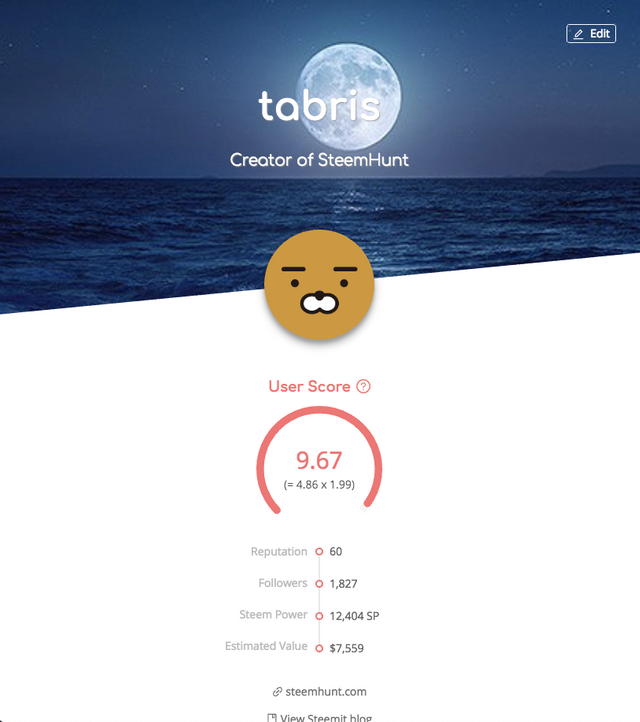 3. No Level, just Single User Score System
Previously, we had a hunter level system that was determined by each user's score, but this system was too complicated. For example, the user's voting weight was determined by his/her user score, but the airdrop rewards and @steemhunt's upvotes were determined by the hunter level.
Now every system is followed by the one single metric - the user score. There is no hunter level. His/her voting weight, amount of upvotes by @steemhunt, and airdrop rewards will be decided by the user score.
4. Upvotes by Steemhunt
Upvoting by @steemhunt will be the same as previous. To recap how we have upvoted so far, please check out this summary:
We only upvote one (approved) hunting post and up to 2 comments (that are within the top 100) per day for each hunter
A hunting post has 10 weight and a comment has 1 weight.
Only the hunter with a user score of at least 1.0 or more will get upvotes.
The voting weight will be multiplied by your user score to the basic weight (i.e. x3 applied if your user score is 3.0).
Steemhunt team members (not the community role members such as moderators, influencers, and guardians) will be excluded from @steemhunt's upvotes. Also, the user score of abusive users (i.e. Blacklisted users) will be demoted to zero.
Voting comments for the community roles are the same way as before: first two comments = hunter level rewards + community role rewards / rest of them = role rewards
This new system will be applied from November 18th, 2018 (KST).
...


Please follow @steemhunt account and join our chat channels (Discord is more active):
---