HUNT Token IEO and Listing via Exchanges Will Begin (10% Bonus Chance for Steemians)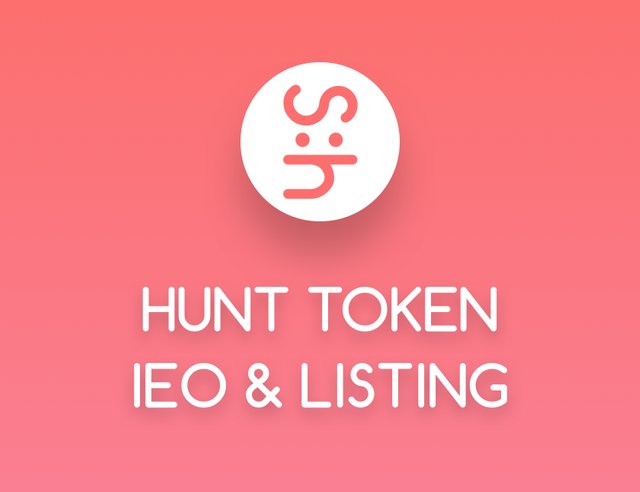 Today, we are thrilled to introduce our plan to launch the HUNT token via an Initial Exchange Offering (IEO). We will run the IEOs via three exchanges during March 2019, and start to list HUNT token in Daybit right after the IEOs are all finished.
What is IEO?
The IEO (Initial Exchange Offering) is now considered a better alternative to the ICO (Initial Coin Offering). IEO relies on running the necessary token funding process via exchange so that the project can save much time and resources dealing with the sales contract, KYC, and heavy marketing.
What is HUNT Platform?
HUNT Platform is designed as a home for product early-adopters who have exceptional knowledge and passion for cool new products. Our token economy for product enthusiasts, which was tested for one year, will provide a blockchain-powered product launching platform for tech makers.
The goal of HUNT platform is to create a decentralised ecosystem by providing dapps and 3rd-party services that enable product makers to utilise the power of product lovers. It has three layers that form the complete ecosystem:
Community layer - the ad-free, self-sustainable Steemhunt community which works as a base layer for our platform
DApps and 3rd-party layer - connecting early-adopters and makers that provide a value-to-token interchangeable ecosystem by Reviewhunt and Ideahunt
Makers/companies layer - tech makers that need to utilise the power of early-adopters for the successful launch of their product
Please check our token website, whitepaper, and pitch deck.
IEO and Listing HUNT Token
We have been discussing with several exchanges to run the IEOs, and have confirmed to proceed with two exchanges, and we are discussing a third deal. Our IEOs will begin around the second week of March, 2019 and run for three weeks via three different exchanges. After finishing the IEOs, HUNT token will be listed in Daybit exchange at first, and will continue to list other exchanges depending on the trading volumes. The exchange information will be announced within a few days as soon as our contract has been signed.
IEO Details
Total Token Supply
500,000,000 HUNT
Total Sales Allocation
50,000,000 HUNT (10% of total tokens)
IEO Round
1st Round) 11-15 MAR
2nd Round) 18-22 MAR
3rd Round) 25-29 MAR
Sales Price
0.02 USD per token
Hard Cap
1,000,000 USD
10% Bonus Chance for Steemians Only
In order to estimate the sales amount and provide additional bonus for Steemians, we are running a survey event that shows how you plan to participate in the HUNT token IEO. We will send 10% bonus tokens to survey participants who purchase tokens via the IEO. This will be an ADDITIONAL bonus to the set bonus rate in the exchange itself.
This event will be run for 3 days only (from today to Feb 27th, 2019 KST). The form URL will be expire when the event is over.
Pre-commit of HUNT token IEO participations
Please commit your plan to participate in the HUNT token IEO via this form - https://docs.google.com/forms/d/e/1FAIpQLSdng5R5OlvuySH0GDcPkp0LUfYtz-csTjGgnlgPE9Dc60gu5A/viewform?usp=sf_link
Participate in the IEO
Send the video recording of your proof of the token purchase via our email: [email protected] (we will inform the participants of how to generate the proof via their emails later).
We will send the 10% bonus tokens to your Steemhunt wallet as soon as we have verified your purchase information.
This 10% bonus event is only for the Steem users. If you don't have a valid Steem account, you won't be able to receive the 10% bonus tokens.
This event will be run for 3 days only (from today to Feb 27th, 2019 KST). The form URL will be expired since then.
Exchange information will be disclosed within a few days
We will announce the details of each round of IEOs including the exchange's sales page as soon as we finalise the signing of our contract. Please stay tuned!
...
Connect with Steemhunt:
Discord | Telegram | Twitter
Delegate Steem Power and Get HUNT Tokens:
500 SP |1000 SP |5000 SP |10K SP |20K SP |50K SP |100K SP
Please vote for Steemhunt - a witness which will take Steem blockchain to the next level in company-wide value stream and scalable user experience (learn more).