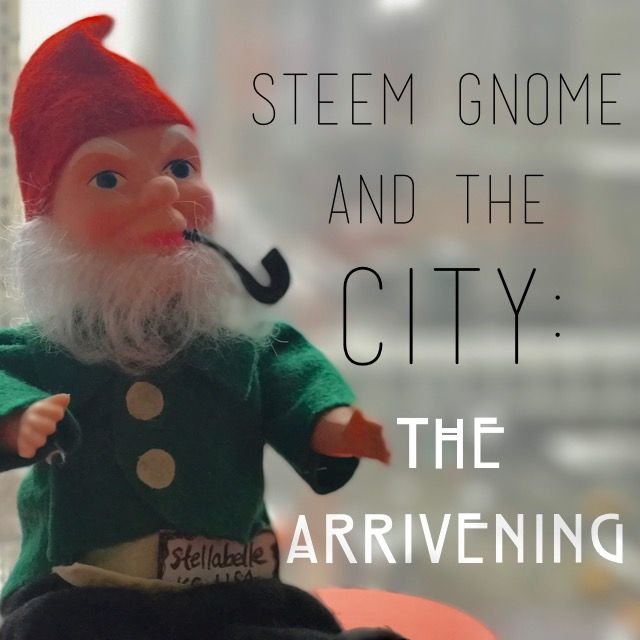 I'm not going to lie, I haven't been having the best day. My throat hurts, I forgot my snow boots and realized it just as the first flakes fell. All day long has been one wish for my couch after another, but I'm powering through.
There are moments that can brighten up a day like this. While I was busy doing what Ad Operations does a package came for me. A mysterious, light box was handed to me and for a moment I could not remember what I had ordered. Seeing as how I love to get packages I didn't pay any mind to it and just tossed the box on my desk while I ran off to a meeting.
When I returned, I cut open the package and heard light scrabbling sounds coming from inside the box. Flipping open the flaps, a hard plastic bundle of felt sprung out at me! His little hands grasped an especially long nose hair until that gave way, depositing the little guy onto my lap.
A STEEM GNOME!??!
I had heard about Steem Gnomes in Lorebooks written by the mysteriously odd @stellabelle. According to legend, Steem Gnomes are destined to bring two things: Good luck in posting and mischief. Rubbing my nose, I suspected I'd get a little bit of both.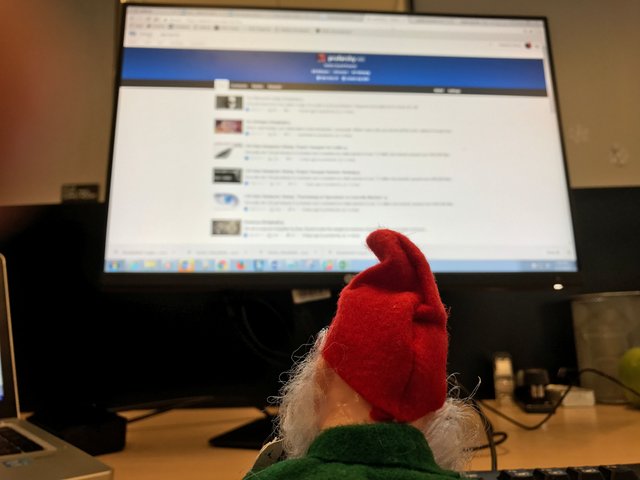 The little one surveyed his surroundings and immediately reached for my computer, I guess something on the screen had gotten him all riled up. But since I was still firmly entrenched in the work day I had to pull him away from the keyboard. I had him sit next to the monitor so he could enjoy watching me work, but he just sighed, scoffed and pointed at the window behind me. I turned to see what had gotten the munchkin so worked up but could see nothing. When I turned back to inquire about what he'd been pointing at, he was gone.
There's a Steem Gnome loose in the Freedom Tower. I nearly called building security but decided that I could catch him myself. Besides, most of the time when you involve law enforcement things have a tendency to go pear-shaped. I set off after him, knowing he couldn't have gotten far on those adorable little feet.
Two hours later, I came back to my desk. My email was backlogged, I had several phone messages waiting, and I hadn't found the Steem Gnome. I was going to call security but as I approached my desk, guess who I see?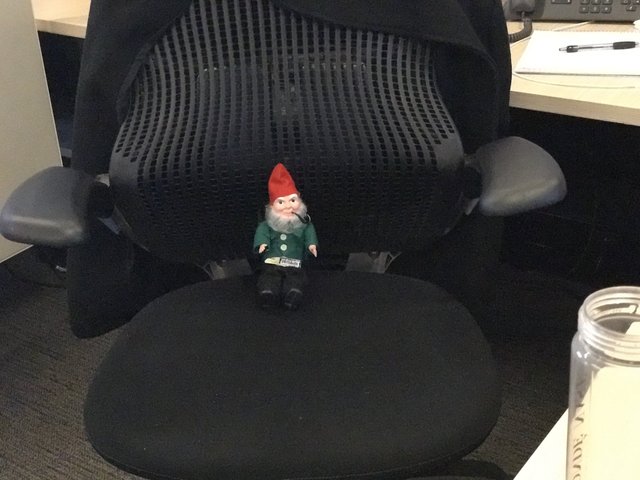 I do my best to put on an authoritative air and demand to know where he's been. He pulled a digital camera from his vest and tossed it to me, and as I progressed through the images, my eyes grew wider and wider. He's quite the resourceful little Steem Gnome.
I'm currently trying to explain to him what the itinerary is for his stay in New York City, but he seems more interested in snooping around my co-workers desks. While I try to calm him down (I guess he has been in that box for a while), check out what he's been doing around the Freedom Tower already!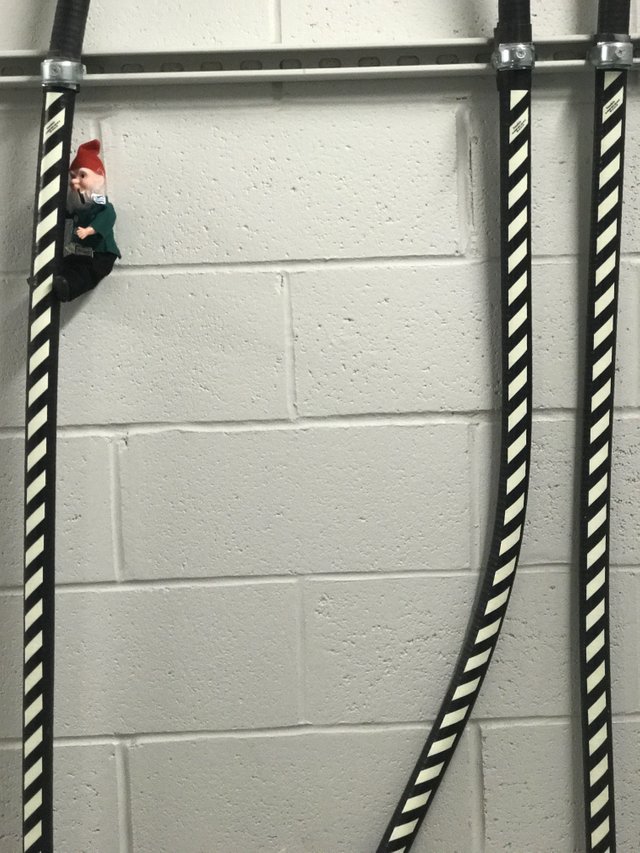 He told me he was an engineer
and
electrician, and he wanted to make sure everything was in working order.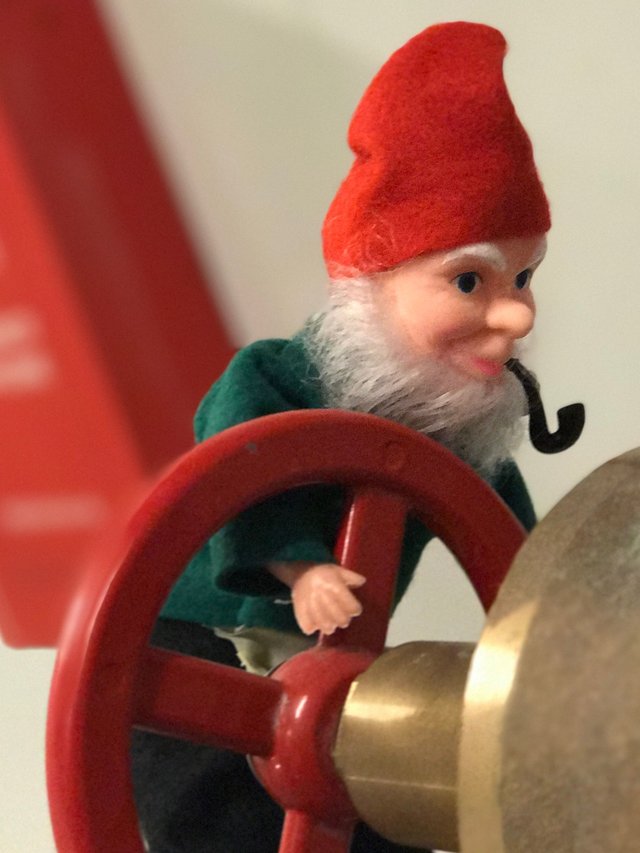 He said a cursory inspection of the fire system disappointed him. He also warned I should be ready for a fire drill at a moment of his choosing.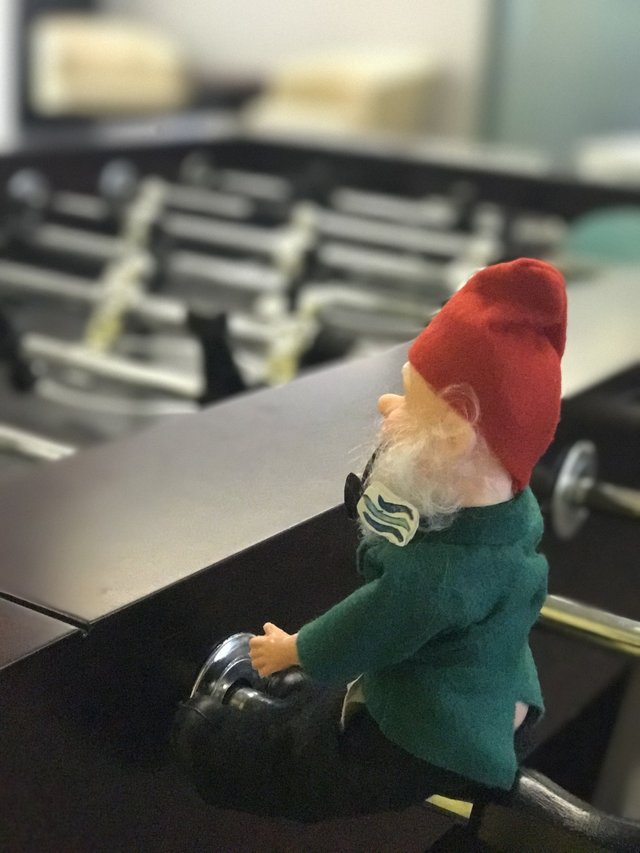 The Steem Gnome approved of our 21st floor game room. He was especially fond of Foosball. He then spent 10 minutes explaining what the heck Foosball was and how it is played. I still don't understand.
He seems to be fitting in well around here already, with several people coming by to compliment his beard and clothes. But now I have to get back to work and finish up for the day, so I can take my new houseguest out for some Whiskey! Also, he's just standing there staring at me and it's starting to creep me out.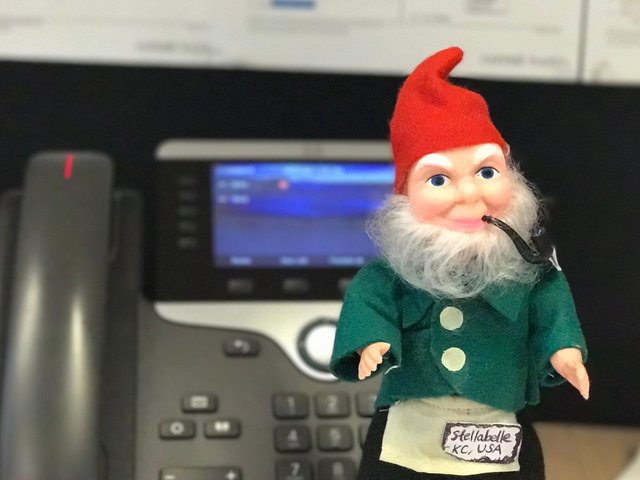 See?
I'm very excited to be hosting the Steem Gnome!
Thanks @stellabelle for coming up with this idea and getting it going! Check out that post HERE
Thanks @sumthnfrumnuthn for sending it out to hang with me in NYC.
I have some great fun planned for me, the Steem Gnome, and all of you! There may even be a special Steem Gnome Challenge in the wings, but I'll have to settle him down first to discuss Steemit business.
Stay Tuned!
Also, if you live in NY and would like to see the little guy, it can be arranged ( @andrarchy @cristi @deviedev and other NY'ers).
---
---
Thank you for spending time here