Description
---
Hi! This is Yvonne Novela a.k.a. AdGoggleKo on Twitter with 8,000 plus followers including @steemit and @dollarvigilante before I joined Steemit in November 2017.
I am active on Twitter and I love tweeting quality posts. If you want your 'steemgigs' and other posts to be tweeted by me, just leave a comment with your Steemit post links.
Pricing
---
My services are FREE. When I said free it's 100% free. Upvote, Follow, Resteem NOT required but highly appreciated.
Price: Starting at 0.000 STEEM
Delivery: 30 day(s) 1 hour(s)
---
Requirements
---
You MUST have Twitter account too.
Portfolio
---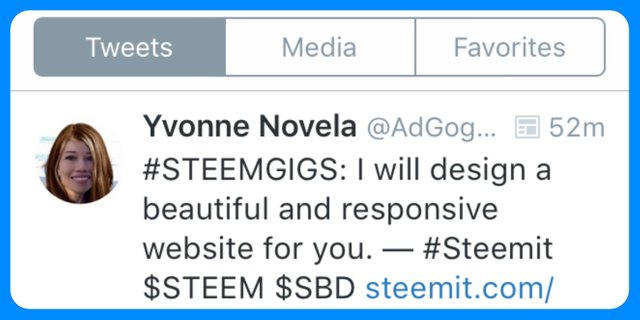 this post was made on STEEMGIGS Where everyone has something to offer