3 Days Later My Tuk Tuk Arrived In BKK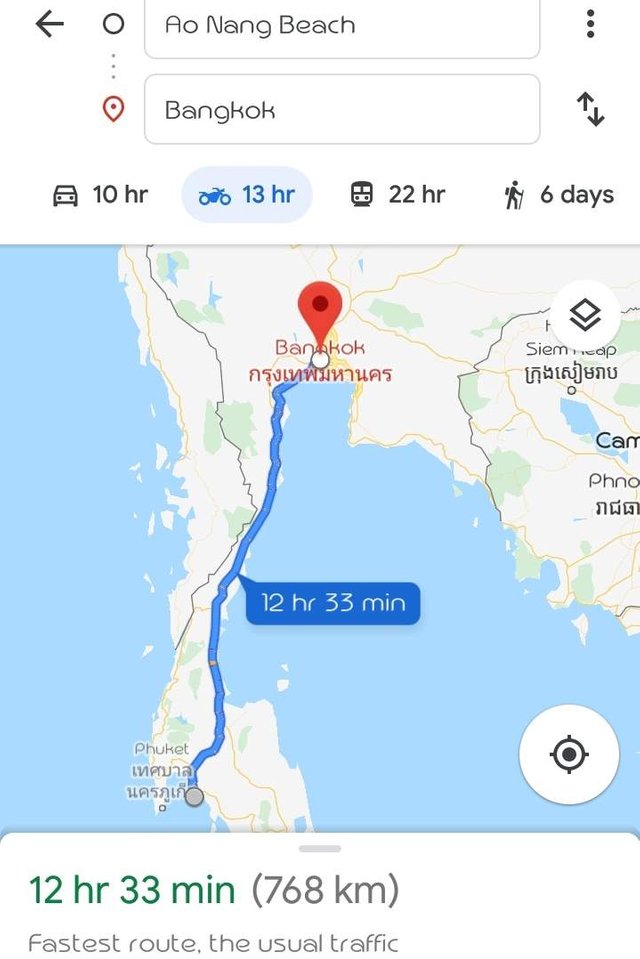 What an experience I had with my tuk tuk driver Jesdaporn.. Yeah, that's his real name..Apparently he is named after a famous actor in Thailand but I must say I got a kick out of shouting commands that end with "just the porn" from my metallic bench seat at the rear..
Normally it would be inadvisable to hire a tuk tuk to transport oneself further than a few kilometers but I don't do normal and I convinced Jestdaporn that I was a famous blogger on steem and aside from the agreed upon fee to drive me nearly 800km he would likely become a very famous online celebrity like myself. I should mention that when we set out from Ao Nang we had both been drinking beer and smoking cannabis all day so at the time of departure I believe we both believed this voyage would somehow end in stardom. By the time we had sobered up we were already a couple hundred kilometers north and it seemed just as crazy to turn back. I also was paying for all food, drink, bribes, hookers, blow, and of course there was never a moment that a spliff wasn't being rolled or smoked.
It turns out Jestdaporn has a healthy appetite for all things taboo and illicit, I was only happy to be the supply guy but my bum can only fit so much stuff, so after about 18 hours my ass was killing me and I sternly recommended we either finish all the narcotics or get me some baking soda and access to a kitchen so I could cook up some sweet delicious crack from the contents of my chafed crack. With the blow cooked into rocks I could then hide them in tiny plastic bags in my mouth that are easily swallowed if an interrogation or search seems likely..
He wasn't thrilled about the crack smoking idea so I compromised by rolling "primos" which are cocaine laced marijuana ciggies, these are much easier to hide and so away we went with exactly a dozen of these primos..
This concoction, along with the occasional sip of rattlesnake whiskey had brought us to with 250km of Bangkok. At this point we both blacked out and woke up to the crow of a responsible cock doing his job. Speaking of that, apparently Jestdaporn had done some work of his own whilst I was out like a light, and promised a well seasoned from the looks of her, lady of the night safe passage to Bangkok. I obliged as long as she sat up front as I have a strict policy of abstinence when it comes to thai street meat and of course I'm happily married.
All this reminded me that I had not told my trouble, that's cockney rhyming for trouble and strife, which is me wife about my mode of transportation and I was supposed to have called from Bangkok over a day ago. I yelled out " fuck just the porn drive! "
I had one primo left that I smoked for breakfast by myself. My driver and his acquaintance were both busy talking Thai and pretending I didn't exist. Not an easy task considering I was projectile vomiting out the side every half hour like clock work.
Alas, I saw some signage for Bangkok and I told Jestdaporn to take me to Ratchada night market as I was sure to find some fine steemians perusing the exoctic eateries. He quickly turned and put a switchblade to my throat and said "just the porn finish" to which I replied, "I thought we had something special, I guess not everyone is cut out for celebrity" In true 007 fashion I then did some ninja shit and in one infinitesimal moment I'd dislodged the knife and sliced off Jest's right nipple and tossed it onto his forehead where it stuck like pepperoni on melted cheese with extra sauce.
I told that bloody bastard to keep the change and I hopped out of the tuk tuk. So I need a ride.. I'm about 30km from the convention, leave a comment if you can fetch me..
Posted using Partiko Android