You set Kraków on fire! Thank you for coming from over 47 countries all over the world to "this city you never heard of" (quoting the Steembirds). Two days of conferencing, socializing and chatting, 4-5 nights of partying, showing of your bowling, singing and dancing skills. It was a tiring yet epic edition which would not have been the same without you.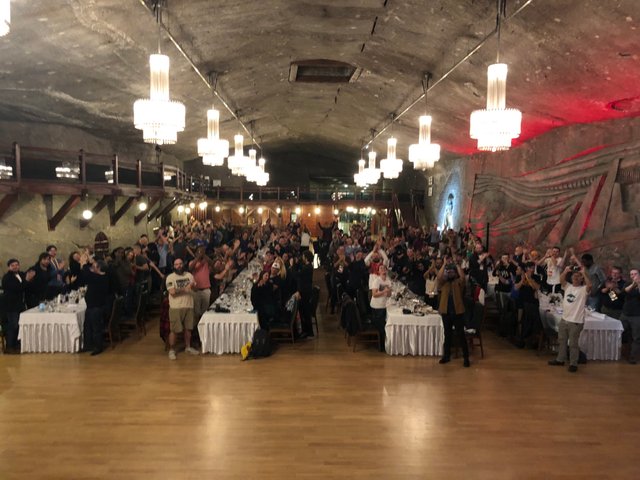 As I am writing this I am struggling with converting SBD to BTC to EURO to Zloty to pay several bills for the event. I've been joking around, just like many of you I guess, about "can I pay in crypto". I hope in the coming years we move on and the "joke" turns into a reality. Just as an example with @aggroed who sponsored with SteemMonsters (resulting in the plankton and minnow discounts!) we tried to "wire" from the USA to my event fiat euro bank account: after 3 weeks it was still not here and we killed it and went for SBD instead - 3 seconds later, ready to spend :)
Although the fire might quench some here in Kraków with you all moving on and back to your origins, the blockchain stays scorching hot. Wish you all the best for now, set fire to your projects, new relationships and creative stories!
See you on the chain,
a humble bow and thank you for coming to SteemFest3, You made it unforgettable!
xoxo :fire:
@roelandp
C O L O P H O N
Thank you:
@aishwarya, @sjennon, @things, @firepower, @varunpinto and @wandereronwheels, aka the "crew" for their amazing task of welcoming and guiding all of you;
@poezio for being the flying goalie (dutch :P);
@timsaid, @mynewlife and @shourai for documenting the event in pictures, soon to be aftermovie and livestreams (which will be cut in chunked presentations - soon tm)
@detlev for hosting room 2, it was great, danke vielmals;
@anomadsoul for hosting great competitions sponsored by @blocktrades;
@good-karma for the original codebase of the SteemFest app
@knozaki2015 for bringing the Japanese crew to Kraków;
@techslut for the event PR;
@gtg for helping me explore Kraków during the summer and several Polish "consultancy" talks;
@surfyogi for finding originals ways in trying to get the Nigerian community to Kraków which unfortunately failed because meh;
elizabeth, madeline and @ned for all support from Steemit Inc.
all speakers and performers of SteemFest 3!
SteemFest3 would not have been possible without the sponsorships of:
Thank you for buying a support ticket: @demotruk, @ekitcho, @gtg, @jonching, @nanzoscoop, @nathanmars, @project7, @teamsteem and @victordoan
Thanks to these sponsors about 70% of all attendees could buy a 50% discounted ticket for the event. Thank you!
See you next year!
Start saving some! And count on a November date again!