SteemFest๔ Updates - First names announced - Ticketshop open - Let's go Bangkok!
TLDR: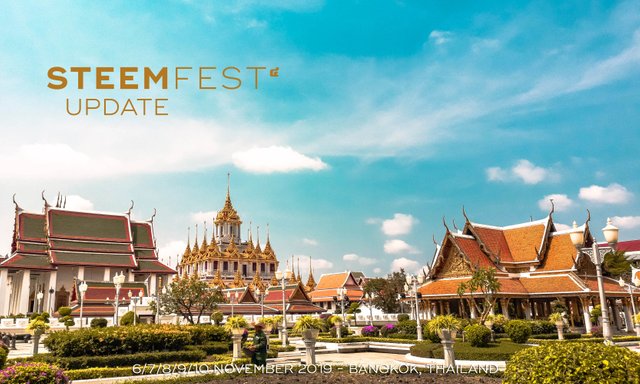 Orange Temples by by Alejandro Cartagena on Unsplash
Sawadee! It's been a while since you heard from me about SteemFest. That has to do because the announcement of this year's edition was pretty early on (I think last year only about now), and had some (minor) hickups on the way... That's what you get when trying to organise everything more than half a year in advance: venues close down, go out of business, or better options come along :) Not much to bother you with, but great news is that I more or less got the budget calculated and am confident to open the ticketshop today!
Prepping for the fourth iteration of SteemFest is well underway and with help of great sponsor's managed to get the plankton/minnow ticket price IMHO pretty affordable again. Thanks to the Thai economy (food price) the price is able to be lowered generally by 20% compared to last year. SteemFest is not an event for making profits, but an event for the community. Sponsorship funds go towards lowering the entrance fee for the plankton & minnow ticket, but I kindly ask you, if you have some Steem to spare, or did well in the recent crypto bullish run to not abuse the plankton/minnow price and opt for a higher levelled ticket price closer to cost price. The ticket section on steemfest.com will also suggest a minimal price level depending on the username you fill in, which calculates solely based on the amount of SteemPower you have :)
Ticket price dynamic schedule - you know what price you get:
Two years ago 1/3rd of the bookings of the event came in the last 7 days prior to the event. That literally brought in unnecessary stress and costs because of last minute changes with catering and transportation logistics. If it would be just up to me it is totally fine to book last minute, however the Chefs and such want to know prior to the event how much food they need to order :)
So like last year, to force you into planning ahead, and hopefully preventing last-minute planning a dynamic pricing schedule is implemented.
| | | |
| --- | --- | --- |
| Current prices | from now to Friday 30 August - 23:59 UTC | Ticketshop |
| Increase 1 | 30 August - 27 September | 20% of costprice increase |
| Increase 2 | 27 September - 25 October | 20% of costprice increase |
| Increase 3 | 25 October - 5 November | 20% of costprice increase |
| Walk up rate | 6 - 10 November | 20% of costprice increase |
Please visit the completely updated SteemFest website which includes first program details, first speakers (many more to be announced) and links to the ticket shop / integral crypto ticket buy mechanism.
Btw. as a tradition, just like past 3 (!) years, @knozaki2015 immediately when the shop opened. Pretty bold!
SteemFest tickets starting at € 222.22 until 30 August 2019
This year's minimum (Plankton!) ticket price is 20% cheaper compared to last year. The actual costprice of the event per person is forecasted at around € 450 and due to forecasted & confirmed less sponsorship income, unfortunately less compared to last year, I could not lower it more.
That said, the 'Plankton Ticket' € 222.22 is priced at about 1/2 of the costprice of your attendance, thanks to the support of Steemit.inc and the sponsorship of @blocktrades, @steem-engine, @steemmonsters, @steemwallet.app and who like the idea to have an event to be as inclusive as possible. Please thank them! - @SteemFest is still open for sponsorships btw.
Don't know which ticket level to buy? Steemfest.com's ticket section will give you a suggestion of minimum ticket level based on the amount of SteemPower you have (checking your ranking: Plankton, Minnow, Dolphin, Orca, Whale) once you fill out your username. Should you decide to select a support ticket (Silver, Gold, Platinum, Diamond) you become an awesome sponsor yourself and are instantly buying drinking rounds for fellow attendees. Support ticket buyers are mentioned in the program booklet and on opening slides.
@T-R-F - Travel Relief fund for SteemFest go-ers
Be sure to also read more on the
@t-r-f
page about the Travel Reimbursement Fund, I've just donated 555.555 Steem to that account which gets distributed after Bangkok to all applying attendees. Anyone is free to donate some to this community driven travel fund dedicated to SteemFest go-ers.
What's included in this price:
opening drinks night
2 days of conference incl lunch, dinner & drinks
4 nights of social events
closing dinner incl unique tour
tbd some activities in the weekend
swag.
livestream & recording for people who can't make it
I kindly ask, if you can reasonably afford it to look into options of buying another 'Ticket Type', for example the 'Regular Ticket' priced at 100% of the cost price of your attendance or even higher levels. Check out the SteemFest site's ticket section to learn more about all ticket types. Note that all tickets are equal by means of what you can do with them. Everybody is a VIP, it is just a matter of how much you contribute towards the event.
Buy your ticket with crypto or fiat.
Like last year you can buy your ticket again with crypto. This year the options are SBD, Steem and BTS through
SteemFest site's ticket section
or with BTC, E-banking and Credit-cards via the
SteemFest Paydro ticketshop
Manual Crypto Payments done through the SteemFest site in SBD / Steem / BTS are processed minimum every day at 10 AM CEST and 22 PM CEST by checking our email inbox and validating the incoming transfers on the @steemfest wallet (and the @steemfest wallet on Bitshares). Then we mail you a coupon code to claim your ticket. (you still need to claim your ticket after we mail you the couponcode!)
First Names SteemFest Bangkok:
I'm happy to announce the first names for the 2019 edition of SteemFest:
Presentations, workshops and performances will generally last about 20 minutes max, unless more in-depth time is required. Yes, also this year's event will be streamed live.
(Many) more names and location updates to be announced soon. Expect more frequent updates from now on :)
Don't forget to book your SteemFest's Hotels Package for € 55 / room / night including breakfast via the SteemFest Hotels section. Find some friends in SteemFest Telegram and book a two bedroom suite to go cheaper at € 45 or ask for single bed rooms to split! Also check out the other venue in the same building, "Prince Palace Residence managed by Prince Palace Hotel", find the direct link on SteemFest Hotels section as well.
SteemFest after chillings
Most heard "complaint" in SteemFest review sessions is: "The event is too short". So with that in mind a group of Steemians already setup a
Telegram group
to explore the Thai islands after 5 hot days in the city of Bangkok. Extend your stay and join the SteemFest4After group @
https://t.me/sf4afterchill
SteemFest Airtravel Discounts
Witness
@gtg
/
@gandalf
is not only a master in the blockchain source code, but also in hustling Airfare ticket partnerships. He managed to (again!) setup partnerships with a gazillion of airline companies for
Bangkok airfare discounts
.
Check out his post right here
!
Have a nice week ahead!
Greetings from Amsterdam,
---
Liquid rewards from this post will go to organising @steemfest
SteemFest's ticket reductions are made possible by generous donations from: