WINNER! | The @blocktrades + @openmic Steem Fest ticket giveaway!
Hey video makers and content creators. As you know, more than 10 Steemians won the first part of the
@openmic
Steem Fest ticket giveaway. 2 of the contestants won a ticket in another contest and another one decided to retire from the contest, this made the judges decision a bit easier but still, I think this has been one of the most difficult choices
@luzcypher
has made, not only because most of the entries were simply amazing but also because there was no wrong decision: Whoever won this Steem Fest ticket would´ve been deserved. I was very conflicted about this decision because to be honest,
@blocktrades
and
@openmic
would´ve loved to give away five Steem Fest tickets, this is how much all of you deserve it.
---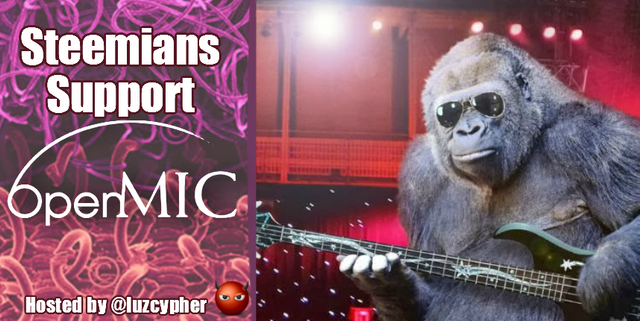 The community engagement and support each entry got is unbelievable. There are more than 1,000 comments on the announcement post! If you try to access the post you´ll most likely face screen freeze due to the length and size of the post and the number of comments.
This is just one sign of how much engaging, supported and loved these Steemians are and, it´s the main reason why I have decided the next:
To help you out with the trip expenses, I will give 50 Steem to each and every Steemian who joined this second part of the contest but didn´t win. I know it´s not much but it is my way of thanking all of you for joining this contest and for being such an amazing Steemian, people like you are what we need the most in our community right now.
So that´s it, if you joined this second part of the contest but you didn´t win but you end up going to Steem Fest, hit me a direct message when you are in Poland and I´ll transfer you 50 Steem.

---
For everyone who didn´t win and can´t make it to Poland without winning a contest, I ask you to not get disappointed and don´t despair, sometimes we win and sometimes we learn. There will be another two contest in the next days where you´ll be able to win a ticket and accommodation in the Blocktrades apartment.
The winner

---
All the entries had a lot of passion; every Steemian who joined got a lot of support from the community; each video made us get to know the person behind the username and I´m sure everyone watching would love to meet you in person. The decision was not easy and in the end it came down to personal evaluation from @luzcypher and his experience in the platform.
The support you got in the announcement post, your engagement with the community, the way you interact with people on your daily videos and the energy you irradiate are definitely some of the main reasons why we´ll love to meet you in Poland.
Thanks again to everyone who joined this contest, this one has been definitely one of the most competed contests I´ve seen and it´s been the hardest choice I´ve been involved in. I really hope we can get to meet each other in Krakow, I hope you can make it! If you do, be certain we´ll share a beer together, or perhaps two :)
---
---
Remember this is a @Blocktrades sponsored contest, if you like what they are doing vote for them as witness here