From Moscow meetup to Steemfest
My travels started with the Moscow meet up. I was really glad to meet all of the participants, get in touch with the live developers, have a Brüderschaft drink with Dima, and dance on the table at a bar! I didn't have so much fun for a long time. I had a limitless sense of unity, candor and familiarity with everyone. I am now in love again, folks, this time not only into Steemit, but into Golos as well, and all of this is thanks to you!
Day 1:
Next my trail led me to Steemfest. I don't know how to describe all of the feelings that I experienced in those 24 hours. Me and Petr enter the Volkshotel: a soft red light, hum, and a crowd of mingling people. I try to find some familiar faces quicker, before I drown in the noise and get lost. Immediately see Alexey and Kostya, and run up to greet them, damn, we just bid each other farewell yesterday! And now we are hanging out again. Next up, I went to the organizational room to register, met some familiar people there and... There was Roeland! I was given some stickers, a scarf, and a badge. Yay! I go to the bar next, everyone is smiling, greeting me, but first they look at my badge, and say something like, "I upvoted you, or I know/remember you." A little bit weird, but amusing. Rating in reality. Badge control.
Rest of the evening went on with endless mingling, networking, and fun.
Day 2.
Boat was the morning transport to the Tobacco Theater, but I missed it. The conference was held there all day long, with some master classes and talks running in parallel. Ned opened the conference. I arrived and got to participate in the master class about making of chocolate marzipan sweets by Alla. Then I went upstairs and listened to the talks and projects. Afterwards there was a "standing dinner": you eat wherever you sit/stand/lie. One of the most interesting and popular entertainments was a Snapcube photo-box: @grumlin, @celebr1ty, @vi1son, @sompitonov
@sneak, @saramiller, @xanoxt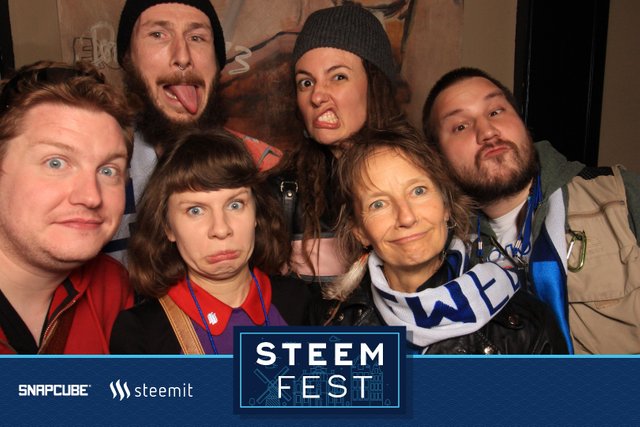 Day 3:
It began with an excursion around the canals of Amsterdam. Next we ended up near the Old church, and rest of the action happened around it. First I decided to visit Ton Ton: a gaming arcade club, where you got some tokens to play the games with your drinks. Then there was an excursion with Tatiana, a really interesting guide in a red hat, she showed us the first gay bar in Amsterdam operating from 1927. Next to the church is the Red lights district, which is a lot of boxes with red lightning, where the priestesses of passion reside (a little bird told me that they give quite mediocre service). Next, I climbed the tower, reached the top and was able to see the birds view of the city.
Another highlight of the day was the presentation that we did with Petr for several projects: @rusteemitblog, Mapala, CryptoAnechka and Crazy Challenge, among others.
After the evening walks everyone gathered for the closing dinner, where Ned and Roeland talked about the fest and their pleasures about it. Next was the group photo! It was so cute. After the dinner we took Valentin with us, and played some foosball.
Next couple of days the remaining participants gathered and mingled a bit. And I decided to take this time to walk around Amsterdam.
I am really glad that I was able to participate in Steemfest. My dream of visiting Amsterdam came true, and it was SteemFest that made me travel to realize my dream. It turns out, that it is quite easy to realize your dreams.

And for that reason, lets meet! Communicate! Dream! Hope!
I'd like to appologize for the lack of photos, but I didn't have enough time! All of my attention was taken by the events, but you can watch this video with english subtitles to see the brief overview of the fest with @ned, @arcange, @raphaelle, @Picokernel, @l0k1, @ballinconscious, @roelandp: