SteemReports - Steem Financial Accounts Tool
I have developed a new tool for viewing and summarising all the financial transactions relating to an account. It also shows the value of transactions in one of five fiat currencies by default (USD, EUR, GBP, CAD, AUD), and uses the daily average prices for this purpose.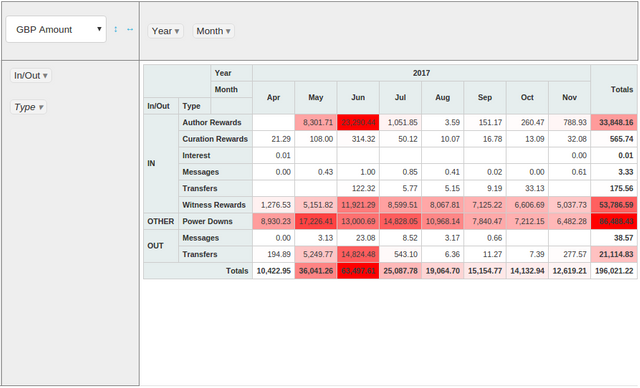 http://www.steemreports.com/financial-accounts-tool/
The previous transfer ledger I created has been removed from the website, as it used a double-entry method and was confusing. This uses a single-entry ledger and is easier to use, but it does still help to be familiar with pivot-tables to get the best information from it.
It features a very versatile pivot-table/chart library, which allows the data to be viewed in many ways, but it can be confusing to those who don't spend much time doing data analysis. I will probably make a video about how it can be used in the near future, but let me know if you have any questions about it in the meantime.
Currently you can only view transactions going back as far as 1st April 2017, and if there are a very large number of transactions the tool might return less data than that to manage server resources.
Please check your figures before relying on this data for tax purposes. I developed it for that purpose, but haven't spent a long time checking I've got everything correct yet, as my tax isn't due for several months ;)
Please let me know if you do find anything wrong, or have any suggestions.