Change SteemConnect for SteemLogin
Hi there,
Since many apps are switching to the other platform we have decided to fork and rebrand SteemConnect to SteemLogin. The project was a bit down for a few months due to the lack of resources but we plan to keep it alive and improve it with our team.
First of all, I want to say a big thanks to @fabien for working on Steemconnect for years now, to all the contributors and to Steemit inc who have funded this app in the past.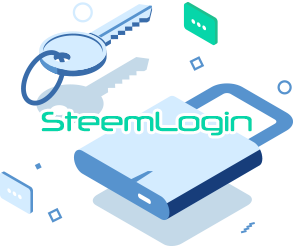 Your account, your keys.

What is SteemLogin?
SteemLogin is the easiest way to integrate Steem into your apps and to let users connect to the apps! It comes with a Javascript SDK and an api which give you a powerful suit to work with and a simple way for users to transact with the Steem Blockchain.
Why did we change SteemConnect to SteemLogin?
We don't see any point to use SteemConnect as a name since it's now owned by a team that is outside of our ecosystem. And even if the code is now safe, we can not guarantee that it will be like that forever. So we took the decision as @futureshock to handle the situation and to assume the accountability of the most used way to connect with Steem.
Is SteemLogin safe to use?
Just like Steemconnect, SteemLogin will never store your keys, so it's definitely safe, we have double audited the code and you can find the running code source in our github :
https://github.com/FutureShockco/steemlogin (the website available at : https://steemlogin.com)
https://github.com/FutureShockco/steemlogin-api (the api available at : https://api.steemlogin.com)
https://github.com/FutureShockco/steemlogin.js (the JS SDK just type npm i steemlogin and you are done)
Why should you use SteemLogin?
It is an easy way to login to your favorite Steem Dapps. Also by using SteemLogin you are sure that you are not using mischievous third part app, because it is definitely easy to get hacked. SteemLogin, just like its precursor, also offers you a way to easily jump from an account to another.
Is the rebranding finished?
No, we are still working on the code source to improve the UI and the use of Steemlogin. But it's already functional!
Does the @steemlogin account on Steem related to this app?
No the @steemlogin account is not related to us in any way and you will never need to interact with it. Our official account is @futureshock.
I am a developper, how do I keep my apps alive?
In order to continue to give access to your users with SteemLogin you will have to switch to steemlogin as your node package. It works exactly like SteemConnect. And you can redirect all your previous queries to steemlogin.com instead of steemconnect.com.
I'm facing issues when I want to use SteemLogin!
No worry about this, we can help you to get started and learn how SteemLogin works. Drop a comment under this post and a dev will be there to assist you.
Why should I trust SteemLogin and who you are?
We are Futureshock, you can read more about us here https://steemit.com/future/@future.witness/why-you-should-vote-for-future-witness-as-your-witness-on-steem
This is only the start of something great. We are going to improve and release some new tools to keep everything as it was before, and maybe even better. But of course we will need some time to prepare everything so we already thank you for your patience and understanding. :)
If you encounter any bugs, don't hesitate to notify us in the comment.