Steem.DAO UI Live on SteemitWallet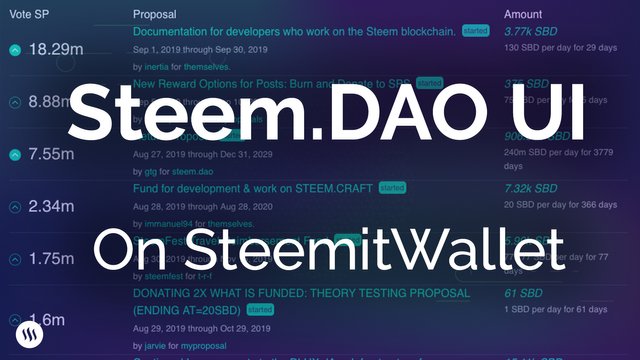 Hello Steemians, we're happy to announce that our user interface for the Steem.DAO/SPS is now live on steemitwallet.com.
Steemit & Steem.DAO
You can now vote for your favorite Steem proposals without leaving the safety of steemitwallet.com. These changes went live last last afternoon. While this was tested extensively in our development environment, we have continued testing the UI, along with a number of community members, to ensure it is functioning as intended. If you find any bugs, let us know about them in the comment section below. You can find the new proposals interface at: steemitwallet.com/proposals.
Update on Programmatic Selling
We will not be selling any STEEM this month. We have continued to improve revenue generation through ads while lowering our expenses, but we are still a long ways from covering our operating costs 100%. That being said, we have put ourselves in a position where we can pause programmatic selling, as we are this month. This is a very important benchmark for us because it was not something we were in a position to do just a few months ago.
New Ad Sales Hire
We have recently added a new advertising sales manager to ramp up direct sales and have switched to BuySellAds which is starting to pick up more bidding networks. With these changes we believe we will continue making progress toward generating enough revenue to cover 100% of our operating costs. But until that day comes, we will still be reliant on some degree of programmatic selling, which is why we could go back to selling STEEM in October.
Steem.DAO!!!
It's important to remember what a big deal the Steem.DAO is. While the hardforks that added the Steem.DAO to the blockchain were difficult, the Steem.DAO itself has been functioning very well since the moment it was added. Many proposals have already been submitted and two great proposals are already being funded.
Top 3 Proposals
The top 3 proposals displayed on our UI tell an interesting story as to how the DAO is currently functioning to ensure that only deserving proposals receive funding, and the different ways the system can be leveraged by you all.
Developers Portal
The proposal with the most "VESTS" (the unit for measuring the amount of stake behind votes) was drafted by former Steemit team member @inertia who has consistently made great contributions to the Steem Developers Portal. In order to ensure he can continue making these contributions he has requested 130 SBD a day for 29 days, from the Steem.DAO and because his proposal has received sufficient VESTS (stake-weighted votes) the Steem.DAO has begun paying him in Steem Dollars (or "SBD") for his valuable work.
Feature Funding
The proposal with the second most VESTS is from the @steempeak team. They requested 375 SBD total to add two new options to their front end user interface for Steem: steempeak.com. And today they announced the release of those features, making them the first to release features which were funded by the Steem.DAO. Through their interface users can now choose to either burn the STEEM rewards from their post, or donate them to the Steem.DAO.
The reason this is important is because it demonstrates that the Steem.DAO does not have to be used to fund the development of features for Steem or steemit.com (though it certainly can be). The Steem.DAO is a decentralized funding mechanism which distributes a liquid stablecoin. The possibilities are limitless.
Return Proposal
Steem Witness @gtg, whose activities during the recent hardforks were invaluable, created the proposal which now has the 3rd most VESTs. This proposal, however, is quite different from the others. It asks for 240 million SBD per day!
The Return Proposal does this for a very good reason. This doesn't mean it will actually receive that amount. It will receive whatever funding is left over once the proposals above it have been paid. The remaining funds are then returned to the Steem.DAO funding account.
More Steem.DAO Funding
@gtg has set up the proposal so that the account which receives the funding is the Steem.DAO itself. Practically speaking, what this means is that a proposal has to receive more stake-weighted votes than the Return Proposal in order to receive funding, as was the case with the proposals by @inertia and @steempeak.
The reason @gtg's proposal requests so much funding is to enable Steem stakeholders to express their belief that Steem Dollars can be put to better use in the future by the Steem.DAO, rather than being awarded to any of the current proposals that receive fewer stake-weighted votes. In other words, the Return Proposal's #3 position is an expression of the fact that, as of this moment, Steem stakeholders do not believe that the lower ranked proposals deserve funding. But they could be wrong!
Get Out and Vote
That's why it's so important to head on over to a user interface for the Steem.DAO and cast your votes for the proposals you believe deserve funding. Every vote helps and if you believe that a proposal deserves more attention, you can always write a post about it using steemit.com! Currently, even the top proposal has not received as many stake-weighted votes as even a top 100 Witness, so we can definitely do much better as a community.
Our new Steem.DAO user interface is just an MVP (minimum viable product) which we intend to improve over time. If you are a developer who would like to help improve that interface, you can head on over to the github repo for our wallet.
The Steemit Team
---
P.S. If you'd like to create a proposal for the Steem.DAO, you can use the interface created by community member @dmitrydao steemproposals.com. As this is a 3rd party application, we can not attest to the security of this application.