Education with consistency and love - the authoritative style
Clear rules and requirements, but also a high degree of trust and affection are the cornerstones of the authoritative educational style, which is considered optimal by the educational sciences. The child is respected in his needs and feelings, but at the same time he learns clear boundaries in which it can develop in peace.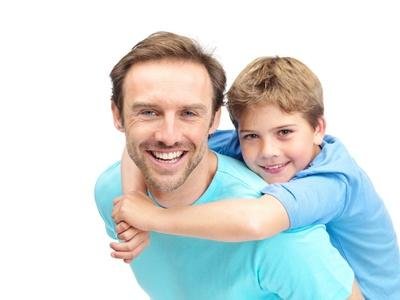 © Fotolia.com
Throughout history, the flag has been held up to a variety of parenting methods. For a long time, authoritarian-dictatorial education, with its narrow limits and punishment as the only true parenting method, developed the anti-authoritarian style of upbringing in the 1960s, in which the children were given no limits, which in many cases led to disorientation or exaggeration Selfishness led. The authoritative style of education has a bit of everything and works primarily with a lot of love and understanding, but also consistency.
Find the middle
The authoritative style of education is sometimes called the democratic style of education, but the children are given a voice in many things and the freedom to test many things and to try out themselves. Important decisions are discussed together and the children are heard and respected with their opinions and needs. At the same time, parents set a consistently defined but never rigid framework of rules and boundaries that govern and limit the child's behavior and interaction with others. Authority and freedom, consistency and understanding are balanced here and ensure, on the one hand, the child's free scope for development and development, and on the other, a clear classification into the family and society.
Elements of the authoritative educational style
The authoritative style places high demands on the child, but in return offers him a high level of support. Despite all the consequences and sometimes even necessary rigor, the mood is not hostile but always affectionate - out of respect for the child. Those who want to educate their child authoritatively, should delete phrases like "You must not." Or "You must now" from his vocabulary. Explanations first appeal to the child's insight and give clear instructions as to what behavior is appropriate. Compliance is then clearly and consistently passed.
Especially for parents who were still authoritarian or perhaps on the contrary educated anti-authoritarian, it is not easy to follow these rules. Because not only the demands on the child are high, also the parents have to bring a great measure of social competence and consequence and above all not to fall back into old education patterns, which they experienced themselves.
Especially with regard to the enforcement of borders, many parents find it difficult. It is helpful here to set as few limits as possible, because good education is not measured by the quantity of rules and laws, but by the ability to comply with them. Think carefully about what really bothers you about your child and what limits are inevitable. Everything else should be left out. Because children learn by imitation and often drop some "inappropriate" behaviors by their own volition if they are brought to life differently.
Authoritatively educated - fit for working life
At the management level, what is called authoritative in parenting is called partnership. There is a hierarchy and there are rules and limits that must be respected. Adults who have been educated as children authoritatively usually find their way into this system effortlessly, they know it. They accept the rules, but not as uncritical command recipients, but out of the insight that borders and their compliance are meaningful.
In the current apprentice situation, the consequence of an authoritarian or even anti-authoritarian style of education is often strikingly clear: apprentices, like all other employees, have to be on time for work. This rule should be self-evident. If it is not respected, then partnership must be abandoned and the authoritarian style used. Although this is highly inappropriate to a (nearly) adult; but if no value system and no limits were imparted in education, discipline through punishment is often the only way to make up for the missed socialization.
The authoritative parenting style creates a close parent-child bond and is characterized by security and trust. Even if it is not easy to implement all requirements: It's worth it. Because many studies have shown that such educated children have a high level of social skills and a good sense of self-esteem and are able to find their way around our world very well.

Banner by @poeticsnake