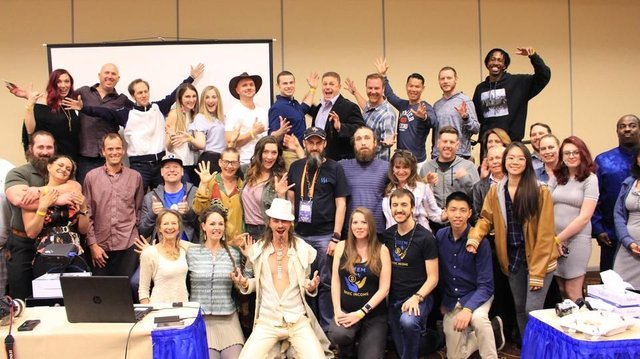 Peace to all in the Steemiverse
I have exciting news and expansive opportunities for each one of you who are interested in building real life quality relationships with steemians in 3 dimensions.
In the 1st quarter of this year I randomly came across a conversation @thehoneys were having on discord about them Emceeing the Steemcreatorsconference taking place in Las Vegas, April 13-15. With Vegas being one of my most frequently visited places it was an easy choice to attend the steem creator conference.
I passively seen posts of the expected guests on Steemit. Though I didn't have any close ties to anyone individually. I was very curious to see if this generously provoking community would translate in the real world and with out hiccup the experience went above and beyond any expectations I had.
Here are some of the revolutionary speakers who graced the stage at the 1st steem creators conference in Las Vegas
---
---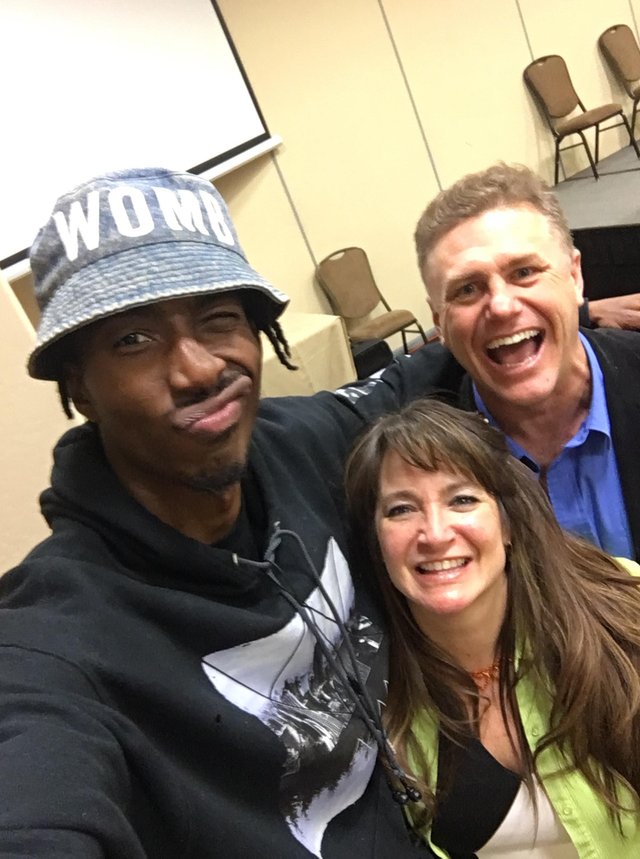 @thehoneys
: Amy and Jamie Honey are the authors of the D.A.R.E to be a Better YOU!! Design. Align. Remind. Everyday. These two are a very dynamic couple, with puns and stories for days to keep anyone interested. Was a pleasure to meet these incredible people, life long bond!
---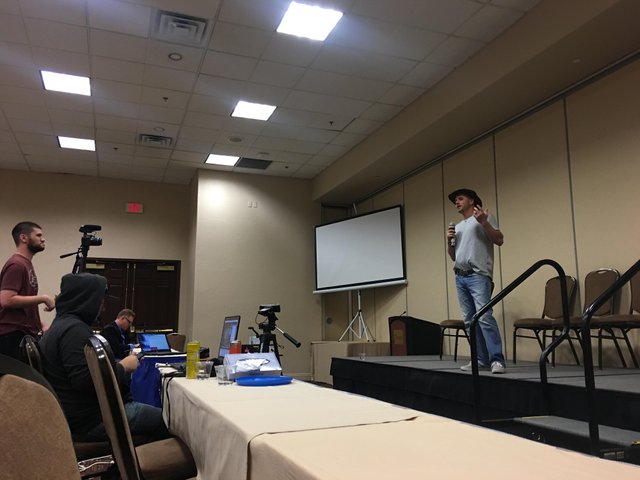 @Happymoneyman
: I'm sure you guys have seen Brandon thriving throughout the trending posts and giving the blockchain exclusive interviews with valuable information. His name is the essence of his being, influencing others to live life to the fullest regardless of circumstances and using one's own story as inspiration.
---
@quinneaker
: A mystical being with an aura you can feel from across the room. Quinn is the founder of an eco village "The Garden of Eden" author of Full Spectrum Health & a visionary who believes in action. In just 2 years on steem, Quinn has created multiple reputation 70+ accounts & earned of $300,000+ USD worth of steem. Quinn is truly a revolutionary with all intent in bringing peace love and prosperity to each one.
---
@joeparys : Such a bright fellow with a solid backing in online markering/teaching who travels the world and makes a real effort in making profitable information affordable for everyone. His camera/editing game is sick, very down to earth dude. He gave me many of gems that allows me to bloom on the blockchain.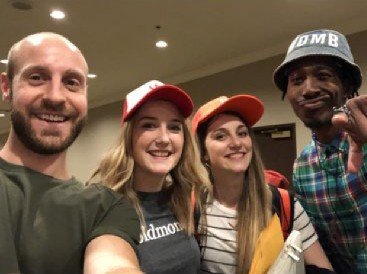 @coruscat : Lea Thompson is a musician, vlogger, dancer, foodie, and outdoor enthusiast. She is the proof that consistent quality on the blockchain will serve a benifit. Lea is easily one the the most notable faces on the steemit blockchain and has the personality of a Angel.
---
@saramiller : Is a wombman of many hats including being a Reiki Master, Daikini, Yogini & Eden Knight.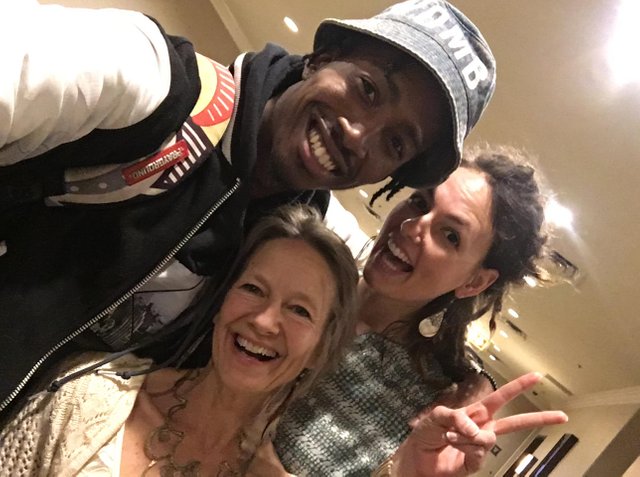 @everlove : Lives the art of life as her existence in the community at the Garden of Eden. She blogs on art, holistic living, community life, parenting, consciousness and sustainability. Shellie is a pure soul with hugs that can lift any spirit at anytime.
---
@Entrepreneur916 : Jacob Billett is a US Army sergeant and government employee turned decentralized advocate with emphasis on the steemit blockchain. As an educator of financial freedom and CEO of Billett Enterprises a corporation he specializes in venture and start up investments encouraging blockchain technologies.
---
@scottshots : Professional landscape and real estate photographer based in the Lake Tahoe area. Scott is highly skilled at his craft and offer a multitude of tips and tricks to help anyone become a better photographer.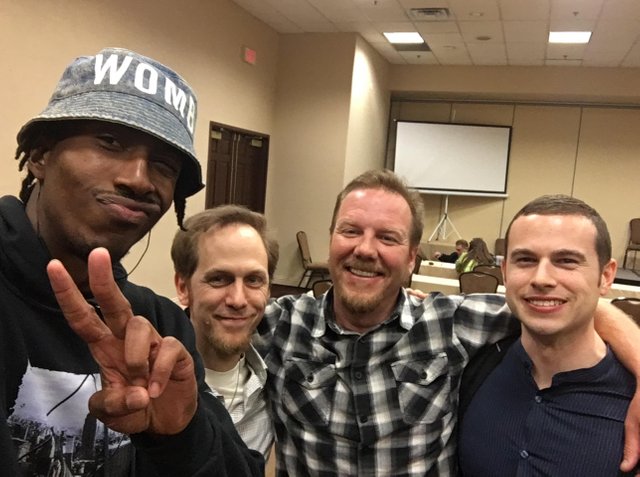 @hypnopreneur : my guy Dan helped me hold the East Coast down at the conference. He is a hypnotherapist and mind-body health coach focused on actualizing the full power of human creative potiential. He also is a Philadelphia Blockchain Steem event organizer, writer and free lance social scientist.
@kenmelendez : Ken is the founder and CEO of the daily climb which teaches high performance self development skills to online entrepreneurs.
---
@richardcrill : Rich is constantly helping steemians create quality content on steemexperience.com , along side of his lovely girlfriend @lindseylambz they are actively driving across the country and documenting the journey on @thedodgemahal streaming the dream and showing the way @steemexperience.
---
@steembasicincome : Joseph Savage is a consultant in financial technology. Founder of the daily sneak & steem basic income. The daily sneak is a curation journal that rewards quality content & content curators. Steem basic income is a social project to bring a basic income to steem users.
---
@mariannewest : the lovely Marianne is the creator of the freewritehouse on steemit. She is the host & producer of the sustainable living podcast, works her 1/3 acre urban homemstead. All the while teaching laughter yoga and being a grandma.
---
@reseller : Creator of the "Steem minute" the daily Dtube steemit news show as well as one of the administrators for the One Love Dtube discord group.
---
@steemcafe : my main man IJ, needing little introduction this is the mastermind behind bringing these amazing individuals together. Steem creator conference ring leader, bleeding edge investor, consultant and world traveler. I.J is a jack of all trades with a lightning personality able to connect with any known being in the universe.
@larrymorris : Larry the Legend is a expert in student loan debt, writer, philanthropist and law of attraction practitioner. Larry is very much spiritually inclined and a steem creators with loads of valuable information.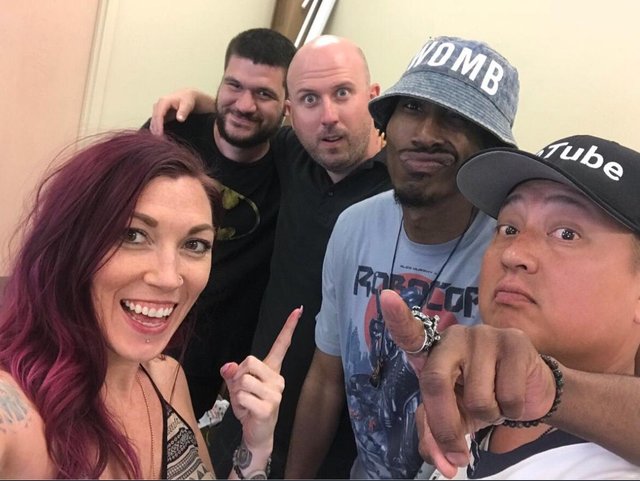 @ogc : If you get the pleasure in meeting this fabulous wombman your vibrations will raise without a doubt. Carley's energy is always upbeat with a smile that'll light up the night. I owe much to Carley as she helped me relieve my student loan debt as the wizard she is to $5 per month. She can help you too!!

I can't express enough how expansive it was for me to attend this conference. Since then everything I have in motion at this moment is due to that weekend! The cost of entry was a steal in regards to the information given in those 3 days. By following my feet I've been lead in meeting some of the most influential folk on the steem blockchain.
A very huge shout out to my guy @steemcafe for allowing me the opportunity to put together an artistic concert at the upcoming Steem creators conference in Toronto, September 6th.
Im putting together a star studded lineup including Musicians, poets, visual, lighting artsit, instrumentalist and more all native to the steem blockchain. Our efforts are pure in bringing the audience a depth and quailty event that has never been seen before on the blockchain!
If are willing to help in anyway, shape or form please dont hesitate to contact me on discord: wolfnworbeikood#7177 or email me at dookiebrownflow@yahoo.com
---
Steem Creators Conference: SMT Summit Sept 5-8, 2018 Toronto, Canada. It will be amazing. Tickets only $149.00
Excited to see you at The steem creators conference
Do you have a new app, product, or service for Steem? Would you like to speak at the conference? Hit up ij@steemcreators.com