A Short Overview of @Steemcleaner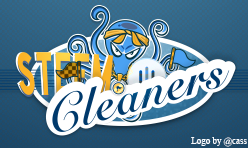 ---
Some of you have wondered what this account is and if it's a legitimate @steemcleaners account.
Yes, it is a legitimate account.
This account is meant to be used instead of @cheetah to warn others that a user is on the @steemcleaners blacklist.
Why did we swap to this account? It's simple. We didn't want @cheetah, our beloved similar-content robot, to be associated with undue negativity. Her role is to show that a post is similar to another piece of information on the internet and it's not always an indication that the post has been plagiarized.
The role of this account, on the other hand, is to warn and state that yes, such and such account is something you should be aware of as having been engaged in fraud.
Who ends up on the @steemcleaners blacklist? Users that are engaged in fraud of all types, including persistent plagiarism, identity theft, hacking, art theft, malicious deception and other fraudulent activity.
We hope this makes it a little clearer for you.
Happy New Year,
~ the @steemcleaners team
This is a @null burn post with @null set as the beneficiary.