STARTING WITH THE CHILDREN OF VENEZUELA!
---
'Ladies and gentlemen of the SteemChurch,'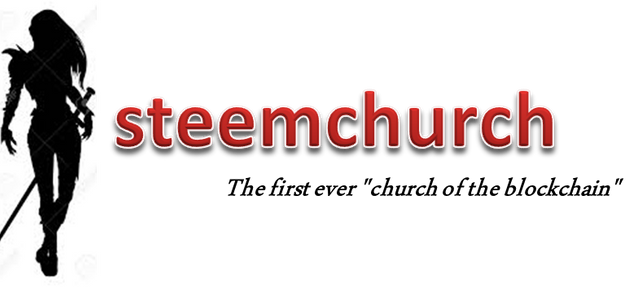 'Peace be with you'.
---
BREAD FROM HEAVEN
Yesterday this Knight had two little mice tell him about a post - a post he absolutely must read. It was a blog post from the SteemChurch Venezuela parish. And it turned out to be a post that would change the direction of the SteemChurch, forever.
The link to the post is below. A post authored by our valiant Apostle Darlenys.
https://steemit.com/sc-v/@sc-v/social-program-bread-of-heaven-child-dining-room
This Knight often discusses economic collapse, asset bubbles, hyper-inflation, corruption and destruction at the hands of socialist governments. However, much of this is theory.
What this post of Sister Darlenys did was demonstrate the real human toll relating to these man-made financial atrocities.
Before you do anything - be sure to watch the BBC report embedded in the post.
---
---
SETTING GOALS
In her post, Sister Darlenys set out a plan - the plan to help feed the starving children within her country.
Not only does she seek to provide the children with food and sustenance, but she plans to educate the children in food preparation and planning.
More importantly however, she plans to educate the local communities in relation to collaboration and solidarity when it comes to the distribution of this food, to ensure the survival and future prosperity of as many children as possible.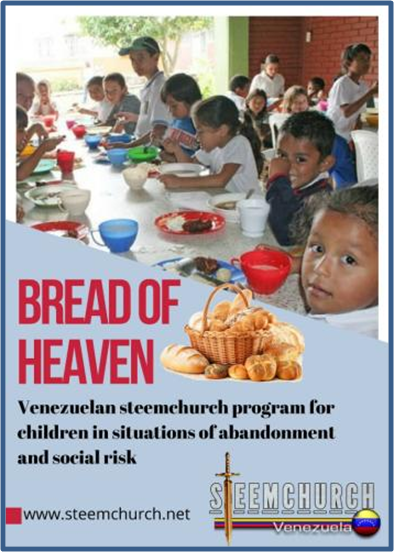 And to ensure the quick and efficient execution of the plan and to increase awareness, the SteemChurch Venezuela executive has developed a mobile app, with the hope to drive logistical excellence within this divine undertaking!
---
STEEMCHURCH
The SteemChurch is a vessel. A vessel for Christians of the blockchain to use to share spiritual and ethical ideals. A vessel that has allowed many from across the globe to learn and enjoy.
This vessel however now has a greater calling - a calling from God that has been made through our beloved Apostle.
And when the SteemChurch is called - this Knight and our parishioners will answer.
---
THE RESTRUCTURE
Effective 24 hours from now... all resources of the SteemChurch will be dedicated to the following 2 projects:
Primary: Bread from Heaven
Tag: #heavenbread
Sister Darlenys, with the assistance of Apostle Marcelo and the newly anointed 'High Priest' Emilio Cabrera (should have happened much sooner than this and with much more pomp and ceremony - sorry Brother) will have full control of the Bread from Heaven project.
These three will require the support of all parishioners. They will need volunteers on the ground, supply chain and logistics plans, technical support, awareness campaigns, flyers, nutritional guides, mini-farming guides, your prayers and about as much food as they can get their hands on.
Secondary: Project Reliquary
Tag: #reliquary
Brother Tikhub will continue to upload the Bible to the blockchain for eternal safekeeping - and if you have not made @reliquary your daily Bible reading, you really should.
With respect to FARMS, SteemChurch Nigeria and SteemChurch Ghana.
FARMS - will operate a 50% capacity and apply all the resource and food management knowledge it as acquired to date in the support of the 'Bread from Heaven' project.
The SteemChurch Nigeria parish will be temporarily closed, with parishioners encouraged to participate in #heavenbread and #reliquary.
SteemChurch Ghana will also operate at 50% capacity and is asked to provide supporting blogs for #heavenbread.

---
GROWTH DESPITE DELAYS
In this Knight's grand plan, the resource required to feed the world would already be available to us through Beatitudes. Unfortunately, this resource will not be available until next March, the expected SMT release month. And whilst the news of the delay saddened this Knight for a time - our Sister, the Mother of Crowds, has now shown us the path forward regardless.
Be well, be compassionate, build lives.
---

---
'All images in this post were designed by Sister Darlenys, or have been drawn from the SteemChurch archives'