Ladies and Gentlemen of the SteemChurch,
'Peace be with you'
---
Telos Expansion gaining momentum.
This Knight is thrilled to announce that the Telos expansion is progressing and quite rapidly now - thanks to our registrar Marcia @marciabon.
We are now through the creation of over 70 parishioner accounts and we are within 1-2 days of clearing the back-log.
This Knight would like to thank everyone for their patience in this matter. We understand that you are all eager to get set-up on Telos and start collecting your acorns. It is terrific to be able to say that we have almost caught up.
Marcia may have more to add over the next couple of days. At this time however, this Knight would like to say huge 'thankyou' to Marcia, for taking to this very important role with such a high level of diligence and professionalism.
---
SteemChurch Telos Village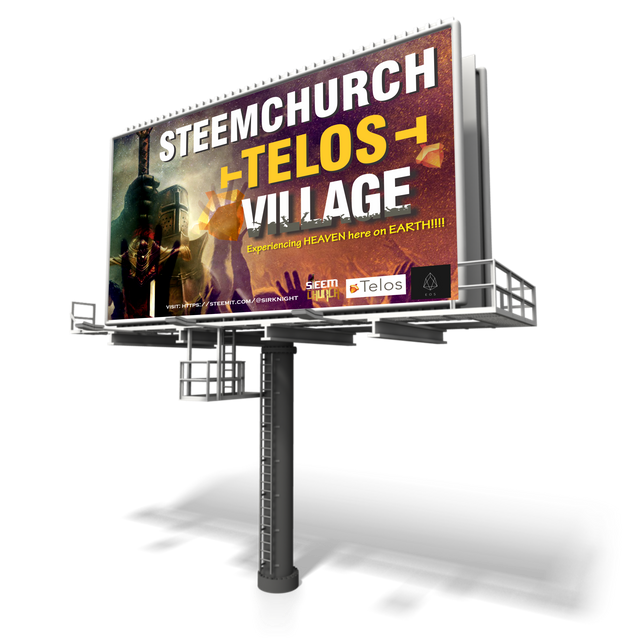 Now that many of us are at Telos, it is time to design our village.
We do have a marketing budget for SteemChurch / Telos promotion - so this Knight will be opening this part of the budget to SteemChurch Telos Village building designs.
For a reminder on what the village concept is, please refer back to this post...
https://steemit.com/steemchurch/@sirknight/steemchurch-our-telos-village-ryzfoud8
This month we need designs for all the current structures:
The SteemChurch
The rectory.
The abbey.
Our great oak tree (acorntree).
Our acorn wishing well (acornwell).
There will be up to 500 TLOS to be distributed to the best designs. The top designs will also be dropped into the Telos Telegram Group to assist in the promotion of our wonderful Christian community.
So get busy designing our new virtual village. Who knows, maybe one day it will be a reality for us all.
---
SteemChurch Community Register / Telos Expansion Form
With account creation moving so rapidly, it is time for us to get out and about and referring your Christian families and friends to our Church.
Getting on the register is simple - just have your loved ones complete the following form.
https://forms.gle/bXR2QS4iaD2wbHE46
Be sure to have them list you (your Telos account name) as their referrer and you will receive a 5 TLOS referrer reward.
Again, patience is required. Please tell them to allow up to one week before the account is established.
Furthermore, some parishioners have expressed an interest in bringing their physical Church parishioners into SteemChurch. Great! We would encourage this. However, this Knight suggest that in these circumstance you take a few pictures of your Church and congregation and post about it here at Steem. We would love meet your friends.
---
Be well friends and be brave, freedom is coming.
---