"The principle of wisdom is the fear of the Lord, the foolish despise wisdom and teaching."
Here in the second line or part of this verse we have an interesting contrast. He explains the reason why fools or fools do not leave their ignorance. Experience teaches them nothing.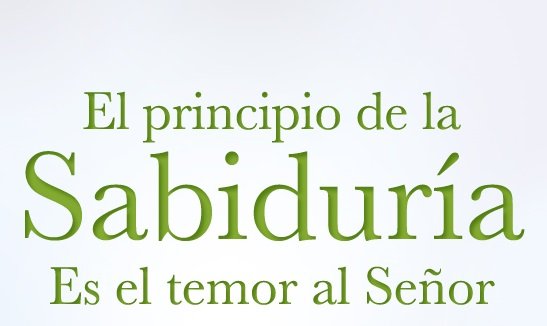 source
To illustrate this we have a simple story that may illustrate this reality. On one occasion a businessman was traveling on the road in his car, and suddenly one of the tires burst. He had to leave the road and stop his car next to an asylum. On the other side of the fence was a man watching him with a lot of curiosity, and watched as this driver changed the wheel of his car. He never said anything to him, he just stood there watching him. The motorist also did not want to tell him anything, because he did not know in what conditions the man who was in the hospital was there. So, when he removed the wheel from his car, he placed the corresponding nuts on the hubcap. But accidentally tilted the hubcap and then the nuts fell through a sewer and could not recover. And this man stood there scratching his head without knowing what to do. Then, the man who had been watching him said: "Why do not you remove a nut from each of the other wheels and put it on that one that has none and go to the service station, and there you can get the other What are you missing to fix the wheel? " At this suggestion, the motorist looked at him in surprise and said: "Why did not this idea come to me?" You are in a psychiatric institution and I am out here, and yet you are the one who thought of the solution. "To which, the boarding school replied," Well, I can be crazy but I'm not stupid. "Well, in In a certain sense, this book of Proverbs is trying to remove you and me from an attitude of permanent nonsense that prevents us from seeing obvious things of daily life, which in this way go unnoticed. to say about foolishness, foolishness or stupidity, that is, about that clumsiness to understand things.
Credits the biblical school following the teacher
www.steemchurch.net
@josevina