Hi good guys! Please read carefully!


"I, however, brothers, I could not speak to you as to the spiritual, but to the carnal, as to the children in Christ, I have given you milk to drink, I have not given you solid food, because you still can not bear it. Even now you can, because you are still carnal: why, being among you jealousy and strife, is not it so that you are carnal and walk according to man? " (1 Corinthians 3.1-3)
Paul had a serious problem in the Corinthian church, immature people, who were not ready for the next step, but who lived in an environment of much movement of the Spirit.
Just as Paul had to deal with that, we as a church lived a similar situation in the present day, something called "Peter Pan Syndrome."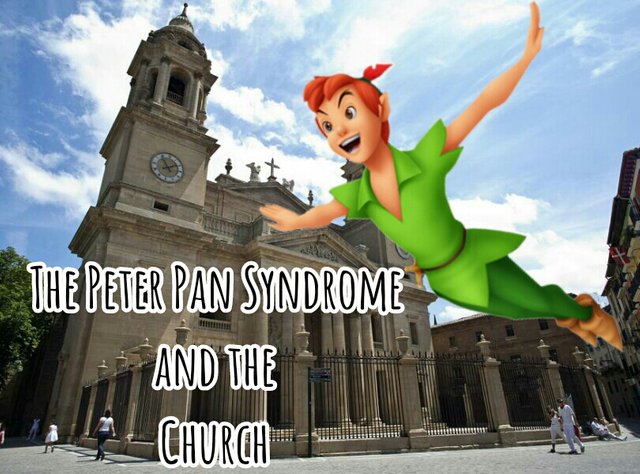 Adults who have Peter Pan syndrome are people who continue to behave like children even after adults. They are people who refuse to grow up, they show a strong emotional immaturity, they have a great fear of not being loved and end up being rejected, they hide from the real world, to live a life of fantasies in the "Land of Never"
To have an idea of ​​how is a reality in our environment, see this list of behaviors and consequences:
• Although they are considered adults by age, they still behave like children;
• They feel a great need to get attention;
• Do not worry about giving or doing something for others. They only give you what you ask and, generally, they do it to your liking.
• They are selfish, they only care about themselves.
• They are always dissatisfied with what they have: they want to have everything, but without striving to achieve it.
• They consider commitment as an obstacle to freedom.
• Does not take responsibility for the acts themselves.
• They live hidden behind excuses.
• They do not adapt to adult friendships and need to always be among the youngest.
• They feel insecure and have low self-esteem.
The consequences of this are obvious: serious emotional changes, with high levels of anxiety and sadness that can lead to depression. Dissatisfaction with one's own life, since they do not assume responsibility for their actions, which means that they do not have their own achievements, directly affecting self-esteem.
In the area of ​​romantic relationships, the syndrome is responsible for a large number of singles, because they do not strive to be part of a mature and stable couple. Leading them to live between superficial and fanciful relationships.
The reflection of that, an immature church. People who even want to get involved in ministries, even seek the growth of the local church, but stipulate conditions that make them gain visibility and that require no effort.
But Jesus himself said that the kingdom of heaven is taken by effort and effort to seize him (Mt 11:12). It takes effort for growth, but spiritual laziness has made people relish the jokes of the "land of the never."
In Matthew in chapter 18, where Jesus brings the teaching about becoming like children, it is clear to talk about the new birth, humility, obedience and stumbling. Paul himself brings the understanding that there are phases in the lives of Christians, one in which they drink milk and apart from being an adult eat what is solid (Heb 5:14).
In men, the Peter Pan Syndrome is responsible for a large part of the feminine tracts, for an immature soul (feelings guide their steps and dictate the rules) and, for men who place themselves and act as fragile (they have the constant need to care and attention).
Already in women, we find a high level of insecurity. In the case of men who do not pass the security and protection they should, they do not see the possibility of having to form a family and they act as heads, true "female males" (adapt the term to the situation), leaving the feminine reality, happening not to take care of itself physically and nor see need to act or to dress like women.
And the question is precisely, what should we do?
At that point, maybe you have a list of people in mind, maybe you are one of those people who identify with that, but the solution is not in pointing out the flaws, much less in isolation. Studies show that healthy relationships and mature influences are the solution for these cases.
Bringing our reality as a church, there is no better relationship than God, Jesus (and the Word) and the Holy Spirit, in addition to a leadership approaching and willing to make disciples.
"And do not be conformed to this century, but be transformed by the renewing of your mind, so that you may experience what is the good, pleasant and perfect will of God." (Romans 12.2)
In order that they may be truly free and fulfill God's purpose, they need to know the truth, know God's purpose, and then, with the help of their leadership, take the steps to reach the food.
Thanks for reading, and do not bother, it's time to be happy and for that, you have to mature in the things of the Kingdom of God! 😄
My children say that I am an exemplary father and, I believe them!