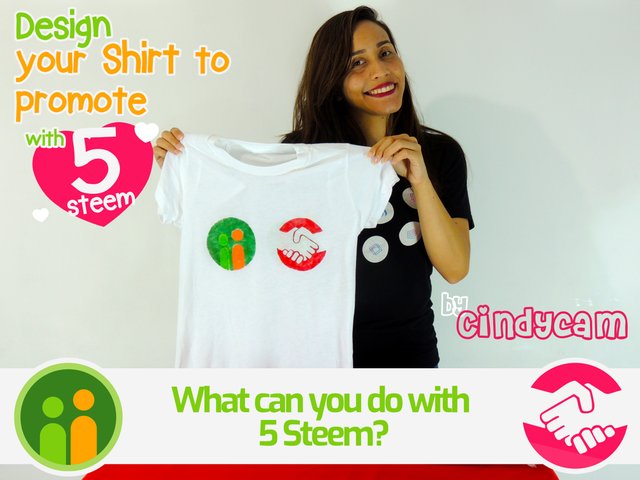 ---
It is true that in many countries you can buy or do several things with 5 STEEM, from spending it on yourself to enjoy, go to a restaurant, buy clothes, do creative activities and even help others in charity activities. It all depends on what you want and can do.
When I decided to make the challenge, on October 5, 2018 the value of 1 Steem was at 86 bsS, by then I would give a total of 430 bsS. Currently, 1 Steem in the exchange houses has a value of 181 Bss. The value of the dolár in relation to the Bolivar has had a great increase, that is to say, that also the products have increased their price. Possibly right now, 5 steem only reach to buy the shirt.
I thought, what can I do in this challenge to do it differently and in this way, other people can see the fun in it?
I really like doing promotion, and it occurred to me, what would happen if I became a little more creative and complemented this challenge with something that would serve to promote wherever I go to @promo-mentors and @fundition?
---
Materials
Sandpaper = 60 Bss = 0.69 ST
Shirt = 290 Bss = 3.37 ST
Crayons = 85 Bss = 0.98 ST
Total = 5.04 STEEM
5 Steem are the result of three articles, in Venezuela the cost of materials is high, so I had to be ingenious, take many turns to achieve the goal.
Materials that are usually found in homes, that complement the activity.
Scissors
Griddle
Adhesive tape
Recycled Paper
Table or support
Tweezers
Pencil
Greaseproof Paper
Cutter
You can also find and enjoy the video on my social media:
---
Steem Challenge
It is a contest to raise awareness among people that Steem has a real monetary value. This challenge is organized by the @Promo-Mentors community and sponsored by @fundition.
Do you want to join this challenge?
Simply go to Steem Challenge and follow the steps.
We can not limit ourselves, we must create and enjoy.
---
Photographs & Videos by @lrsm13
Animation by @oscarcc89