SteemCampUK - Leicester
SteemCampUK takes place in Leicester on Saturday 6 April from 10am until 4pm at the Phoenix, 4 Midland Road, Leicester, LE1 1TG.
Tickets for the day are £10 including booking fees and available at https://steemcampuk2.eventbrite.co.uk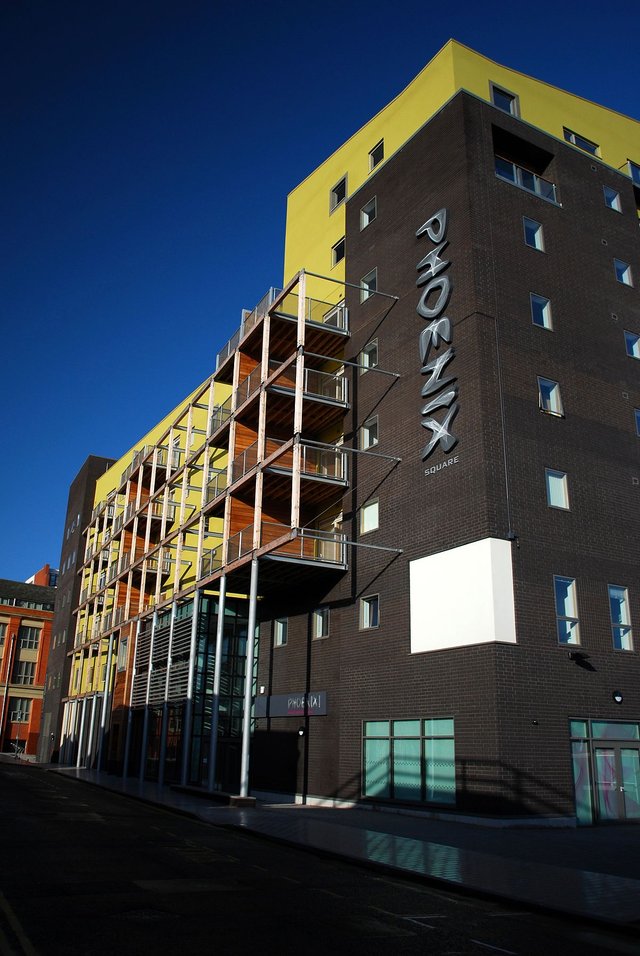 Source You can see the building from the rail station - just turn right and you'll see it ahead of you. There is parking onsite and an NCP car park a few minutes walk away. St Margaret's bus station is about 20-25 minutes walk from the Phoenix.
As far as I know, in Leicester I'm the only Steemian within a 25 mile radius. My nearest neighbour is @article61 up in Beeston, near Nottingham.
I joined Steem back in July 2017. I was a bit late. I'd heard about it a year before, but I was busy with other things and I stored it away until I was ready. I knew I needed to learn about blockchain technology, I'd heard it bandied about in many conversations and had already come across some interesting ideas about how it might be used.
I missed SteemCampUK last year, I was all set to go, I'd bought my ticket and had a little pack-up of goodies to share. I was looking forward to meeting other Steemians. But life intervened.
Back then, I was writing about how I thought Steem might help with some of the great intractable social problems we have. You might have come across the Barnet Graph of Doom: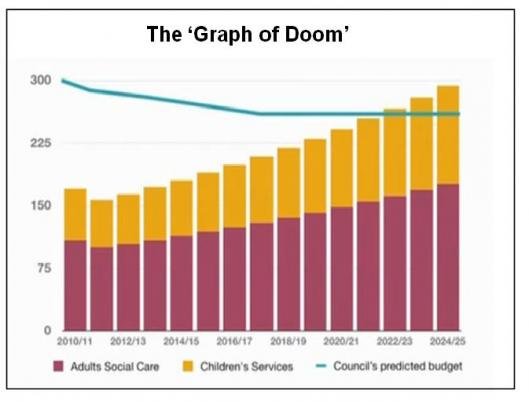 Source
Principally, this [forecast] that if spending predictions are accurate and if councils' statutory responsibilities are the same then within the near future statutory [obligations] and social care costs will swallow up most council spending leaving very little for other services to the community such as libraries, parks and other [cultural] services. (from Greater Manchester Council for Voluntary Organisation)
This is situation is compounded by the growth of commissioning - part of New Public Management rhetoric designed to increase efficiency and effectiveness in the delivery of public services and spending of public money.
However, despite the intention, a report by the Lloyds Bank Foundation published in December 2016 found that:
central and local government are using shockingly complicated and inappropriate contracting and commissioning processes to secure vital public services. The experiences of small charities ... reveal a system in crisis which leaves ... the future of public services, including homelessness, domestic abuse and mental health support, at risk.
Within these processes, even when they do work, the social impact for the people, families and communities who should be benefitting, and for the people who work in them, is not great either.
Voluntary activity has always played a great part in addressing the worst of these problems and filling in the gaps where the public sector has failed and the private sector can't make a profit. There are some great initiatives like the Casserole Club ("doing something great with an extra plate") - but these have largely been dependent on project funding - after three years it goes and the problem remains.
There's also Karma:
a decentralized social network designed to incentivize users to do good in the world and receive KARMA for helping out mankind. Some have described it as "Instagram" on EOS. (https://www.stateofthedapps.com/dapps/karma)
Karma is a good starting place ... But it could be more and better - more community embedded, more focused on ensuring our elders have the best quality of life they can, more confidence in our councils to do their job.
We're a year on and my ideas have developed - but I'm here alone. When @lloyddavis posted in early November that he was thinking about doing another SteemCampUK and was looking around, I said, "Me! Me! Pick me!" It is so much easier to get people involved in discussing ideas when there's a something like an event, a focal point, to pivot things around.
I'll be writing another post about the process that I'm using to organise the event. Here I want to say that my hopes for SteemCampUK are that we get a group of people coming together to discuss ideas - Steemians and non-Steemians - and end the day with a set of people interested in taking some of those ideas forward. It'll be great if some of those people are in Leicester.
I'm really pleased to be working with Lloyd. He's a skilled facilitator with many years experience of working with people and thinking and writing about technology and what it all means for us. I hope you will join us on 6th April.