Still working out the details on how to create a good Tombola/Raffle for the Steem original Slothcoin Milllions give-away? At least I came up with a marketing name: SteemBola. Tombola is an original give-away game from bella Italia, where the winners draw is decided at forehand. This is the concept behind the SteemBola. Which I will sponsor and I will ask fellow Slothcoin sentimentalist @juanmiguelsalas if I can use the 300K he send too. Which I then will double for the grand prices to be won.
Now, this is an idea to be used more, because in most countries Tombolas are license free. (Yes, I thought this one out, actualy.) The outcome has to be pre-determined though. And that is the tricky part. How to implement this in a transparant way. The simplest way I thought it could work, is to put the time frame at one current payout round. And each entry, being a reply, has to guess a number. Because the first SteemBola will be free to join and is a give-away for Slothcoin, also a Sloth address is needed.
The tricky part being of course that one has to have a Steem account to be able to enter the raffle. Yes, I have to be strict on that one, no exceptions can and shall be made. So get off your FaceBook and join in the fun. Did you know this Social Media platform even pays you Steem Power when you join? You do not even need to have the best coin wallet ever to get a Slothcoin address. No...? NO! Just go to the Cryptopia Exchange and create a Slothcoin address there. (Having a Slothcoin wallet though helps you make more entries, as you'll need a unique Slothcoin address for each entry to get accepted...)
And if you click to Cryptopia you can see that I did not use any referall thingy. The only thing missing there though is Steem. But in a future post I will opt how we could get our own tradelist there. They have been very kind to our beloved Sloth, so I think they will be for Steem too.
Anyway, I think I'm ready to set up the first SteemBola ever, with millions of SLOTH to been given away! If you have more ideas for a SteemBola, let me know in the comments down below...
Let's rumble!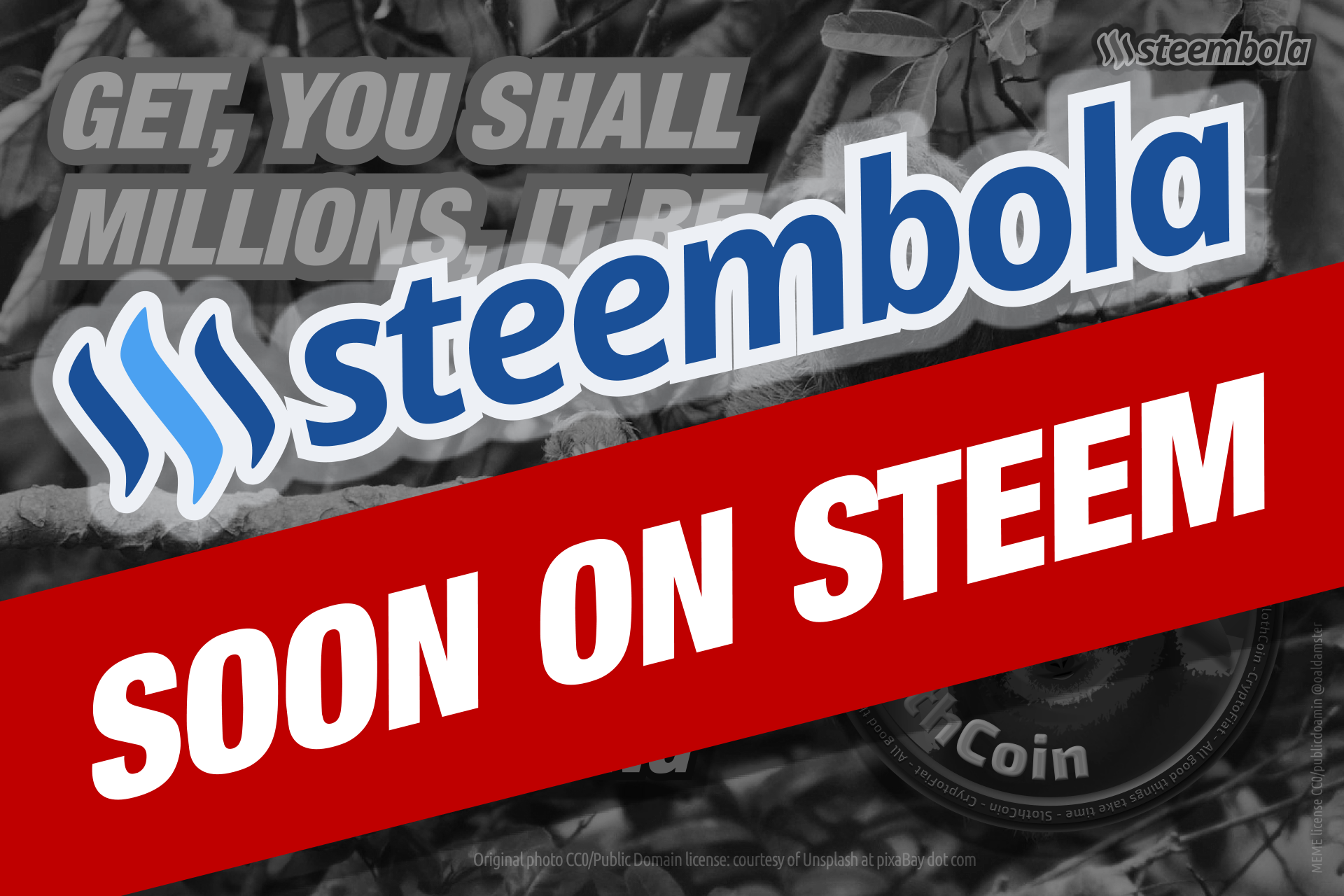 steembola teaser cc0/pd by @oaldamster