How to Pick lottery numbers
How I pick my lottery numbers
When people hear that you play lottery they automatically think you are paying or what I like to call "putting your numbers in." It only makes sense to think that. I would like to change your thinking about that for a second but not for long. I have always had an eye for numbers but with the lottery I would like to focus on theory. Random Number Theory; Game Theory and Probability Theory theories etc… Please feel free to comment what theories or logical approach can be used to infer random events.
Before, we go into this post I want you the reader to consider that this game is a fair game. All terms used in playing lottery are greatly appreciated. If I describe a technique and fail to use the term to define what I am saying will you please leave a comment to explain the term and what it is called?
What I intend to do
• I plan to keep a dairy on the steps I take to pick numbers to play the lottery
• I intend to "put my numbers in once I reach a level of confidence"
• I intend to create a hypothesis
• I will ask questions
• I will look for answers
I wrote this post for people who are interested in Probability Theory and gambling. I hope we can interact and share notes to improve how to predict such a random event.
This is webisode 1 of my new series on how to pick lottery numbers. Today we will focus on strategies we can use to pick the first two numbers.
If you are following me please use your local lottery as a guide to see if you are picking these numbers correctly. You don't have to put them in but you can follow the steps and see if you would have won. If you would have loss please comment why and what step could have been done/done differently.
I am not a master number picker so your #discussion is greatly needed and appreciated.
We are using your Pick 3, Pick 4 or Pick 5 local lottery game.

__10_ x __10__
• There are 100 possible outcomes of this event occurring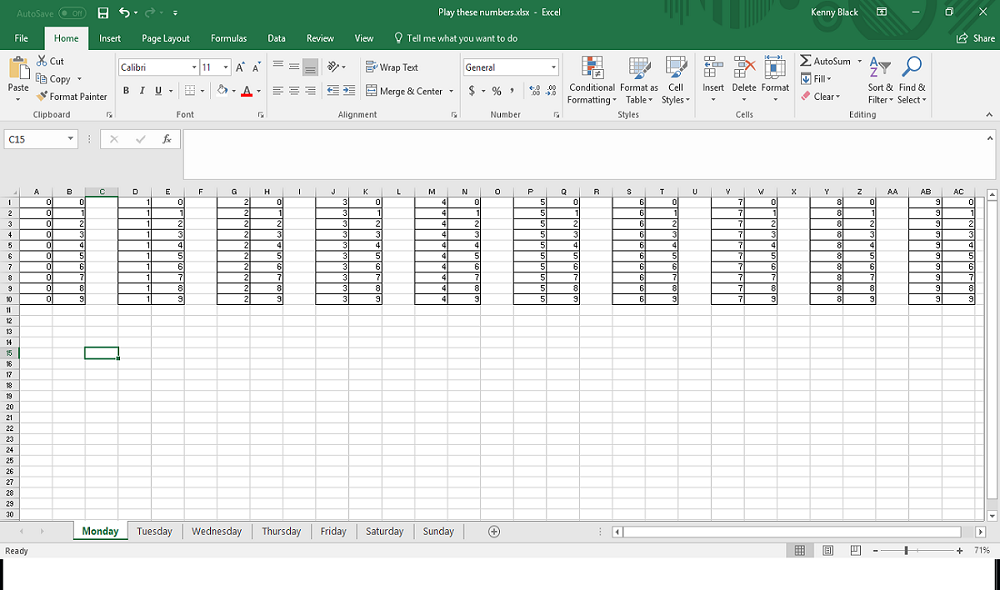 What we need to do is identify the numbers. Here I will give the different ways I identify with the numbers because technically I do not know for a fact what random event will occur so I will group them.
• Even and Odd number- This is not enough information because it reduce the outcome to 50/50
E= big even number (6,8) e= little even numbers (0,2,4)
O= big odd number (5,7,9) o= little odd number (1,3)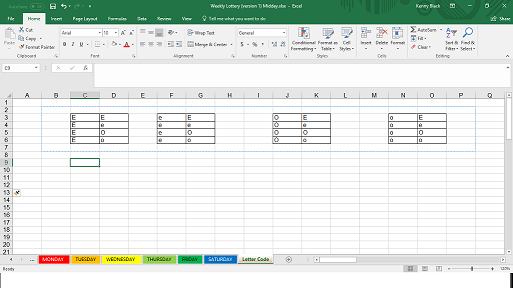 • There are 16 different possible outcomes of this event occurring when you use the Letter Code.
Step 1. Open an excel
Step 2. Save it as Weekly Lottery
Step 3. Create two tables
For example: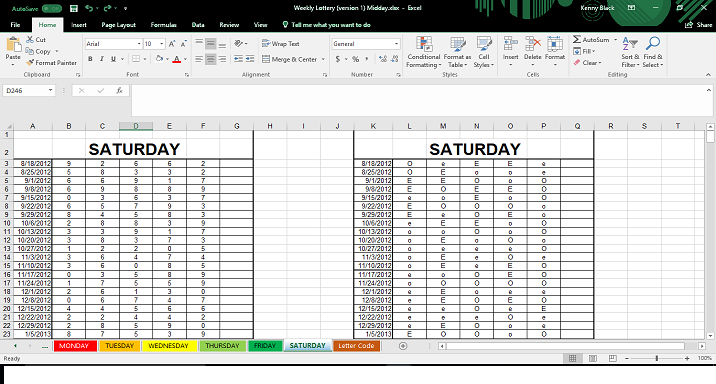 Go back about 50 weeks on the Weekly and go back about 200 on the Daily. The Daily is simply that: an organized daily chart showing the numbers that come out every day. The weekly will have Saturday through Sunday on separate tabs. The Weekly will show only the numbers that came out on the specific day each week. The weekly is more important than the daily but you need them both. As you can see in the picture this is an example of how to organize it but you can do it however you want.
How I pick the numbers to play with
• You have a few options on how to pick your numbers for each row. There are two rows. Each row holds 10 numbers in their bag. Which numbers will fall out?
• When you go to find the last 3 even and last 3 odd on the daily you have to keep going back until you have found 3 different even numbers and three different odd numbers. The same regards for the weekly. It does not matter if the weekly and daily have the same numbers because you have to find the numbers on their charts respectively.
• You may go back to the daily and weekly. Pick the last 3 Even and Odd numbers for row 1.
• Do the same things for row 2
• Here is an Example:
• The daily numbers for even and odd were:
The Daily Lottey
Row 1
Row 2
3
0
4
2
6
3
7
4
8
5
9
9
The weekly numbers are:
The Weekly Lottey
Row 1
Row 2
0
0
1
2
2
3
3
6
4
7
7
9
Next you have to combine the Daily and Weekly Row 1 together You only need each number once.
So, for Row 1 we have 9 numbers. The only number missing is 5
For Row 2 we have 7 numbers. There is no 1 or 8.
With a 9x8 probability outcome the work has to be closely analyzed for flaws in this use of technique. Different techniques has to be used to reduce the cost of picking a winning number.
The other option is to use the letter code on the weekly and simply go back about 20 weeks and see what codes have came out. They have a higher probability of coming back out. • You do not have to find 20 different codes just go back and note the last 20 codes consecutively. There are only a total of 16 different letter codes for two numbers that are established so far. • There is more work that can be done here like seeing how many times each code occur but you would also have to learn how it play out. Here is an example:
The Weekly Letter Code
Row 1 and 2
ee
oo
eO
oO
oo
oo
eO
Oo
eO
eo
OO
OO
Oe
eE
Oe
oE
Oe
ee
Ee
oe
• There were 12 of the 16 codes used here. The highest appearance of any code was 3. Seven of the codes only showed up once. 4 of the codes did not show up at all. There were 58 numbers left on the list
• I can do one or the other or connect them both to reduce more numbers
• There are other steps I can take but they are all pure emotion and no logic like cancelling out all doubles. Cancel the number if it appears more than once.
These would be the numbers I would have to play:

• This is not worth playing in the store because a person would lose either $8 or $58 ☹