Pending Value Conversions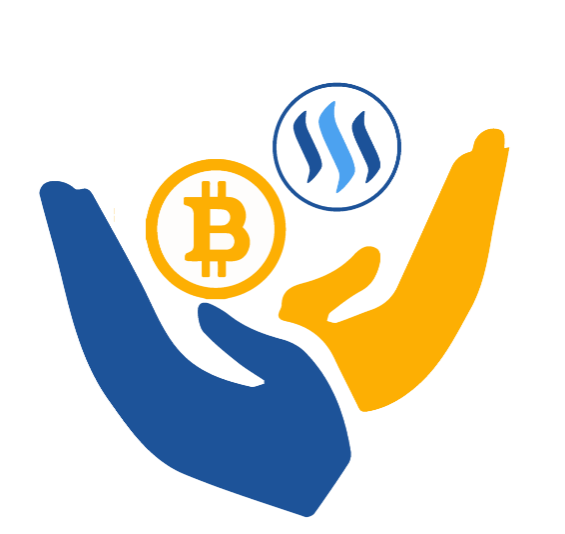 SBI Logo design by @roldamn
Steem Basic Income
Steem Basic Income is a social experiment to bring a basic income to as many Steemians as possible. Members join by sponsoring others into the program. Steem Basic Income is delivered through providing regular upvotes to member content.
Member rshares Balances
When an account is enrolled in Steem Basic Income, we begin tracking an rshares balance for that member. Last week in Value Balances and Upvote Delivery we gave detailed explanations of how this works.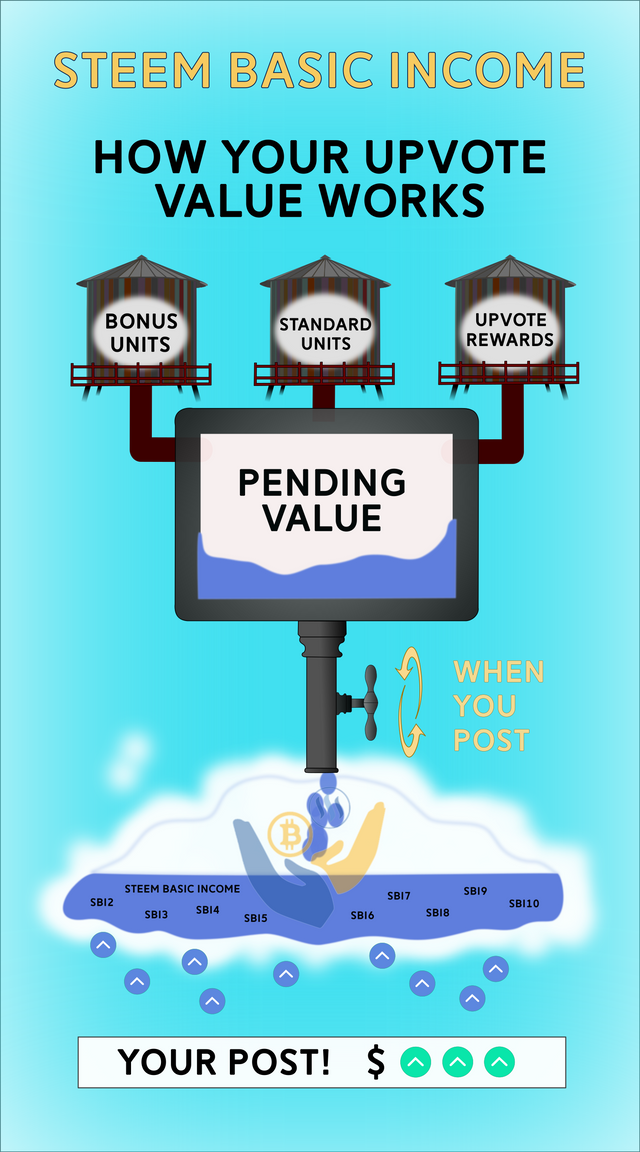 Graphics by @katysavage
Upvote Value Limitations
If we vote from all ten and still can't deliver the value, the valve closes and only the amount we can deliver is removed from the tank.
We have written extensively about our VP management in past updates, most particularly in Into the Heart of Sustainability: Voting Power ....
While low VP does not limit the aggregate total of upvote value we can deliver, it places an artificial limit on the upvote value per post. Only about two dozen actively posting accounts face this limitation, but they are some of our most ardent supporters. To provide more options and flexibility to these supporters, @tcpolymath suggested a direct conversion of Pending Upvote Value into new units.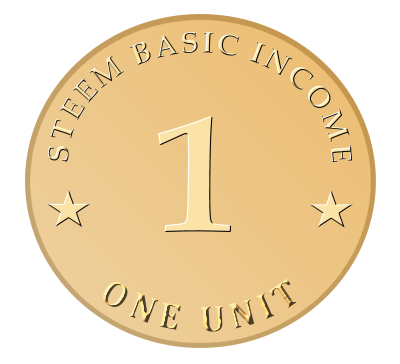 (SBI Token design by @thekittygirl)
Upvote Value Conversions
Many supporters use their SBI upvotes to create steady post rewards that are used for giving more SBI as contest prizes, or for compounding their SBI subscription levels toward the goal of an actual basic income. For these members, the per post maximum upvote limits are placing an artificial limitation on how much they can support others and compound their own accounts.
The suggestion made was to bypass the upvote delivery and subsequent enrollment transaction, converting the pending value directly into more SBI units instead. Since we wish to keep every standard unit directly tied to an original transaction, we will be offering conversion to bonus units instead, which would come out of the existing management bonus units (limited to 5% of total standard units).
Management bonus units will eventually be returned to @josephsavage when he 'buys in' the member by sponsoring for 2 standard units instead. This means that management bonus units obtained this way will eventually grow into even more standard units, although the timeline for the buy-ins is undetermined.
Break It Down?
Members can request direct conversion of their pending upvote value into bonus units instead of waiting for upvotes.
The minimum conversion increment will be 10 units, and you can either assign them all to a single account or split it between your account and a sponsee account.
Each 1 STEEM worth of pending upvote value will convert to 2 bonus units, so your next upvote estimate (as provided by !sbi status response) needs to exceed the current STEEM price for your conversion to be approved (Next upvote estimate is based on 20% of your total pending upvote value, so if your estimate exceeds the STEEM price, then you have enough pending upvote value for 10 bonus units).
These will be processed manually until we can gauge the popularity of conversions. If they prove to be popular even after VP recovers then we will add the process to our bot that processes enrollments.
For now, send 0.002 STEEM to @steembasicincome with one of these transaction memo choices:
Please convert pending upvote value to 10 SBI for this account
Please convert pending upvote value to 10 SBI for @otheraccount
Please convert pending upvote value to 5 SBI split for @otheraccount
In the first example, all 10 bonus units will assign to your own account. In the second example, all 10 bonus units will assign to the sponsored account. In the third example, 5 will assign to your account and 5 to the sponsored account (this most closely mimics a typical 5 STEEM enrollment transaction - so if you give 5 SBI (or higher) prizes, you could seamlessly transition to pending value conversions, as long as your pending vote balance is high enough.
These specific syntax are preferred so that I know exactly what you want. If you choose alternate wording it may delay approval while we try to confirm what you're looking for.
Sustainability Coverage
Sustainability Coverage is currently at 66.45% and rshares reward rate is 524,983,640 per SBI unit per day. Surprised by the sudden drop? Over the last few weeks we have been depending heavily on Conversion profits to keep our Sustainability Coverage above 100%. The volatility in STEEM/SBD prices has made for some choppy conversion outcomes, and the last three days were particularly bad. We are still up over 1000 STEEM in profits on the last month of conversions, though.
You can help increase the sustainability coverage (and thus the rshares reward rate on regular units) by delegating to @steembasicincome.
For more information, please read Into the Heart of Sustainability.
Enrollment
If you want to join, or to increase the level of basic income to which you are subscribed, enrollment is pretty straightforward:
Just send 1 STEEM to @steembasicincome. Include the name of a Steemian to sponsor in the transaction memo (preceded by @). You and the person you sponsor will each receive 1 unit in the program. You can sponsor any active Steemian, it does not have to be a current member.
If you're unclear, please check out our full transaction memo guidelines and then let us know if you have any questions.
https://steemit.com/busy/@steembasicincome/transaction-memo-guidelines
The official currency for enrollment is STEEM. If we choose to accept SBD without refunding it, you do not receive extra value for it.
Enrollments are processed automatically every 144 minutes.
Questions about Steem Basic Income?
Please read our recently published
FAQ
. Most questions are addressed in our FAQ or in the additional resources that it suggests. If you still have questions, ask in the comments section or join us in our
discord channel
.