First of all!
I'd like to say that 50 is just not even a great number. I mean - who even says 50 and really STICKS to 50?? AMIRITE??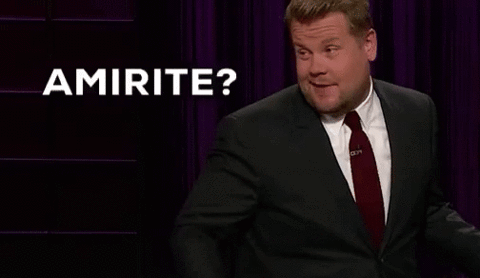 Second of all.
Don't count how many shares of SBI I awarded. just.... let's just say 50ish, shall we? I know. I KNOW!!!! I have a problem. I admit it. and that's the first step right? Admitting that we have a problem. then.... we can solve it. Should we want to. Ahem! Let's get on with it, shall we?
😎
The VINTAGE VOICES contest suggested by @anutu - oh my goodness. The winner of 5 SBI was @jeezzle with his Stone Fish of Antioch story It had me so entertained the whole time! and the ending!!!! ohhhhhhhhhhhhh so loved it!!!! There were other vintage voices stories that had me totally enthralled also (or laughing my head off with a sick sense of humor)! They may or may not have SBI coming to them by the end of this post. i know.... I KNOW! just.... 50ish SBI awarded. right? good! next contest!
😍
The PHOTO PHRASES contest suggested by @twodorks.... well - sorry, but I'm a sucker for chubby baby legs! hahahahaha @maquemali - you're the winner of the 5 SBI for this contest!!!! Squeeze those baby legs pleeeeeeeeeease!
🤩
The THEME TUNE contest suggested by @eveningart has been won by @anutu for 5 SBI! Actually - the ONLY one brave enough to take on this challenge! hehehee He had a very clever idea of taking the logo of @steembasicincome and turning it into music! It came out really symmetrical and other-worldly!!!! Great idea @anutu - yes we can all compose now hehehehehe
😏
The AWESOME ACRONYM suggested by @chekohler has been won by @ecoinstant. He used the SBI letters THROUGHOUT his entry and two of them were my faves anyway :) so enjoy your 5 SBI Swimming By Interestingly into your wallet. LOL (ok my SBI acronym was not so great - but... whatever!)
🤯
The BRAIN BOGGLE contest suggested by @mimismartypants (and no - we aren't going to tell the world that you solved it for me @maquemali... nope shhhhhhh not going to tell everyone that spankings are coming your way. LOLOLOL) has gotta be for @chekohler! WHAT IS THE ANSWER TO YOUR BRAIN BOGGLE?!?!?!?! I MUST KNOW!!!! lolol enjoy your 5 SBI
🤑
Then we had some people swapping SBI in the comments - VERY cool to see that happening!!!! yay for double SBI rewards :) Nice job suggesting that one @anixio!!!!
🧐
For the Poets United contest - I'll wait on Sir @angelveselinov to let me know who I need to award those 5 sweet little SBIs to!!! :) Let me know! :)
😄
And then of course @vincy suggested that we just have a little open "who deserves SBI" nominations! Each person could suggest one - so I took their first nomination if they suggested more! ohhhhhh and did i fail to mention that I would ALSO be giving an SBI to the person who did the nominating????? sneaky me :) Congrats to @deerjay, AND @redheadpei that nominated! @reonlouw AND @mmunited that nominated! @zedikaredirect AND @cyberspacegod that nominated! @ameliabartlett AND @katrina-ariel that nominated! @wayso AND @vincy that nominated! @brendavanbreda AND @chekohler that nominated!
😁 😂 🤣
For the HAPPY contest by @zen-art, oh my goodness - my daughter and I laughed for so long at @twodorks happy entry. It literally made our day brighter LOLOL Awesome entry- and enjoy your 5 SBI!
And now.... shhhhhhhhhhh. Here are the ones that I wanted to give EXTRA :)
🤫
All of my @welcomewagon newbies and grads that entered @c0ff33a's contest. We were so unbelievably proud of you and @c0ff33a ALREADY gave you an extra bonus (have you seen it yet???? woo hoooo!) But you will be getting 3 SBI from me too. Just a little tiny something from me to tell you I love you and I'm so proud of you! So that is for @anutu, @eveningart, @maquemali, @mimismartypants, @ravijojla, @twodorks, @xcountytravelers - I'm SO proud of you all!!!!
The following people will get a share of SBI... for reasons explained!
🤪
@c0ff33a - don't forget this time ;)
@enginewitty - because science. LOL
@eveningart - because you can spin a tale and catch me in your web!
@filotasriza3 - because I never laughed so hard at people checking out a statue and Plan: Path Of Organic Physics LOLOLOLOLOL
@improv - your happy was too happy to not acknowledge!!!
@zen-art - because your photo pic is where you need to take me!!!! and I saw the cute welcome wagon wheel! hehehe
@katrina-ariel - because Sensual Brazen Intoxication.... come on - that's just glorious hehehehe
@empress-eremmy - because you were the first acronym to shock me LOL
@penderis - my M&M loverboy??? LOLOLOL because I don't know if I want to kill you or kiss you. Probably both! LOL
@tamala - because I will never ever stop laughing about that Kimchi and Beth and her eyeless smeared face just made it even more hilarious!
@shookriya - because sweet baby inchworms got us giggling for at least 3 minutes!!!! LOL
@kaerpediem - because housework can wait - contests first!!! LOL
@steemflow - because your energy is contagious and I had so much fun in the comments with you!
@bengy - because GSD and SBI is synonomous - right? hahahaha and you will always make me laugh my fellow grad :) plus - staying awake on stage is a pretty awesome feat!
@mimismartypants - because YOUR ENTIRE POST was a happy for me!!!! from beginning to end to comments!
@quekery - because i think you're super badass
@moderndayhippie - because ideas exploding are my favorite thing LOL
@saun - I have no idea what your entry meant LOL so was it a brain boggle or an acronym? let's say both? LOL
so in the end 50ish is pretty close to 80ish - right? It's all about perspective!!!! but I think EVERYONE who entered got something :) and that makes me happy!
Thanks for having fun with me!!!!
🤗
(for reference - everyone's tallies are below.)
If your name is NOT mentioned here - you received one share of SBI! All reasons for multiple shares are given above!
2 shares - @katrina-ariel
3 shares - @xcountytravelers, @ravijojla
4 shares - @mimismartypants, @eveningart
5 shares - @ecoinstant, @jeezzle
8 shares - @twodorks, @maquemali, @anutu
EVERYONE, FEEL FREE TO CHECK MY WALLET TONIGHT TO CONFIRM YOUR SBI SHARES!!! :)