Official Results Of Foundation Structure Election - "The Merger"
After a two week long open Community Election, the results have been audited and the community chosen structure proposal is The Merger.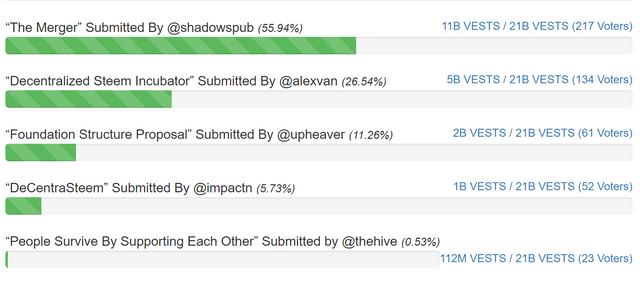 Which received consensus 59.94% of the vote and 6M SP of the 12M SP represented in the community election.


You can review full vote history and open audit information HERE
What's Next?
Handover from The Steem Alliance Working Group to the proposal team will begin.


This account (@steemalliance) will be transferred to the proposal team so they can continue to use it to communicate with the community in a transparent way.

The Steem Alliance Discord Server will be transfered over and reorganized to become the home of the community foundation.

The Steem Alliance Working Group Disbands.
Three of the active WG members (Eonwarped, Llfarms, and Shadowspub) have been asked to integrate into the initial "steering team" to help begin the building process as well as to facilitate a community election for the Leadership Board of the foundation. (Details Here)
At this point, the working group's job is complete and the proposal team will move on to the legality and building phase.
"We are excited to enter a new chapter of collaboration towards achieving progress and moving forward." -The Merger Proposal Team
Please stay tuned for further communication from The Merger team on this account.
Thank You.


What is the Steem Alliance?
The Steem Alliance is an idea of a community coming together to build a foundation with the collective goal of improving Steem as a whole.
The goal of this future foundation is to be the combined "face of the chain", working alongside additional groups as well as Steemit Inc. to better the Steem platform together. With a main focus on helping to push Steem into the mainstream arena with focus on marketing, upkeep of Steemit.com, development of steemd, outreach and Steem events. Funding would need to be fundraising/profit based but also with large seed from Steemit Inc. itself.
The goal of this Working Group is to oversee the establishment of the future foundation while ensuring transparency, fairness and that the community's voice is heard. Once the foundation is established, Working Group is disbanded.