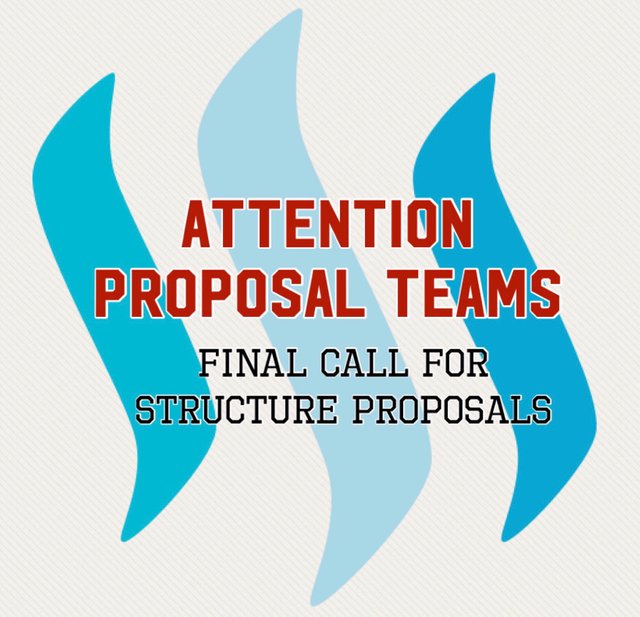 This is the official FINAL call for structure proposals
If you are planning on submitting a proposal on the structure of the future community foundation they must be submitted in the comments below by
Structure Proposals must be submitted in comments by April 5th, 3pm UTC
Final Cut off - April 5th, 3pm UTC

To be considered a valid Proposal it must be submitted in the comments of THIS POST post BEFORE the cut off time.

Only Proposals that are submitted before the cut off time will be included in the election.
NOTE: Anyone can submit a proposal in this final call, but they have to be submitted before the cutoff time to move forward to the election phase.


We will be updating this post to show those proposals that have been submitted. We will also make a post right after the cut off time to officially announce what proposals will be included in the upcoming election April 10th-17th.


Please see this post for more information about the election itself:
Updated Schedule:
April 5th - Final Call For Structure Proposals Cut Off
April 8th - Voter Registration Deadline
April 10th - 17th - Election For Structure Proposals
If you have any questions, please let us know here or in The Steem Alliance Discord Server
Thank You,
The Working Group


---
Final Proposals Submitted
This will be an updating list. As proposals are submitted in the comments below, we will list them here, until the cut off time of April 5th 3pm UTC.
https://steemit.com/foundationproposal/@jackmiller/steem-united-a-proposal-by-jackmiller-witness


https://steemit.com/@impactn/decentrasteem-final-proposal-for-a-decentralised-structure-in-favour-of-communities-on-stee


(A collaboration of multiple previously discussed structure proposals)
https://steemit.com/foundationproposal/@shadowspub/foundation-proposal-the-merger


https://steemit.com/foundationproposal/@alexvan/steem-foundation-a-decentralized-steem-incubator-for-the-future-proposal-v2-0


https://steemit.com/thealliance/@thehive/i-made-a-proposal