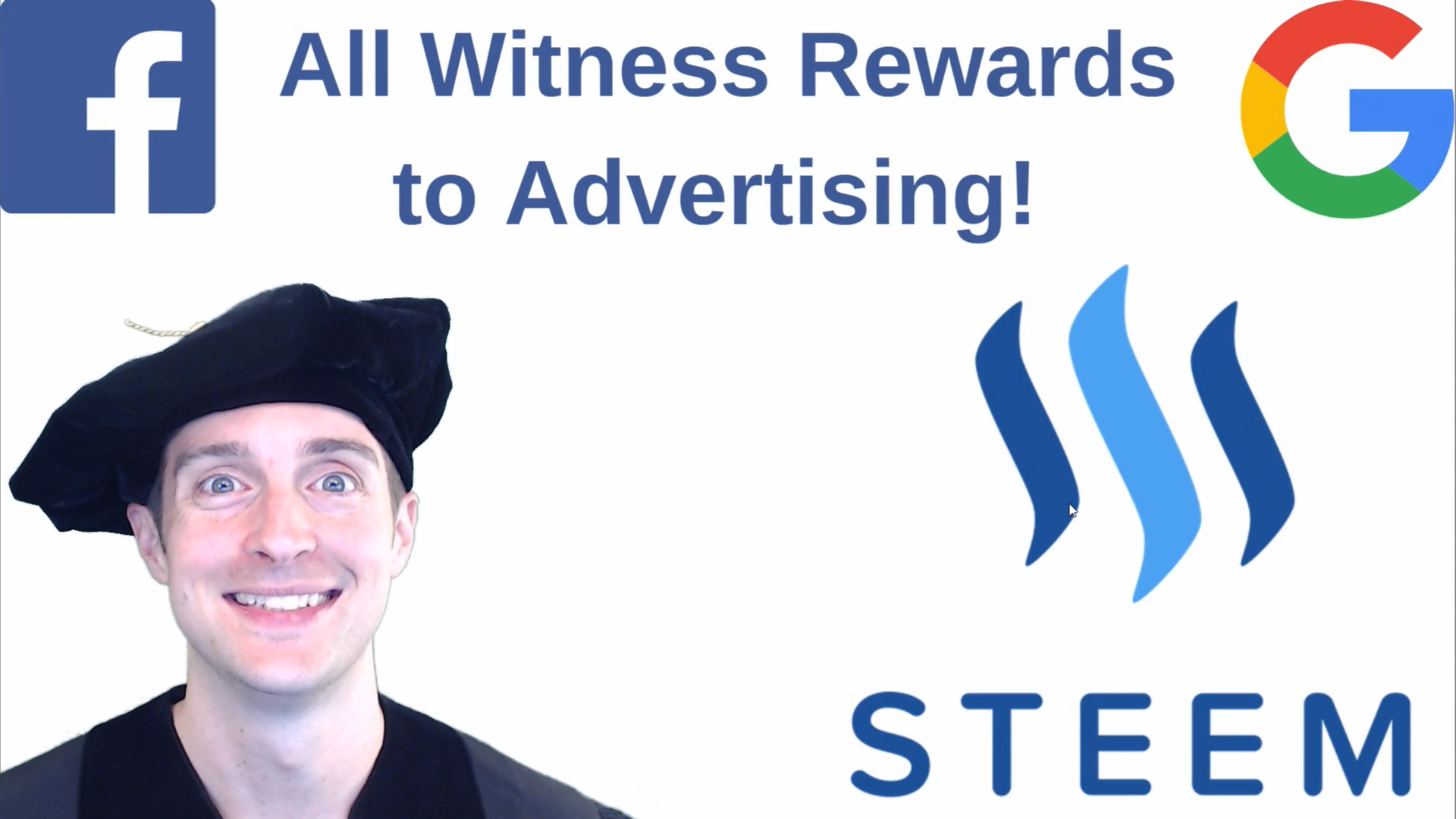 Starting today ALL of my earnings as a Steem witness will fund advertising for Steem! 50% of the rewards will pay Google and Facebook to show ads while 50% will be delegated in Steem Power to authors producing posts which are placed successfully as ads! The accountability for this will remain at https://airtable.com/shrXuoYTnODWA0QG1 where posts each week or two will provide updates with the payments and latest ads! I will also subtract server costs before making any other calculations because these are necessary to maintain the witness! Currently I have paid all the costs for two more months meaning no subtractions for hosting until November or December 2017!
Would you please join 1586 of us in voting for jerrybanfield as a witness at https://steemit.com/~witnesses or set jerrybanfield as a proxy because your vote will help increase our Steem advertising budget?
Budget
---
As of October 12, 2017, thank you very much for what you have done to help me receive about 50 blocks a day as witness #27. With the reward being 0.953 Steem Power per block as a backup witness, that equals about 47.65 Steem Power a day equal to about $50 a day at the current price of Steem.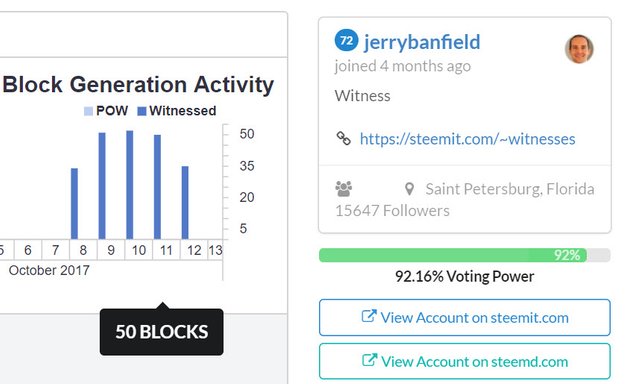 Bigger Budget?
---
Each top 20 witness receives about 260 Steem Power meaning that having me in any top 20 witness slot will provide about $260 A DAY for our ad budget which is over 5 times what I currently receive at rank 27.
On Facebook and Google, the rewards from one top 20 witness are enough for hundreds of thousands of ads to show EVERY DAY! When we show this many ads every single day, we are guaranteeing a significant increase in the demand for Steem on exchanges over the coming months. We can also expect 100 to 1000 new users EVERY DAY from the ad signups and word of mouth marketing follow up!
As the price of Steem increases, my pledge to give 100% of my block production rewards as a top 20 witness (minus server hosting costs) will automatically increase our advertising budget. For example, at $3 Steem price, this will equal $600+ A DAY in ad spend which is enough to show about a half million ads daily. The coming $10 Steem price will equal $2,500+ A DAY in ad spend which is enough for millions of people to see ads for Steem every day. As our numbers of users grow, the demand for Steem will continue to grow and guarantee a price increase regardless of market conditions.
Who Gets Paid?
---
In spending the rewards, we have two basic systems starting today which pay out after the server hosting costs are prepaid to @privex!
50% of rewards will be paid to Google and Facebook to show ads using a partial power down equal to the expected rewards the previous week.
50% of rewards will delegated indefinitely to authors making posts that are formatted correctly for me to copy and paste into ads. In other words, I will maintain an ongoing writing competition to pitch Steem successfully to users clicking on ads and reward authors with lifetime Steem Power delegations for each post I use in the ads!
How to Participate?
---
Within a year from today, I intend to have ads running for many of our posts on Steemit.com that show to 100,000+ users on Google and Facebook every day! Below are the eight steps I see at making that possible! Participation in any language is welcome!
Would you please make a vote for jerrybanfield as a witness or set jerrybanfield as a proxy to handle all witness votes at https://steemit.com/~witnesses because 100% of the rewards I receive will be given back to advertising Steem? Thank you to the 1586 accounts voting for me as a witness, the 739M VESTS assigned from users trusting me to make all witness votes by setting me as proxy, and @followbtcnews for making these .gif images!
Prepare ideas for posts optimized to run as ads.
Watch for my post announcing the opening of submissions for STEEMADS. This is where I will begin transitioning to the majority of the ad spend to posts on Steem written by authors that are not me. The announcement post and follow up reports will all be tagged with STEEMADS and shown at https://airtable.com/shrXuoYTnODWA0QG1. I recommend waiting for the announcement with all the details to go forward. Until then, here is what I am planning for now to follow!
Write posts that exactly match the formatting requirements I ask for because these will be optimized to welcome users to Steem immediately after clicks on ads and also give me everything I need to make the ads in one place. Each post will require an image taken by the author with no text which can be used landscape or square preferably 1920 by 1080 pixels along with ad text for Google and Facebook.
Tag the posts with steemads as the primary tag to make the submission.
I will review the posts in the order of trending and submit as many correctly formatted posts as I can into both Google and Facebook to show as ads.
Each post that is approved as an ad on Google and Facebook will result in a delegation of Steem Power as my thank you which will provide an indefinite increase in the voting power for the user receiving the delegation at the exact same rate as having that much Steem powered up would. This will be done from a pool to help users earn rewards evenly over time.
I will make reports about once a week or two sharing how the ads are performing and continue accepting submissions indefinitely.
Witness Servers
---
If you are curious about my witness servers being prepared for a top 20 slot, here are my current specs for my witness server, seed node, and backup server.
64GB DDR4 RAM
2x Intel Xeon E5-2630 V3
2x 240GB SSDs
1Gbit/s connection
To summarize my server performance so far, I have missed one block in 3 months out of around a thousand received. I have a sever, a seed node, and am almost finished setting up 1 backup server while also planning to get a second backup server. Every single server is capable of handling a block every 63 seconds indefinitely. I am finishing an automatic failover system with conductor that will allow automatic switching of servers when just a few misses are detected to minimize blocks missed and provide the best user experience on Steem. For version updates, I will be able to switch servers between blocks without missing a block or having to disable!
Let's Rock!
---
If you have already voted for me as a witness and are wondering how else you can help right away, would you make a post about why you are voting for me as a witness like @cryptoctopus did at https://steemit.com/witness/@cryptoctopus/why-i-m-voting-for-jerrybanfield-s-witness because this will help us collaborate in raising over $100,000 a year to advertise our community here?
Love,
Jerry Banfield