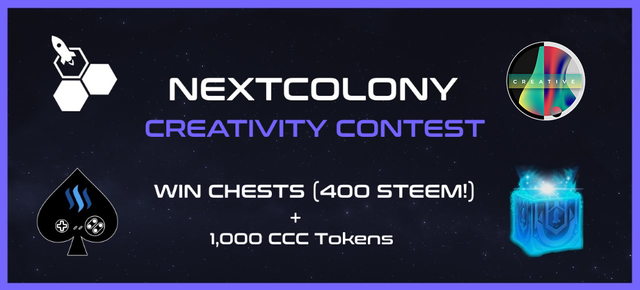 We are happy to announce our 2nd Next Colony contest! Join in and win amazing prizes!
How to participate
This contest is all about creativity. You can draw? - perfect then create a post showing your NextColony related artwork! You are a musician? - awesome! An outa space soundtrack is a legit entry as well! You love writing poems or creative stories? - we can't wait to read about your space exploration in Nextcolony!
For your post just use the #steemace tag as well as the #nextcolony tag to participate.
Rules
Make a creative NextColony post
Use #steemace and #nextcolony as tags
It must be your own work
Post the link of your post as a comment below
One entry per user
Allowed is everything creative that is accepted on the Creativecoin tribe page
Win awesome prizes!
The best entries can win great prizes such as Chests for the game NextColony and CCC Tokens for the community creativecoin.xyz.
In this round we are giving away:
2 Imperium Chests (each 99 Steem)
4 Huge Chests (each 49 Steem)
1,000 CCC Tokens
To enter this contest you have time until next Sunday when the payout of our post is reached.
We are looking forward to all your creative posts!
(Don't forget to use the #creativecoin tag for your creative posts)
(Rewards of this post go 100% to @good.game except for GG tokens which will be burned)


Important links