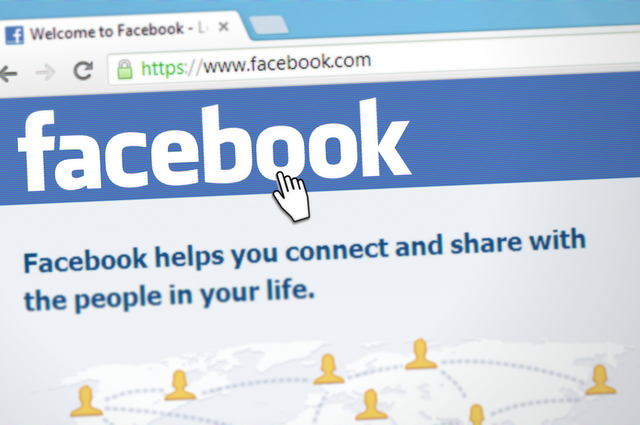 source
So following on the discussion that I started in this post from two weeks ago,
And @pennsif followed up on very shortly after here,
I started thinking in more concrete terms of what I would like to see happen with the STEEM social media accounts.
From the original post I was looking at expanding the reach of the STEEM Facebook and Twitter accounts to bring more visibility to STEEM as a blockchain and Steemit as a blogging site.
Even if the money isn't there to hire a specific person i'm sure some of the community would take up the slack. I would take up some of the slack if it came down to it and help to run the Twitter or Facebook page to keep it active and clean and i'm sure that others would feel the same.
I would love to see this brought up with them and the possibility of outsourcing some of these platforms to willing and able users like the leaders of the curation initiatives or community founders. We have the talent, it just needs to be showcased in the right way.
I have recently started my own facebook page,
https://www.facebook.com/steeminfo/
and twitter page,
https://twitter.com/InfoSteem
with the intention of improving visibility but this would be so much more effective from the official accounts with a dedicated team of posters and moderators.
It's an easy win in my opinion with the right group of people behind it and could even be funded with the DAO for promoting posts and other events when needed to reach a wider audience.
So this was my initial outline of what I would like to see happen. Ideally through the official accounts but through our own specific accounts if need be.



The Plan
For the sake of argument let's assume that a group of top STEEM users are given access to the Twitter and Facebook accounts of Steemit.inc......
As it Stands, Steemit.inc has:
A facebook page with 26K followers and 31 posts in the past three months.
A Twitter page @steemit with 105.9K followers and 65 Tweets in the past three months
Another Twitter Page @steemnetwork with 10.8k followers and 13 Tweets in the past three months.
To be aware, this is actually an increase on the previous 3 months activity where there wasn't much being posted at all. I can understand if they would like to keep the steemnetwork twitter professional for development notices but I think that not using the 105.9K followers is a serious missed opportunity. Twitter has 2,375M Users which are a lot of eyes we should be targeting for STEEM.
What I would like to see is a fully active social media presence. This should include,
5 Daily tweets with interesting posts from Steemit.com.
1 Daily tweet with a development update. (Across the chain)
1 Weekly tweet with a new user introduction.
Regular competitions
Any other relevant information that comes to light during the week.
I would absolutely follow the same procedure for Facebook but with more detail involved especially from interesting posts. Giving highlights and generating interest for people to follow to the full article.
I'll take one of my most used sites as an example which is Unilad.co.uk which has 200.7k followers on twitter and 43M followers on Facebook. They have posted 30 articles on Facebook in the past 24 hours alone. I'm sure we could find some content from Steemit.com to beat this gem here.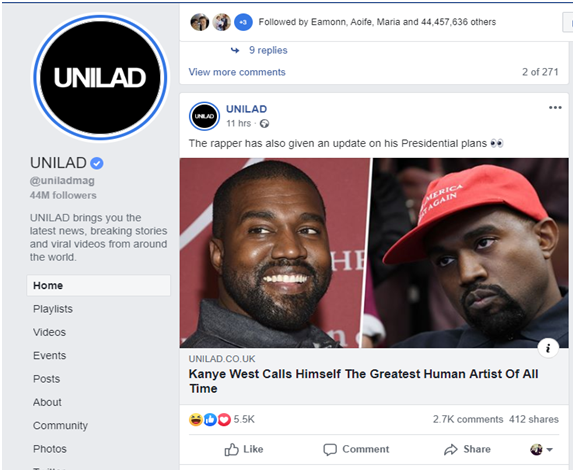 It might have 43m followers now but Unilad.co.uk was only a niche site when I started following it at the beginning, posting college level humor and controversial topics. What they did with it though was follow the same steps that all of us have tried to do here.
Post interesting content.
Post consistently.
Engage with your audience
Build your brand.


That is how you gain success and market your product. These guys started from the bottom with a few people posting funny videos and stories. Now they have a full building of writers and a massive site to work with.
We have the huge advantage of having thousands of creators posting a variety of content every day. We just need to get some eyes onto it and with that visibility use it to showcase the other aspects of the STEEM blockchain and build the STEEM brand.



The Goal
The goal would be seeing a small group of like minded steemians, post quality content to these two platforms on a consistent basis and through out 2020, double the followers for Twitter and fourfold for the Facebook page.
It would also allow for people to ask questions in the comments as at the moment there is no help center or entity to talk to with questions about joining and problems.
It would take a team of probably 3-6 people to find, organize and post content on a regular basis for the two sites.
I would also add a DAO proposal for a small amount of funding. This would be used to boost the posts for visibility, add to the profiles and run small competitions to get people interested in STEEM and Crypto in general. You can boost posts on Facebook for as little as 20$ to reach thousands of users.
We would also need community buy in from active users to follow these pages and share posts among their followers. It's vital to get active members behind the social media pages as they can drive visibility and engagement on the posts.
We already have the STEEM foundation to organise and coordinate these efforts so it would then be up to the group selected to keep up the posting and grow the STEEM brand.
With this activity it should definitely bring more people clicking onto Steemit.com based content which can only be a good thing for their profile and their advertising revenue. It would get more people to discover STEEM and from the blogging site delve further into the STEEM blockchain and everything that it has on offer for them.


These are only some of my thoughts on social media marketing for STEEM but I hope that it can at least open up the discussion on what is possible going forward into the next year. Steemit.inc have a small team trying to do a lot of work so it's not always going to be easy.
Marketing is somewhere we have fallen a long way short on in the past but the time to fix that is now.
Now, when we are about to see communities and SMT's.
Now when the prices are low enough for new money to enter.
Now when people are starting to hear more about crypto.
You always want to be the trend setter rather than trying to catch up to another project. We still have that advantage so let's use it to bring crypto to a whole new audience and get the STEEM name to the general public.