[Paperwallet] Easily secure your account with Steem Paperwallet Generator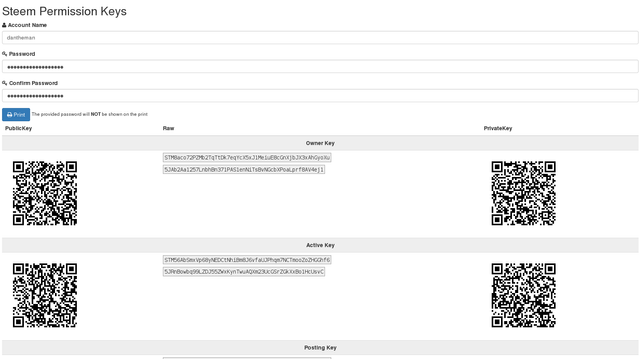 Howto Use
This newly created download able webpage generates new public private keys for you to secure your account.
The procedure is very simple:
Download the offline generator on the bottom of this post
Unpack the zip/tar.gz file and open up dist/index.html in your browser
Provide your account name
Provide and confirm your password
The page will generated four new keys for your (owner, active, posting memo).
After creation of your new keys, you should print out the page and write the password on it with a pen!
You can change the keys on your permission page:

Recomendation
First read @pfunk's excellent article.
I highly recommend that you generated a
distinct key (with a simple password) for posting (so that you can comment, post, and upvote)
another key for active permissions (for transferring funds and trading) and
a very secure owner key that you can recover your account after loss of any of the above keys!
Put at least the printed owner key into a safety deposit box and make sure to have it printed out multiple times!!
Notes
Do not mix the types/authorities, if you pick the private key from the posting key, then only use it as posting key, nothing else.
The source code is open to be audited and verified by anyone. I have signed the commit with my private GPG key for everyone to follow and see my identity. I mean you no harm :)
Review/Audit
Download
Update
I now pushed version 0.2 and 0.3 that allow you to print your master password and let you uncover the typed password.