Der Hauptgrund, warum STEEM auf Coinmarketcap immer weiter zurückfällt, ist die hohe Inflation von derzeit 20% pro Jahr, verursacht durch den Steem Dollar-Peg. Dagegen müssen wir etwas unternehmen, wenn wir wollen, das STEEM wieder Investor-freundlich wird.
Die eigentliche Inflation beträgt derzeit 8,5% pro Jahr und nimmt jedes Jahr um 0,5% ab. Dazu kommt aber die Inflation, die durch den Steem Dollar-Peg verursacht wird und vor allem in einem Bärenmarkt schlagend wird, wenn sehr viele Steem Dollar zu STEEM konvertiert werden, verliert STEEM immer weiter an Wert und das dürfte auch der Hauptgrund sein, warum STEEM verglichen zu anderen Altcoins in den letzten Monaten so stark an Wert verloren hat.
20% Inflation pro Jahr sind einfach viel zu viel. Das muss durch einen Hardfork geändert werden, wenn wir wollen, dass STEEM wieder erfolgreich wird, wozu es immer noch das Potential hat, da es eine der meist genutzten Blockchains mit realen Anwendungen (DApps) und einzigartigen Use-Cases ist.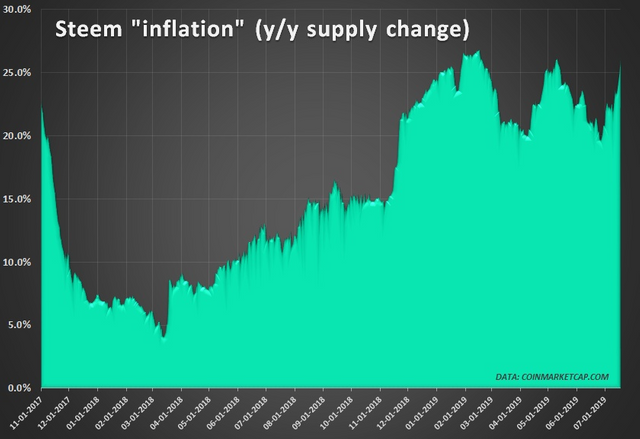 English
The main reason why STEEM continues to slip on Coinmarketcap is its high inflation of currently 20% per annum, mainly caused by the Steem Dollar peg. We have to do something about that if we want STEEM to become investor-friendly again.
The actual inflation of STEEM should currently be 8.5% per annum and declines by 0.5% per annum. But then there's the inflation caused by the Steem Dollar peg, which is especially knocking down in a bear market when a lot of Steem Dollars are converted to STEEM, STEEM then loses more and more value and this is probably the main reason why STEEM has lost so much value compared to other altcoins in recent months.
20% inflation per year is just way too much. This has to be changed by a hardfork if we want STEEM to be successful again, which it still has the potential to do, as Steem is still one of the most used blockchains with real applications (DApps) and unique use-cases.
Sources
[1] https://steemit.com/steem/@deathcross/chart-of-the-day-is-the-steem-inflation-the-real-cause
Live your Secrets and Steem Prosper 🔥
xx Viki @vikisecrets