I was just talking about delegations on Steem with @tijntje. It's a lucrative way of using your steempower. Often you get a (little) revenue on your delegated Steempower and thats just one great side of it, the other side is that you enable great steem initiatives to help boost their dapss, projects or community purposes.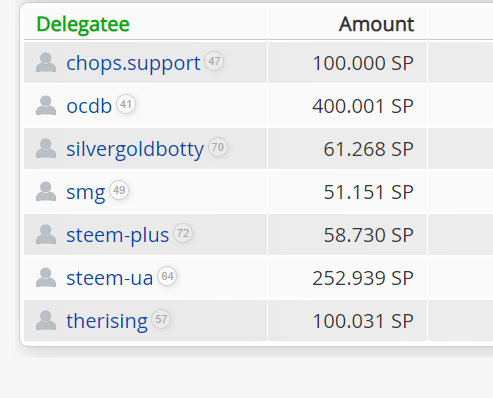 Chops.support
@slobberchops
has created this account to support people who need some encouragement or people who supported him in his (succesful) steemit journey.
You can read his motivation here ,
I, on my turn, support his chops.support account with a delegation because I thinks (one) he is a awesome guy, (two) he does has the best intentions with Steemit and (three) With his interaction with me he has helped me a lot with good content, his great stories and his support in general.
OCDB
The operation Curation Bot is a bot which support (starting) steemians with curations and upvotes on their (original and creative) content.
@ocd
and
@ocdb
are the main accounts. With the curation bot it is possible (when you are whitelisted) to get a nice revenue on your posts. It also works as a great exposure in the OCD Daily posts where Steemians are featured. For example look
here
Silvergoldbotty
Stax (
@silvergoldbotty
) is a delegation based community upvote bot and quality community content curator. We have a growing group of amazing content creators, and open to anyone producing valuable content on any topic or tag and using any block chain interface. We also manually curate 3 posts from our community every day and showcase them in our daily post and resteem our favorite from those 3.
SMG (Steemit Mastermind Group
This Curation Group is founded by
@kenistyles
. Although it is (as in a lot of tribes) a bit silent at the moment, some great things were achieved.
Steem-plus
I love the
@Steem-plus
addon for Chrome, it gives so much more functionality and information in the
@steemit
interface. I would advise everybody to use it and to support them for it..
Steem-ua
@steem-ua
is the Alghoritmic Curation & Upvoting program. It ranks your posts and position based on UA. It's usefull information of which you also get some advise on how to climb on the ranking :)
The Rising
This tribe is similar to OCDB and I just delegated to them for a week.
I like there vision and their discord channel..
So, to whom do you delegate and for what reason? There are so many great tribes and communities here on steemit... So let's help eachother !! That's the main reason :)
Have a freat day,
Peter