A few people have asked me recently for my thoughts on which witnesses to vote for and why. Here's my breakdown of the ones I currently vote for and why I vote for them - you can use my logic to vote for others who are similar if you like.. I still have some free slots too, so if you know others who I might like then let me know in the comments.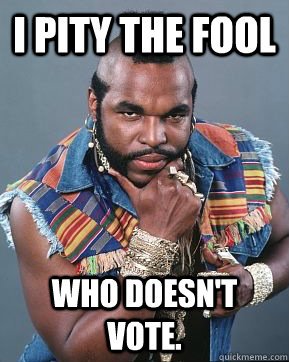 disclaimer: voting in mainstream politics is not generally advisible, since whoever you vote for you are voting for someone else to tell you how to live!


Voting for witnesses is quite an esoteric challenge for some of us who aren't in a position to fully learn what the role of witness is intended to do for the blockchain. The short version is that witnesses run computer hardware that literally builds the blocks that form the distributed (geographically) database that makes Steem work. They also make decisions that affect the financial and other practical parameters of factors relating to the way Steem works.
We all get 30 votes (currently) to choose from the active witnesses (currently over 120) and the system keeps track of who has received the most votes at any moment. The system intelligently assigns those with the most votes to have the most blocks to process and also the most say when it comes to making decisions that affect everyone here. So the situation is quite like the way representational democracy is intended to function. Not everyone has time or desire to learn all the fine points of how Steem works, but they can find trusted people who maybe think like them to make decisions in their absence - these are the witnesses to vote for.
At the very least we need people who are technically competent and reliable when it comes to running computer hardware, which means we need to do at least some due diligence checking to learn about each witness's background to make sure they can do the job. A simple way to get a rough idea of this is to view the list of witnesses here and see who has the higher number of missed blocks, since missed blocks can be reflective of downtime of the witness server or other issues. Be aware though, that the closer to the top of the list that a witness gets, the more blocks they get to process, so any downtime for them will mean a much higher number of missed blocks than for someone further down the list. We might say though that a high number of missed blocks, even for a top witness, could be grounds to vote in a replacement to see if they fair better.
Ideally, we also need people who are going to put Steem's interests first - with aims to grow the network, improve the technology and to support exciting and productive projects. It's not going to get Steem far if the top witnesses all support projects that drain the rewards pool without adding any value in the eyes of potential investors. Witnesses therefore need to have a balance of technical skill, economic understanding, business sense, social skills and imagination! These are actually the skills that I have naturally aimed for in my life, but as a result I recognise that it is quite uncommon to find people who excel at all of them. I am sure, though, that we cannot really be said to excel in any of them unless we are at least good at most or all of them - since everything is interconnected!
My Witness Votes
---
So when it comes to my own witness choices, I aim to only vote for those who fit this bill to some extent and who I also know something about. I want witnesses to be visible on the network and active - this is essential to ensure they know what the network needs and have a feel for what the users feel. I can accept a lesser level of active involvement if the witness excels in other areas though - but generally I want my votes to support those who are active regularly.
So, in reverse alphabetical order (just to correct the fact that A's usually get a natural benefit over Z's) :)
@yehey - I know that yehey is active on the blockchain and has a system of promoting the most valuable posts he can find. He can often be found in the witness chat rooms on steem.chat and is generally helpful. I don't know too much about his background or economic/technical ability, but I like to support and help those further down the list and pick the ones I can relate to.
@utopian-io - One of the best known projects on the Steem blockchain. @elear and the rest of the team have put a lot of time into building a system that rewards open source coders and other workers for their work. Up until their hard work was sabotaged from inside, they were really making a good impact to direct Steem's power towards opening up the world of Free software. I look forward to seeing them exceed their previous success in the near future.
@timcliff - Tim has been one of the top 20 witnesses for a long time. He tirelessly helps many people on the blockchain and at times seems to be a one man support staff for both new and old users alike. He helped me get my witness server online when the standard method failed and he knows a lot about the economic and coding aspects of Steem too.
@teamsteem - Has also been on the blockchain here since the early days and often gets involved in many groups to help out. I don't know much about his technical abilities and don't see him in witness groups usually, but I know we agree philosophically in many ways and I feel I can trust him to make decisions I agree with.
@Stoodkev - Current developer of the steem-plus browser extension. He is a relatively new witness, but seems to be competent and a hard worker, so he has my support.
@Steemcommunity - As I recall, this is the witness run by @paulag, who is very active in groups and the blockchain. She regularly produces statistics and business analysis tips/insights into Steem that are useful for witnesses and others. I don't know anything about her technical abilities or future plans, but I respect her approach and look forward to seeing more from her here.
@someguy123 - Another top 20 witness. He is responsible for maintaining the 'Steem in a box' implementation of the Steem witness and server software. Whenever there is a new version of the software available he can be guaranteed to be working hard to make it available for us and can usually be found very actively engaging in the witness chat rooms. His technical skills are no doubt relatively high and I feel it is important to have people involved as witnesses who know the code well to some extent.
@reggaemuffin - Another top witness who I have only recently been interacting with. I often find myself agreeing with reggaemuffin's ideas/logic and am in the process of learning more about his vision for the future of the blockchain.
@Quochuy - Is a relatively new witness who has helped me out a few times in the steem chat - he seems to have good technical and logical understanding and is pretty dedicated to helping others out.
@pharesim - a nearly top 20 witness who has been involved in the blockchain for a long time. He is a developer and has quite a long list of Steem related code repositories in Github. It would be good to see him a bit more active on the blockchain, but I feel I can also trust his logic to make sensible decisions.
@oracle-d - I made a detailed post about the oracle-d team here. The short version is that they are running what might turn out to be the most significant D-app for the Steem blockchain and it is perhaps the only one to date that is fully intended to bring large investment into Steem. They also run @promo-steem and are highly involved and active with the blockchain - cannot fault them.
@noblewitness - This is a team effort of @sircork, @anarcho-andrei, @gmuxx and @RhondaK. I have known sir cork since I first joined Steem and we help each other out from time to time. I know he is motivated to improve Steem in a heart centered way and I trust he will only be working with others who are the same.
@mahdiyari - Very active in the witness chat rooms and offers help to those in need there. Is an app builder and responsible for some you may have heard of. Good technical skills and a logical thinker.
@krnel - Another long time user of Steem. A fellow vegan and deep thinker. I don't know too much about his technical background or economic thinking, but as a human I am sure we agree on important topics.
@guiltyparties - Also very active in the steem witness chat rooms and regularly involved in taking action to solve problems on a more social level. Dedicated to the cause of improving Steem in every way possible!
@fulltimegeek - What more do you need to know? A full time geek! He runs good will bots that constantly upvote people unexpectedly and has good technical skills - plus runs a seed server and RPC node too. I'm sure he is well placed to make good decisions as a witness - he has only just started as a witness and is already halfway up the ranks!
@followbtcnews - Currently a top 20 witness and quite active in the witness chat rooms. He runs the rocketchat install of steem.chat and gives me a sense of being approachable and friendly - which is definitely a needed thing since too often the top witnesses are unreachable!
@enginewitty - Is a very passionate Steemian who is involved in numerous ways and groups to help grow Steem socially - which is necessary since Steem is currently more of a social phenomenon than a currency phenomenon! I have met him in a few different spaces here and I get the impression he is intelligent and able to think things through enough to make good decisions.
@drakos - In and out of the top 20 positions. He, like Tim, is very active in helping users of all kinds solve their issues. He can be found in the steem witness rooms most days helping witnesses. He runs steemian.info which is an info hub for Steem and maintains the witness rank tracking system there. Overall he is a nice guy, as far as I can tell and I can't say anything bad about him.
@dragosroua - A fellow vegan, creator of steem.supply, which tracks your future payouts on Steem and also the creator of steem php tools, which is a programming library that I find very useful for creating websites that interact with Steem. He is very focused into the Steem blockchain and has been around a long time.
@c0ff33a - Another part of the group that is pretty active with @enginewitty and @sircork. A relatively new witness and clearly passionate about the blockchain. I don't know too much about him, other than that he's in my geographical area (Britain) and is a geek. I look forward to learning more about him as time goes on.
@bobinson - A programmer, capable with C++ And still learning at university I think. A new witness but clearly capable technically and is involved with various projects in his country at the government level.
@ausbitbank - the shadowy anonymous top 20 witness who helped me out since my early days here with regular upvotes. He is probably the main reason why I stayed using Steem during those early times and he gave me a lot of motivation to keep posting and building my presence here. I don't know a lot about him actually as he seems to be quite private, but from our chats I sense he is smart and a good person. He generally supports uncensored and radical 'truth' on the blockchain, which should be the case for everyone but sadly isn't!
@arcange - Runs the Database version of the steem blockchain @steemsql - which no doubt involves quite a lot of work to keep running. His work allows many Steem apps to function. Technically capable and very active on Steem.
So there you go - That's my current selection. If you have any comments or suggestions for others who I should support then let me know. There are quite a lot of witnesses that I don't know much about as I just don't have enough hours in the day to research them all!
Wishing you well,
Ura Soul
---
Vote @ura-soul for Steem Witness!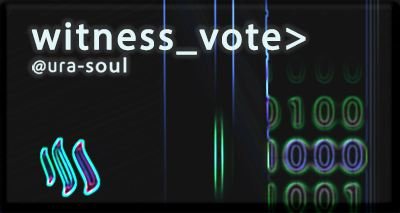 View My Witness Application Here

(Witnesses are the computer servers that run the Steem Blockchain.
Without witnesses there is no Steem, Steemit, DTube, Utopian or
Busy... You can really help Steem by making your 30 witness votes count!)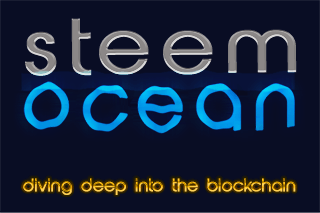 Find out your voter rank position at steemocean.com!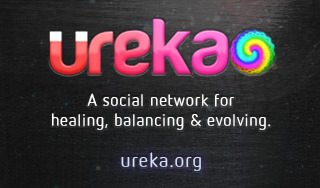 I run a social network too!