Today's STEEM Updates: TRON's Roy Liu & Steemit's Eli Spoke in Discord. Ned Ran his Own Discord: "No Contract with Community for Steemit Tokens". Recordings In This Post.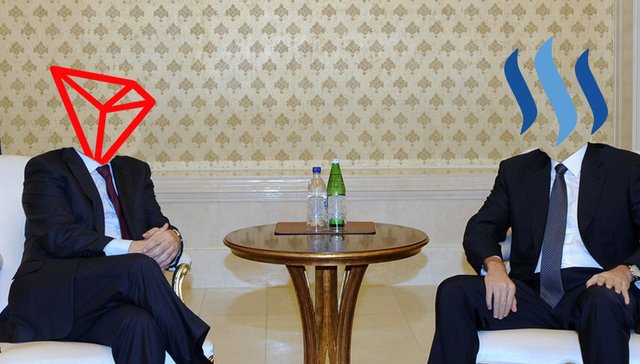 I've had another busy day of research and conversation regarding the state of STEEM. Three main events took place:
My feeling on the situation
---
The conversation with Roy seemed kind of productive and I feel there is a chance that the outcome of the private meeting may have been productive. I don't know what Justin intends to do with his witness votes but it seems that currently the community has chosen to hold the TRON and STEEM witnesses in a 10/10 split for the top consensus positions - suggesting the community wants a negotiation to take place.
The comment from @eli seems to totally contradict what Justin Sun said in his 1st conversation with witnesses and on Twitter. She appars to say that he knew about the risk posed by the witnesses and community in advance, due to the previous statements made by Steemit inc regarding the use of the ninja mined Steemit stake.
Ned's monologue was pretty evasive and he deliberately avoided answering all of my questions and anything remotely challenging.
The only comment he made which was of any use as far as I am concerned was in relation to any contract being in place between Steemit inc. and the community regarding the actions of Steemit inc. He did also state that he still holds STEEM and wants STEEM to succeed.



Recording of @eli from the Town Hall Meeting
---
Thanks to @jacobpeacock for this section of audio in which @eli makes a statement about her warning those negotiating the sale of Steemit inc. that the stake would get locked up and that their response was to reject her advice and that they would 'buy time':
https://cdn.discordapp.com/attachments/685266036152729645/685271327674073121/eli.mp3
n.b. If you have a better quality recording of this audio then please let me know.


Ned's position on Steemit tokens
---
You can listen to the audio of Ned speaking in these two MP3s recorded by @someguy123:
Ned's bottom line is that there was no contract or agreement in place between Steemit inc. and the community regarding what it would do with it's tokens and he pointed us to 'the about page on steemit.com'. Since there actually is NO about page on steemit.com currently, it was nearly missed entirely that the page he was referring to exists solely on steemitwallet.com:
Disclaimer
Steemit Inc. (The "Company"), is a private company that helps develop the open-source software that powers steemit.com, including steemd. The Company may own various digital assets, including, without limitation, quantities of cryptocurrencies such as STEEM. These assets are the sole property of the Company. Further, the Company's mission, vision, goals, statements, actions, and core values do not constitute a contract, commitment, obligation, or other duty to any person, company or cryptocurrency network user and are subject to change at any time.
source: https://steemitwallet.com/about.html
Since this text ONLY exists on an about page which I imagine gets almost NO traffic, using this as a disclaimer is a pretty weak defence to begin with. I am not legally trained, so I cannot comment on the strength of this disclaimer in the context of the numerous points of evidence where Ned publicly stated that the Steemit.com tokens would be decentralised and used for community growth purposes (rather than being sold - as he did and as Justin Sun has stated he intends to do).



Potential evidence of verbal or other form of contract
---
The Steemit Inc. ninja-mined stake is said to consist of approximately 74 million STEEM tokens by those privy to the terms of the sale. Some of these tokens are liquid but most of them are powered up in @steem, @steemit, and @misterdelegation accounts. The sum of STEEM Power in these accounts alone is currently about 60 million SP. They also have almost 5 million liquid STEEM total. The rest of the total amount of STEEM is presumed to sit on exchange accounts.
What can you do with just the 65 million STEEM and STEEM Power that we can easily see between @steem, @steemit, and @misterdelegation? As of writing, the top-ranked Steem witness has about 45.4 million SP of Steem user stake approval. If used, the 65 million SP of known Steemit Inc. ninja-mined stake can put that witness in 31st place and well out of establishing blockchain consensus.
For reference, the following are all examples of Steemit statements regarding these tokens:
Also in that same document:

video evidence
---
26:30mins Ned talks about the mining, the steem INC got and how they would use it to decentralize the network.

43:30mins - Ninja mined stake is "not voting" and "reserved to develop eco system"

52:00mins - Ned talks about ninja mining and it's uses/justifications. "it's (the ninja mined stake) completely dedicated towards getting better and decentralizing over time any object that comes into existence I just centralized and its birth moment and over time to centralize this and we are at the very beginning of scheming over time it will decentralize so if there are issues with it today you know decentralization is a subjective and sliding scale hopefully it gets to the point where Steemit doesn't matter or Dan and I don't matter and you know that's could be years away I don't know but there's still a lot of growth to be had a lot of development to be done and it's fully in our objective to make sure that that happens"




48:30 seconds talks about stake being intended to be given to the community. "we have no interest in controlling the entire blockchain and we want to distribute to others asap".




16:15 seconds (asked about stake)
17:53 "my company mined a bunch and now we are using it to grow the eco system"


Further links
---
Summation
---
Clearly it is up to each of us to make our own mind up about the situation and take appropriate action. I personally had a similar feeling while listening to Ned that I have had when researching pyramid scheme type scammers in the past. The evasive half truths and carefully chosen words did not feel good to me. To hear Ned speak using the term 'we' in reference to him being part of the STEEM community felt particularly unpleasant to me. I appreciate that he may have been in a difficult position and from my perspective he was out of his depth, not matter how professional he tries to make himself sound... However, if Ned wants to be part of an actual community (other than a gated one), he needs to learn how to communicate openly and live from the heart.


Wishing you well,
Ura Soul
---
---
---
---
Proud member of @tribesteemup.