Justin Sun Conversation with Witnesses Is Online. @Ned Sold Out The Community - Failed to Disclose.
UPDATE: Ned just commented on Twitter: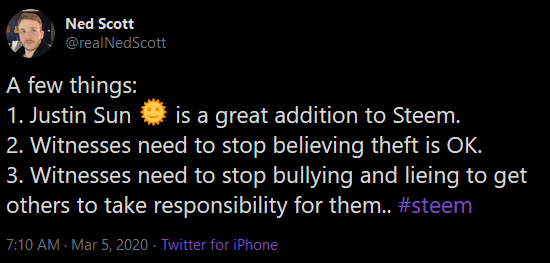 Thanks to @ausbitbank, the recording from the private witness conversation with Justin Sun is now online.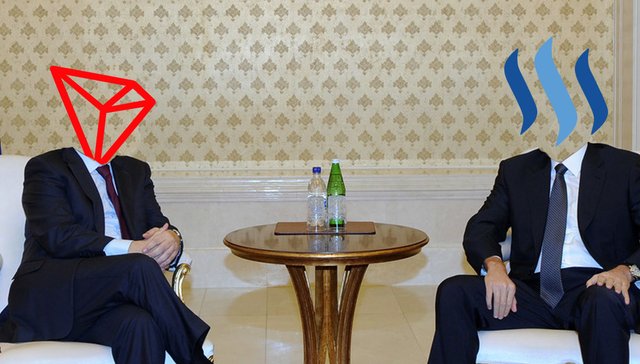 The short summary is:
@ned failed to disclose to @justinsunsteemit that the Ninja mined stake had been earmarked for community development and was not to be used for witness voting prior to selling it to him. Evidence of this was requested by the TRON team.
The TRON team said they were flexible with regards retracting their false and slanderous accusation that the consensus witnesses were malicious 'Hackers' - but failed to provide a guarantee that they would publish a retraction at this time.
The TRON team claimed their aim is to profit from the purchase, rather than to participate in governance.
The TRON team claimed they want to cancel their witness votes asap.
They TRON team intends to put a fork in place to allow the exchanges to power down the stake they powered up in order to vote for witnesses with their clients' tokens. The witnesses generally highlighted that this was not agreeable and that the fallout from the actions taken by these exchanges needs to be handled by the exchanges and should not be accommodated by a hard fork.
The TRON team have limited understanding of the fine points of the block chain governance system in general.
It seems that even during the meeting, more STEEM was being sent to the TRON accounts that are voting in their top witnesses in order to maintain their position, despite the community moving to reinstate their own top 20 witnesses via rallying around them with their witness votes.
Meanwhile @ned has made his twitter account private and possibly has some difficult questions to answer.
The full recording is on now on 3speak:
Youtube version is below:
Wishing you well,
Ura Soul
---
---
---
---
Proud member of @tribesteemup.