@tipu Website: Investor's Dashboard Updated
Hi guys, how's it going. Few days ago the investor's section of @tipu website got a nice update, everything is working smooth so it's time to present the new features :)
---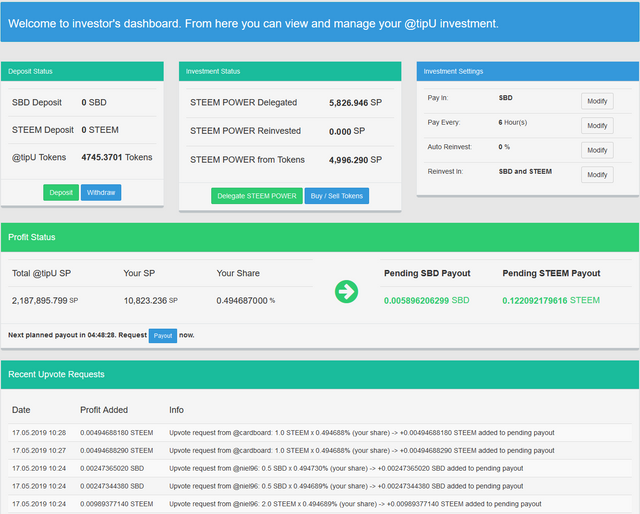 ---
Basic Idea
The update was intended to completely eliminate the need to send commands to @tipU via steemit wallet. Instead all the buttons allow the investor to manage his investment without need to send 0.001 STEEM to @tipU to make any changes.
Withdraw
If you're sending @tipU to send tips or subscriptions - you can now both send and withdraw the deposit directly from the website.
Investment Settings - Modify
From this section on top-left you can customize your payouts:
in which currency you want to receive payouts (STEEM, SBD, both)
how often you want to receive the payouts (every X hours)
how much of the profit you want to auto-reinvest
choose the auto-reinvest method (SBD and SEEM or @tipu Tokens)
Request Payout
The "next planned payout in..." section also has a "payout" button - clicking it will trigger instant payout.
Recent Upvotes Requests
This section presents how much STEEM and SBD, that come from upvote requests payments, was added to your profit. It's always payment x your share. I think it's a nice way to display the transparency and the fact that @tipU does not take any cut from the payments - all is distributed to the investors.
Recent Payouts
Here you can see detailed info about the recent payouts you have received from @tipU - thanks to this this data does not have to be send via memo with the transfers so there's less spam on the blockchain :)
---
Not it's time to update the investor's guide (the old one got pretty outdated) and also implement some tooltips on the website to quickly explain the features.
Thanks and if you have any questions, let me know in the comments!