All Steemians get free Byteball tokens! Have you claimed yours yet?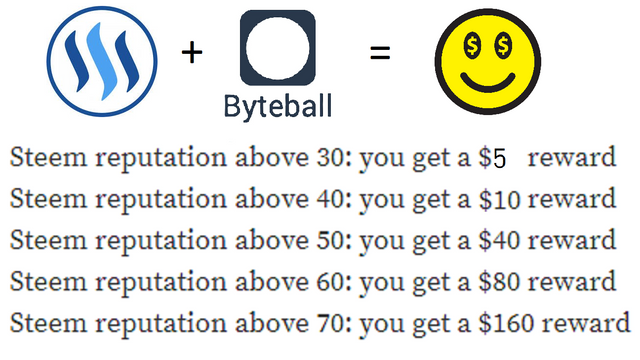 Free Money!!!
Have you heard? Everyone with a Steem account (with reputation > 30) gets free Byteball tokens! All you need to do is download the Byteball wallet and link it to your Steem account.
It looks like a lot of Steemians have not claimed their free tokens yet. Below are instructions to claim your tokens.
Note: Half of the tokens are "liquid" (you can cash out right away). The other half can be cashed out after one year.
Step 1: Download + Install the Byteball Wallet
Go to the download section, and click on the appropriate link to download the wallet.

Install the wallet after the download completes.
Step 2: Backup your wallet
This step is important so that you do not loose your tokens.
Click on the ☰ icon in the upper left of the Byteball wallet.
Click on the "Settings" tab.
Click "Full backup".
Save + backup the file somewhere safe.
Step 3: Link your Steem account
Click on the "Chat" icon at the bottom.
Click on the "Bot Store" icon at the top.
Click on the "Steem attestation bot".
Click "Add Bot".
You will see a response in chat like this:

Click on the ... icon in the chat, and then click "Insert my address":

Click on the send icon: (Note: Hitting the enter key will not work.)
The bot will respond with a message. Click on the SteemConnect link.

Validate your account using SteemConnect.

 
Important: To validate your account, you should use your private posting key. (You should not use your master password or active/owner keys.)
 
To get your private posting key, go to your wallet permissions tab.

After you validate your account, you should see a success message:

Back in the Byteball wallet chat, select "public".

You can click on the "History" tab at the bottom to see your free Byteball tokens that have arrived!

Step 3: Cash out Byteballs (Optional)
If you want to cash out your Byteball tokens, there are currently three exchanges where they can be traded for BTC:
Questions?
If you need any help, just message me here, on steem.chat, or on Discord.