Over the last week or so I wrote a number of articles covering topics that many view as problems but, when looking at things closer, are really not an issue. Some of them are being worked out naturally through the evolution of this ecosystem. As I wrote in one of the post, being a follower of technology, I see many things people debate as problems that will not be an issue in 5-10 years. STEEM is no different.
Other issues are being resolved by the creativity and innovative skills of the community. We have a lot of very intelligent developers who have the ability to create alternatives to what is in place. This is one of the major advantages to open source. Anyone can take what is there and improve upon it. It is a main reason why I feel the centralized systems are going to have a very tough time keep up. Their innovation is dependent upon the system protocols in place and the paid staff. In this regard, the "Wild West" could be the better model.
A great deal of what we face on here can be attributed to growing pains. The fact that we are still a very small community tends to magnify things. Nothing that is occurring on STEEM is unique. The challenges before us are similar to what other members of this industry are dealing with. One thing I can say, the fact that STEEM is not having major scaling issues is an enormous leg up. Personally, I do not think this can be stressed enough.
If I had to point to what is the biggest issue with STEEM, I would mention the sign up process. A massive increase in users will resolve a lot of what we discuss on here. Of course, there is a good chance it will bring up other challenges but we will deal with them as they arise. The fact that the growth rate of STEEM is slowed due to the process that is in place caused a number of problems.
Fortunately, in a little more than two weeks, this should no longer be the case.
All along I stressed the idea of posting as the means to altering the STEEM landscape. Looking at the numbers as close as I do, the reality quickly appears that STEEM has a user problem. That is all.
We know that of the 1M accounts, only about 5% of them are really participating. There is the entire situation in a nutshell. Get that number to 500K per day and we will see a much different system.
Are we starting to see a shift?
Yesterday, I noticed a reversal in a trend that has been ongoing for months.
These are the number of users. The first chart is from 8/31/2018 while the second is through 9/8.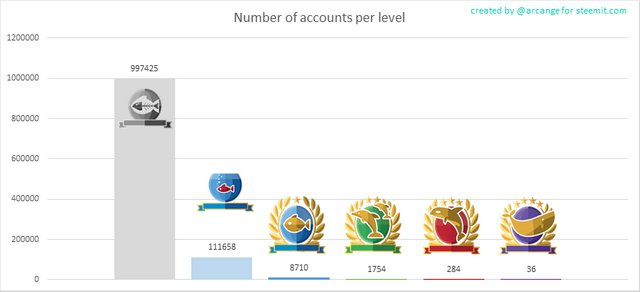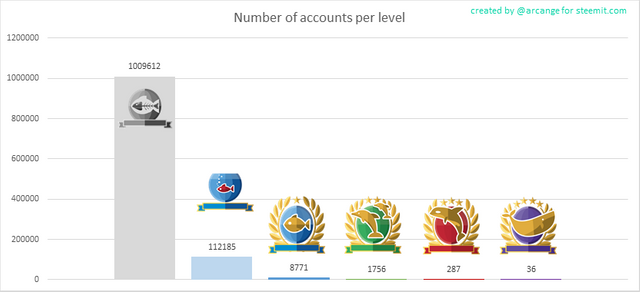 Looking at the same time periods but focusing upon the number of MVests we see something similar.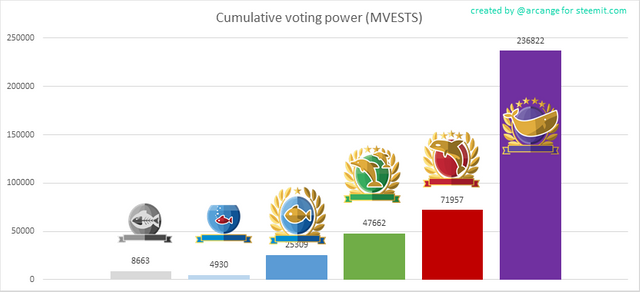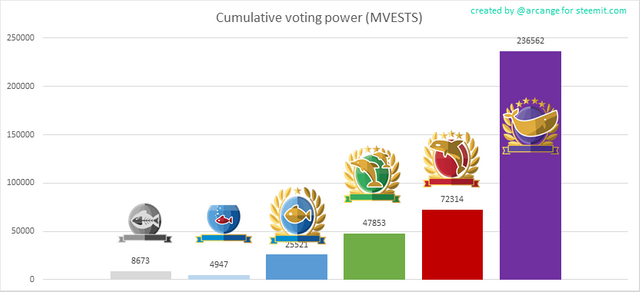 What I noticed that was not taking place before is that BOTH the Minnows and Planktons increased the number of users AND their MVests. This is a reversal, especially for the Red Fish. For the last few months, that category was steadily decreasing in terms of users accounts going Inactive and taking the MVests along with it.
Also, the Minnows shows a nice user growth rate in the past week, outpacing the other categories ahead of it.
Naturally, this could simply be an aberration and might not be the start of a new trend. However, with the appearance of many different applications along with the drop in STEEM price, smaller accounts can improve their standing a lot easier than they could a few months back. Is this what is taking place? We will find out over the next few months.
It is easy to fall prey to focusing upon everything that is going wrong. Many do that to the point they stop putting forth effort which means their accounts stop growing. They only compound this problem by then turning around and blaming the larger accounts. The bottom line is envy, negativity, and constant bickering is not going to lead to STEEM success. If one wants to grow his or her account, it is best to stick to things that does that.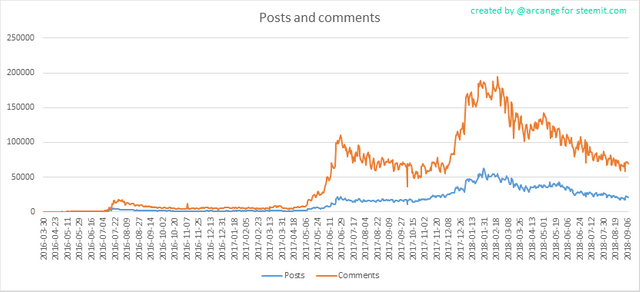 Over time, I fully expect the distribution of the user charts to impact how the MVests are held. At some point, the system will end up paying the smaller accounts at a much greater rate than the bigger ones. Also, there will come a point when the early investors start taking some money of the table, if for no other reason to mitigate some of their risk. This will further push the power into the hands of, what are now, smaller accounts.
STEEM is a growing, thriving ecosystem. With the Hard Fork coming up, we should see a much different October. Signing people up instantly means that we can at least 10 fold the process without effort. I would believe there are at least a few thousand a day who look at STEEM based apps only to get turned off by the week long approval process. This also has to impact the retention rate. HF20 will alleviate this problem to a great degree.
After looking at the ecosystem over the last year, I honestly feel that people who believe the system is broken do not have all the facts. Personally, I see a system that, even though there are ways to improve, is a stable and operational system. It is also evolving in such a way that anyone can come on here and have success. This is not a get rich quick scheme so if that is the barometer, it will fail.
What STEEM does offer is the ability, for those who are active, to grow their account steadily on a monthly basis. The compounding effect of STEEM provides people with the opportunity to amass a nice position over time. Tell me another cyrptocurrency system in place right now that offers that.
This will only increase as more SMT based projects come online and people can earn those tokens. Remember, all SMTs will be paired with STEEM meaning one can convert the SMT holding into SP if desired.
We see the participation rate on the STEEM blockchain falling. It is a steady trend since the start of the year. A lot of it is likely tied to the FUD and the price of STEEM. Too bad for those people because it was a perfect opportunity to accumulate more STEEM. Those that remained consistent with their activity are going to reap the benefits. At some point, the market will turn and prices wrun up. At that time, those who left will be kicking themselves upon returning.
Of course, they will also be posting how the system does not work and needs to be fixed.
For me, I am grateful for that; it gives me material to write about.
---
If you found this article to be informative, please give it an upvote and resteem.
Charts provided by @arcange. Check out that blog for daily statistics about the STEEM blockchain.