The photo in this post was taken on 28th of January 2017, the day before I joined Steem. It is of my wife standing on a ridge that separates two large lakes from each other like a bridge. As we walked along the forest paths pushing our daughter through the snow in a pram, we talked about what we were going to do and, how we were going to survive financially. At the time, Steem was an act of desperation but in time, became a source of inspiration.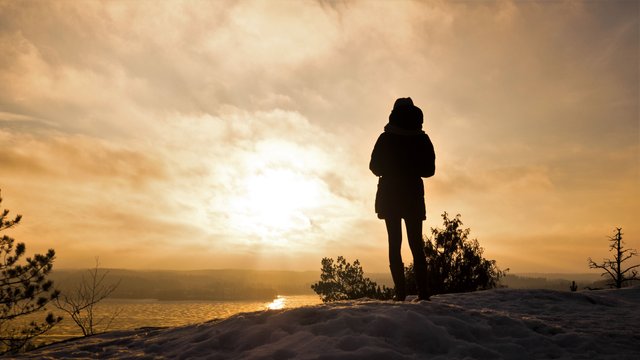 Thinking back to the months that led to that day and those that came after doesn't yet come with the golden memories of the past and details are largely a blur. All that really arrives is the pain of struggle and the stress of not having enough resources to cope. Yet, cope we did.
No matter how often it is proven, we continually underestimate our own strength and how capable we are of making it through challenge and adversity. One thing that I am lucky to have experienced in my life is a walk through of where Anne Frank was hidden with her family for two years and the sobering thought that, she was 12. Unable to move during daylight hours, limited food, contained, trapped in fear of discovery yet;
Think of all the beauty still left around you and be happy - Anne Frank
We get blinded by our immediate conditions without ever really taking the time to look at the beauty, pay attention to all of the things that our attention is torn away from as life applies its unnatural pressures, like the monetary needs to provide basics for a child to grow happy and healthy.
I think about these things often and I see the beauty in my daughter and I hope that I am able to provide her the opportunities so that she can take the reins of life and build herself into someone who is able to think like this:
How wonderful it is that nobody need wait a single moment before starting to improve the world. - Anne Frank
And help her but at the end of the day;
Parents can only give good advice or put them on the right paths, but the final forming of a person's character lies in their own hands. - Anne Frank
Her life is her own to live and when she will face the inevitable struggles of it, I hope she is able to realise that she is much stronger and capable than society trains us to believe.
We are lucky as a family, we have survived life so far together and we will continue to do so. Tomorrow will be another struggle.
I can't imagine how anyone can say: 'I'm weak', and then remain so. After all, if you know it, why not fight against it, why not try to train your character? - Anne Frank
What I love about Steem is, the opportunity to train.
Taraz
[ a Steem original ]