Interface subscription and monetized metrics
Yesterday I wrote a post about the opportunity and engagement value of having personal statistics and I thought about it a little more and decided to expand the idea a little further into a competitive pay model for interfaces.
Background
One of the issues interfaces have faced is how to monetize their platforms. There are several ways they have tried and various attempts to attract users by giving them a different, more relevant view of the blockchain. For example, I am writing this through Steeve.app which is developed by @void and @hr1 and utilizes Artificial Intelligence to give users a better view of the platform as well as various features that improve the steem experience. Other interfaces like @steempeak and @partiko try different approaches too.
There is just one problem, it is all about looking at other people's content but as most people know, the most interesting topic to a person is themselves.
The mirror
Yesterday, I used charts made by @abh12345 for my post on my personal account voting behavior in 2018. Asher uses scripts to query the blockchain, get a return of numbers and then plot them onto diagrams. These looks in the mirror are very popular and many people take part in getting their charts made accross a number of areas. Essentially, the possibilities for various charts and statistics are endless and all the information is freely available, just not easily accessible for most people. Feed them their reflection and they will become enamored.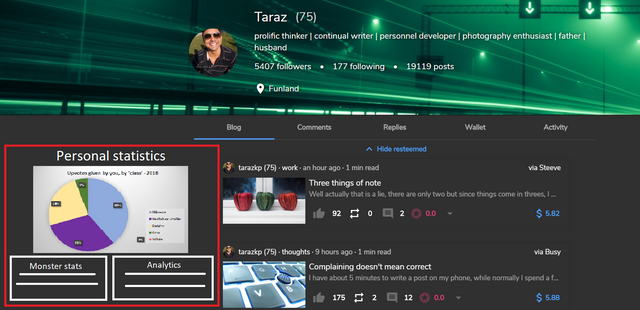 The possibility
Let's say that an application like Steeve.app decided to integrate personal user statistics into their interface by using the scripts that @abh12345, @crokkon, @miniature-tiger and similar create so that users have a reason to use a different interface as it value adds to their experience.
What could happen is that the script creators give their scripts that can create a pool of script resources for the interface to utilize if they choose. Potentially, this pool could then be offered as options to users. Perhaps a user could choose 3 basic metrics per month or something like that which will appear to the side of their feed or profile.
Monetization of the mirror
However, it need not end there. For example, a user could choose to have more metrics or more complicated metrics included in their view for a subscription fee that is paid weekly to monthly or like @dustsweeper, topped up and slowly burned day by day and depending on what options are chosen. Then, depending on what options are chosen, the script creators could take a micro payment cut paid out on a schedule for residual benefits, the better, more useful and more chosen their scripts, the more they are going to get paid from it. Potentially several interfaces could utilize the same scripts and there could be some blockchain contracts involved.
Now, this subscription doesn't need to be a great deal to be worthwhile.
Let's say at current prices it was going to cost 1 Steem per week for a basic view, 2 for a intermediate and 3 for a full experience. If there are a thousand users using the interface that take only the basic option, that is 1000 Steem a week that is paid, but doesn't come directly from the pool, it is a true Steem service payment. That amount could then be distributed with some percentage going to the platform and some to the script providers.
At the current prices, I would be happy to pay a few Steem a week to get access to the statistics and of course as prices increase, the cost can be scaled back to suit. However, as prices increase the current Steem gained on the way has a much higher value in the future. That potential 1000 Steem might more than cover current development costs in the future and the popular script writers can earn residuals for a very long time.
Other views
Of course, this model doesn't have to be limited to personal usage metrics, it could include plug in information from various dApps. For example one might be able to have @steemmonsters battle statistics or future competition scores pulled into the interface view or perhaps various notifications from other applications.
What this would do is rather than trying to provide a compelling view of the Steem blockchain, it leverages various other aspects of humanity and gives people more of what they want, themselves. And in so doing it value adds with some customization options that allow people to create a view of Steem that is best suited to them through some checkboxes without having to be a coder. It allows them to build a home.
Tracking, usage and income
Because blockchains are just ledgers and Steem is able to shift transactions for free, there is the ability to create all kinds of micropay models that with volume, will provide a great deal of Steem changing hands. The benefit of this particular model is that it doesn't require access to the pool for the application or script providers to earn, it requires users to have Steem. There are some 15,000 accounts with over 500 Steem on the platform and I am almost positive that many of them won't mind paying a small subscription in order to get access to enhanced features. Due to the platform, the quality and range of content, showcasing the content isn't enough at this time, there has to be more.
Compelling and engaging
The better people's view of themselves, the more they are likely to interact with the blockchain and get increasingly emotionally attached and invested. There is a massive potential in gamification of Steem and the more it happens, the more compelling the ecosystem becomes which means, the more chance of onboarding and improved retention figures.
These same scripts could then also be used for various marketing initiatives as well as points to gather and compare a whole range of user behaviors that can then be leveraged to further improve the experiences.
The subscription model is something that is going to absolutely shift the way people use the internet and get information and Steem is perfectly positioned to take advantage of it as it is a content delivery blockchain with free transactions. Working out good ways to leverage the strengths of the blockchain and create utility and practical use case is something that I don't think has been done well so far but, that can change very fast.
Once the infrastructure is heading toward a service providing model that improves user experience, there is a much better chance of attracting both higher quality contributors as well as more engaged consumers. This in turn snowballs for increased development and of course, investment potentials. What I would like to see is the script writers work hand in hand with the interfaces to both do what they are best at doing and create an experience that is enjoyable and provides the personal feedback loop that is so addictive.
While the interfaces can be free to access the content, there are many people willing to subscribe to have a view of the blockchain itself and most importantly, their own positions upon it.
Taraz
[ a Steem original ]
---
View this post on Steeve, an AI-powered Steem interface