Going Green and being seen on Steem
Going Green is a level obtained in the Church of Cryptology which is surprisingly, even scammier than the Church of Scientology but at least, when you feed the Church of Cryptology money you get magical tokens in return.
At the moment there is a bit of a good mood around the place as Steem climbs up almost 20% in the last 24 hours and a faint glimmer of hope is on every holders held breath saying, please, please, I bought at the ATH.... help me please...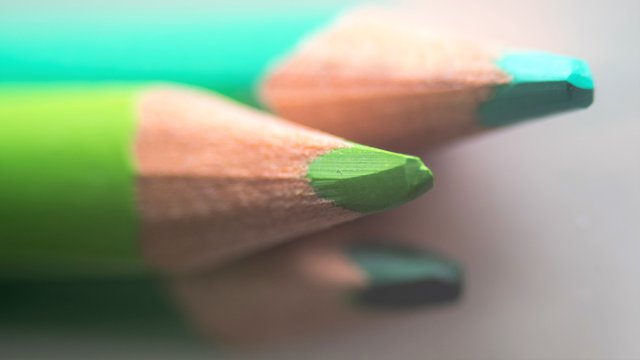 Or, did you sell already?
I am sure that there are many selling and taking their profits out after buying in at 20 cents, 25 cents or even 30 cents. If you bought at 30 cents you are up 35% right at this moment. Take the money and run? Not a bad idea considering it might drop again or, what if it keeps climbing? This is always the dilemma isn't it?
For me, I don't really have any Steem to sell at this price so I will wait for something closer to 10 dollars before I seriously consider taking some and then, it won't be much I predict. A little to clear some debt, give some breathing room and of course, buy my wife and daughter something nice-ish. I am kind of hoping it will drop back a little to be honest as, I missed my buy-in opportunity and don't get anything for a week or two.
The last year I have been working extremely hard to try and take advantage of earning on the platform as I know that as soon as the price goes up, earning becomes a great deal more difficult due to the dynamics of crypto. Prices increase, vote percentages drop and, a flood of people return to post and, a flood of new faces crash onto the scene.
I am pretty sure there are a going to be a lot of ex-prolific posters returning to pick up on their still set autovoter trails. There are quite a few people who at the highs were happily pumping out 3-4 ridiculous posts a day but at the moment, near radio silence. I manual vote but for those who do auto, check your trails and make sure you are still keen to support who you are supporting before the price increases.
Regardless, the size of the pool doesn't change as price increases but there are going to be a lot more people (and their alts) vying for Steem attention. The time to earn Steem isn't when price is high, it is when there is no one here. It really is like any investment, buy low, and on Steem where the crypto can be earned, the lowest prices amount in the highest Steem earnings due to the lack of competition on what is in the pool.
I am hoping that in 2019 I can squeeze up into an orca suit but if prices increase drastically, that is unlikely to happen as the competition will lower and spread distribution to more accounts. That is a good result for those like me who hold Steem too, it is just a bit of a psychological victory to make it to 50k perhaps.
@demotruk posted this chart which I found interesting today on active users: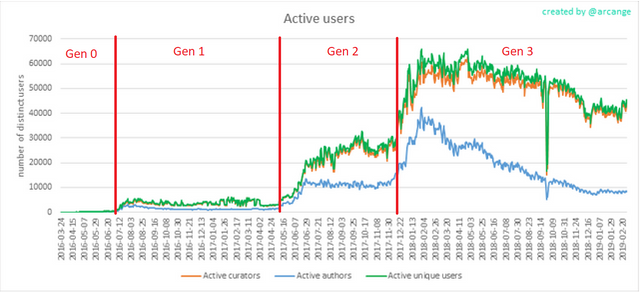 In his post he talks about the generations of users based on the time frame and market situation they entered into. I myself joined in the middle of the Gen 1 period.
This is the Steem price chart:
!

You see the blue line of active users and how closely it matches price? You see the orange line? What is interesting is the drop away on active authors is of a higher rate than the drop away on the curators, which indicates how many automated curators there are. However, those votes landed on something didn't they? the difference in the dropped percentage means that more Steem landed on a smaller selection of accounts. As said, the best time to earn is when prices are falling and people are leaving.
The base is built at the bottom.
However, what would be interesting to see is the behavior of who exactly is still here and who is not. My prediction is that most of the people that came in at the price increases left pretty quickly at the falls but, those of them who stayed, are among the hardest here. Those who stayed are also likely the ones that despite the falling price, learned how Steem worked and, the opportunity of it in the future to come. They stayed to earn crypto for posting and doing things that they were already doing other places or, helping them learn more about crypto in general through posts and interaction. They will hopefully have a good base to work from as price increases now.
What I also think is that with each rise and fall of the market, the core of Steem gets stronger as a small group of each incoming pump learn enough that they stay to become part of the community and, even buy-in on the descent downward from those who want to sell their easily gotten gains or fear holding. There are those who sell and say they will buy in lower of course too but, the amount of Steem on the exchanges kept growing despite price falling.
I don't know much about reading charts or trading but I do know enough about human behavior that once price increases, the posts will go up also and with each increase, there will be a growing number of people coming into try Steem and crypto i general. Mainstreaming won't be completely meteoric, it will ebb and flow with each ebb being higher and carrying more upon the wave than the last.
When I look at that second chart of Steem price where the ATH hit 8+, I imagine it looking quite flat once zoomed out over the next 10 years. In ten years, how many of those ex-accounts will return? It won't matter because there will be tens of millions of other accounts created and interacting on top. There are 4 billion people and growing on the internet, there are about 20,000 real people on Steem posting at the moment, how many are really needed to completely change this place, how many are needed to be wildly successful?
I don't know but one day the charts are going to look very similar but, the numbers are going to be very different upon them. Those who are here earning and buying Steem over the last year may have just finished their most profitable earning run in their life. Well, that is really gong to depend on the sell price.
Or for me, the hold price. After all, Steem can earn more Steem, it has Resource credits attached, account creation possibilities and a whole range of various invest potentials that aren't even created - yet, people are still selling. I can't help to wonder if they know something I don't or, they don't know much at all? At least, hold a little Steem just in case right?
Taraz
[ a Steem original ]
---
View this post on Steeve, an AI-powered Steem interface